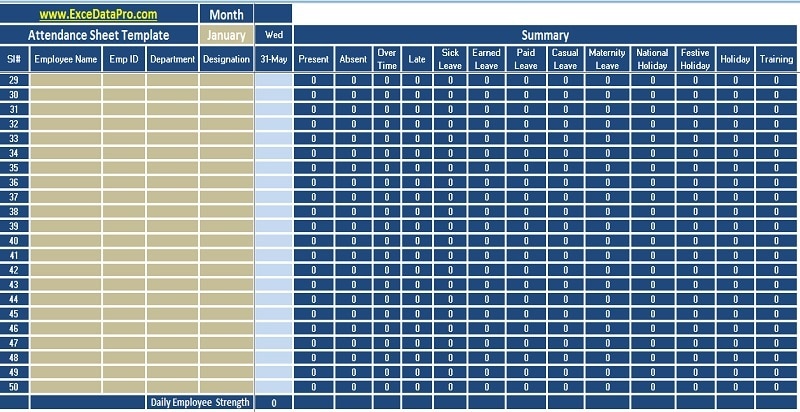 Employee Attendance Sheet is a document that records the presence, absence, sick leave, etc of employees for payroll or salary purposes.
It consists of records of payroll heads used to calculate the salary. to present, absent, late comings, holidays, on the job training and all other kinds of leaves.
There are many kinds of leaves like Paid Leave, Sick Leave, Maternity Leave, Casual Leave, etc.
Office Administrators working in HR departments need to keep records of employee's attendance in detail.
In olden times, attendance sheets were physically made on books. As time passed and the usage of computers increased, people started maintaining records on the computer.
With further advancement now we can see the fingerprint machines at most companies.
Currently, in India there about 40% – 50% of small and medium companies still, maintain their record on excel.
An Attendance sheet helps to keep an eye on the employee and further increase the performance of the company.
Employee Attendance Sheet Excel Template
We have created an easy to use Employee Attendance Sheet Excel Template with predefined formulas.
You can maintain up to 50 employees record in this template. You just need to enter some employee details and select from the drop-down menu.
This template can be helpful to accountants for calculating salary and also office admins/ HR Assistants for HR/Employee benefit related records.
Click here to download the Employee Attendance Sheet Excel Template.
Click here to Download All HR & Payroll Excel Templates for Rs 199.

You can download the same in Numbers from the link below:
Attendance Sheet Apple Numbers Template
Additionally, you can download other HR and Payroll Templates like Employee Evaluation Template, Weekly Timesheet, Job Candidate Tracker, and much more.
Let us discuss the components of this template in detail.
Contents of Employee Attendance Sheet Template
This template consists of 4 sections:
1. Header Section
2. Employee Details Section
3. Attendance Record Section
4. Summary Section
1. Header Section
The header section consists of the company name, heading of the sheet and the month for which the attendance is maintained.

2. Employee Details Section
This section consists of the employee details like the name of the employee, employee id, his department, and his designation.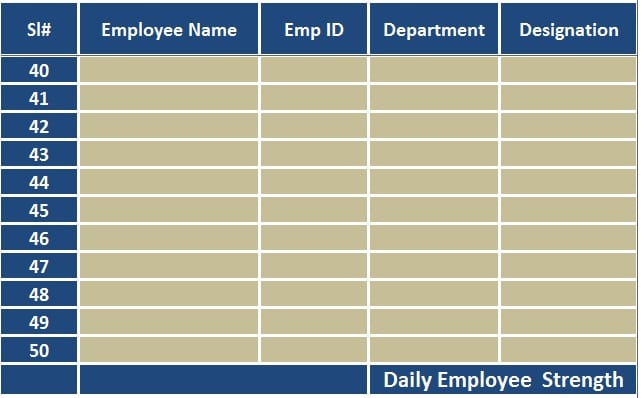 3. Attendance Record Section
The attendance record section consists of the heading of the month, days of the month (28,30 or 31).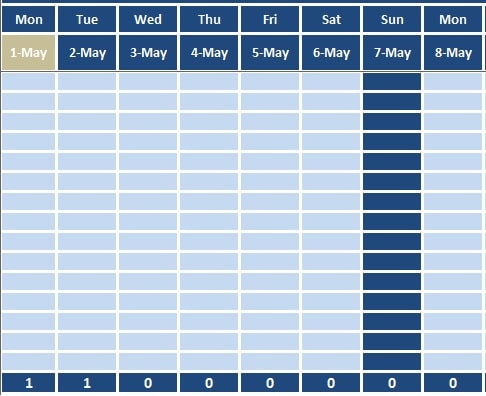 In the dates section you need to enter only the first date and it will automatically update all the rest dates according to the formula.
The formula applied here is =F3+1 and so on. For days you need to enter them manually.
Now for updating the present, absence record, we have created a drop-down list with data validation.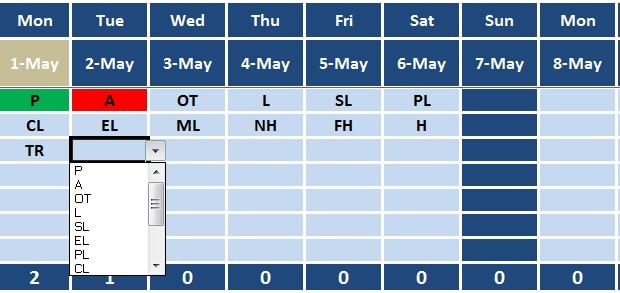 Details of the drop-down list are as follows:
P = Present. (Turns the cell green with conditional formatting).
A = Absent. (Turns the cell red with conditional formatting).
OT = Over Time.
L = Late.
SL = Sick Leave.
EL = Earned Leave.
PL = Paid Leave.
CL = Casual Leave.
ML = Maternity Leave.
NH = National Holiday.
FH = Festive Holiday.
H = Other holidays.
TR = Training.
Click on the link below to know how to create a drop-down list in 3 easy steps.
How to Create a Drop-Down List in 3 Easy Steps.
In the end, you can find the total of employees present each day.
The formula applied here is =COUNTIF(F4:F53,"P").
Every Sunday is marked blue. If you want to update with "H" you can or else leave blank.
4.Summary Section
Summary Section consists of the individual total of each employee for the following heads:
Present.
Absent.
Over Time.
Late.
Sick Leave.
Earned Leave.
Paid Leave.
Casual Leave.
Maternity Leave.
National Holiday.
Festive Holiday.
Other Holiday.
Training.

We thank our readers for liking, sharing and following us on different social media platforms.
If you have any queries please share in the comment section below. I will be more than happy to assist you.