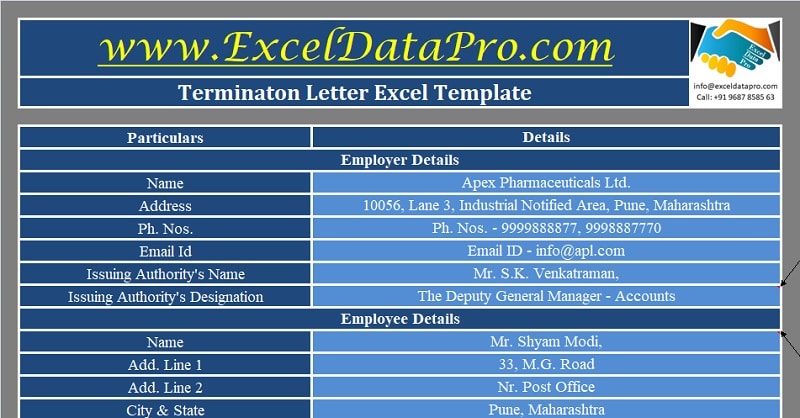 Employee Termination Letter is a ready-to-use excel template that helps you prepare termination letters under 4 specific conditions.
This template consists of 3 different formats of termination letter generally used by the HR professionals. One is a simple termination letter, one is termination due to poor performance and the third is termination due to breach of an employment contract or any company policy.
What is a Termination Letter?
A termination letter is a legal document that employer issues to his employee for terminating or notify the end of the employment agreement.
It is an important HR document of the termination process and a legal document that can be presented in the Court of Law. Termination means the end of employee contracts involuntarily.
It consists of the following details:
Details of the termination meeting.
Termination reasons.
Final Settlement details.
Last day of work.
Handing over details.
Purpose of Termination Letter
Usually, the employer usually terminates the employees for the following reasons:
Poor Performance.
Layoff due to bad business conditions.
Foreclosure.
Breach of Agreement.
Incompetence.
Unacceptable misbehavior.
Employee Termination Letter Excel Template
We have created ready to Employee Termination Letter Excel Template with predefined formulas and formating. Just enter your credentials and it is ready to print.
Additionally, this template consists of a simple termination letter format, termination letter format due to poor performance and termination letter format in case of breach of company policy.
Click here to download the Employee Termination Letter Excel Template.
Additionally, you can download other HR document templates like Resume and Cover Letter and Professional Resignation Letter from our website.
Download PDF, MS Word or Google Doc format for Employee Termination Letter from the desired type of format given below.
Simple Termination Letter Format
Unavoidable business/market conditions like an economic downturn, shutdown, or bankruptcy, etc are reasons where companies need to layoff/terminate employees in bulk.
This format consists of general details, the reason for terminating and the last working day. Usually, simple termination provides a notice time to the employee. It is issued in case of layoffs, foreclosure, and shutdown.
Simple Termination Letter Format On Company Letterhead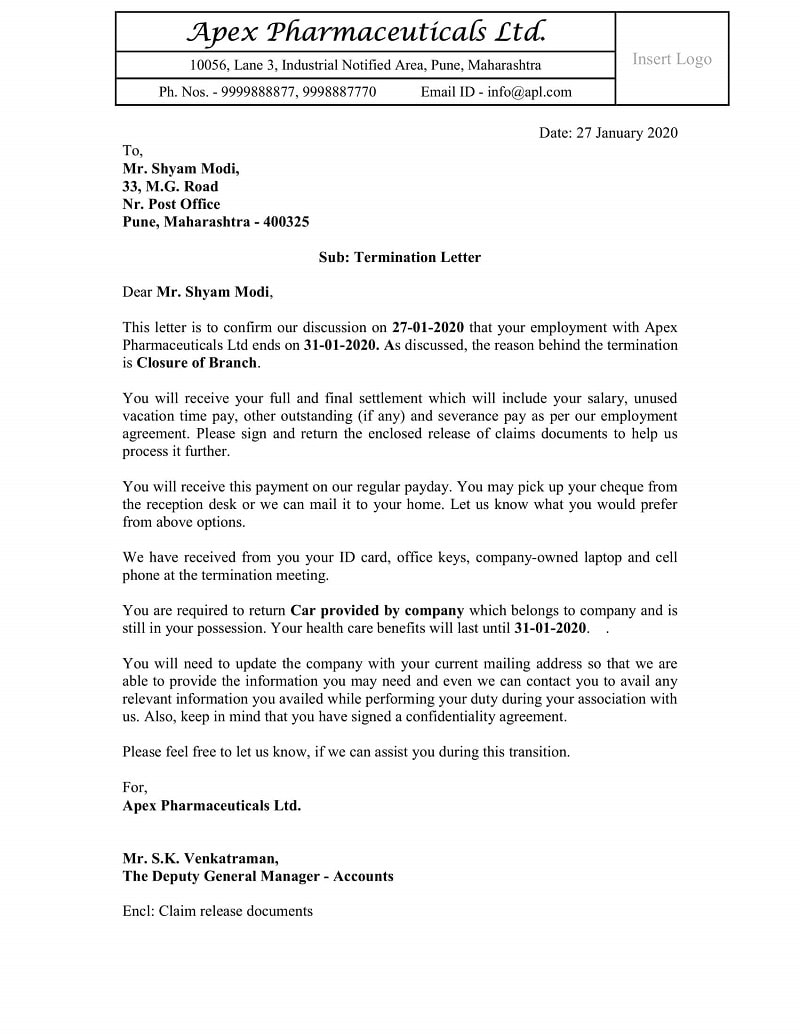 In case your company doesn't have a preprinted letterhead then you can use this template. It is issued in case of layoffs, foreclosure, and shutdown.
Termination Letter For Poor Performance
Employee poorly performing is given a chance to learn and is also provided training to enhance. Still, if it doesn't work the employer terminates the employee.
Termination Letter For Breach of Company Policies/Agreement
Toxicity, misbehavior, and breach of company policy are also reasons where it becomes mandatory for the employer to terminate the employee. It damages the company's goodwill in the market and also affects the overall environment of the office.
You can use PDF format with a PDF editor and change the details, for using Word and Google Doc file just change the bold text as per your need.
Let us understand the contents of this template and how to use it.
Contents of Employee Termination Letter Excel Template
This template consists of 5 sheets: Data Input Sheet, Simple Termination Letter Format, Simple Termination Letter on Letterhead Format, Termination Letter Format for Poor Performance and Termination Letter Format for Breach of Company AgreementsTemplate.
Insert employer details, employee details, termination details, and notice period along with the reason for termination Data Input Sheet and your termination letter is ready.
Data Input Sheet
Data Input Sheet consists of 4 sections: Employer Details, Employee Details, Termination Details, and Breach Details.

Employer Details consist of the following heads:
Company Name
Company Address
Contact Numbers
Email ID
City/State
Name of Issuing Authority
Designation of Issuing Authority

Employee details consist of the following heads:
Employee Name
Address
City/State
Pin Code

Termination details section consist of the following heads:
Date of Termination Letter
Termination Meeting Date
Termination Date
Reason for Termination
Things to Return to Company
Employee Benefits last till date

Contract Breach Details consists of the following heads:
Clause Number Breached
Appointment Contract Date
The action of Breach

You can select the reason from the dropdown list. If you want to insert any other custom reason then you can type that reason in the light blue cell at the end of the datasheet.
You are almost done. Go to the next sheet and print the letter.
Termination Letter Templates
This template auto-populates as per the details entered in the previous sheet. You don't need to make any entries in this sheet.
In addition to the above, the letter consists of pre-drafted text. In case you want to change it you can do it going to the respective cell. Else just set the print area and print the document.
Furthermore, if you are looking to send a pdf version of your letter to the company, you can use inbuilt Microsoft to PDF option from the print menu.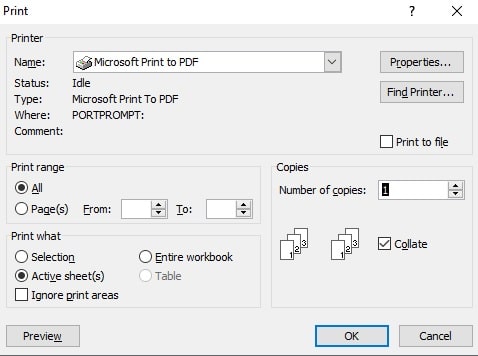 Thus, this template can be helpful to HR assistants, HR heads as well as HR professionals to create a different type of termination letters according to their requirement in minutes.
We thank our readers for liking, sharing and following us on different social media platforms.
If you have any queries please share in the comment section below. We will be more than happy to assist you.