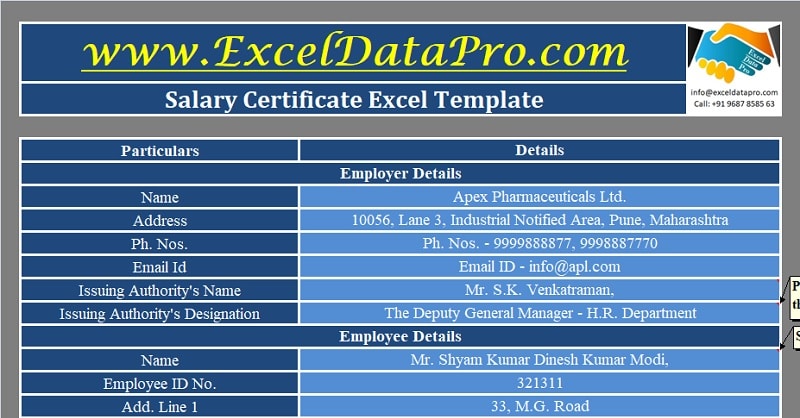 Salary Certificate is a ready-to-use Excel template that helps you to create 2 types of salary certificates; with CTC and with complete salary break-up.
Usually, we need to type such letters. This excel template consists of a predefined write-up of the letter. All you need to do is enter the employee and employer credentials and the letter is ready to print.
Additionally, this template consists of 4 different formats of Salary Certificate other than Excel; Word, PDF, Google Doc, and Open Office Writer. All documents are free to use and editable. Just download the desired format and start using it.
What is a Salary Certificate?
Salary Certificate is an HR document that employer issues to the employee oh his/her request that confirms his/her salary. The employee uses this certificate in external organizations like banks, financial institutions, and government organizations.
It consists of the employee details along with salary details. Usually, the HR department issues these certificates in two ways; one is that mentions only the CTC and another that mentions the complete salary break-up.
Purpose of Salary Certificate
This certificate is proof of the monthly income of an employee. It is requested for the following purposes:
Opening Bank Accounts.
Loan Application.
Credit Card Application.
Tax Payments.
Government Procedures.
Components of Salary Certificate
Usually, this document consists of the following details but all details are not mandatory. Hence, companies can include details according to their requirement.
Name of the employee
Employee ID( if applicable)
Designation
Department
CTC or Complete Salary Break-up
Employment Status (Temporary or Permanent)
Date Of Joining
As discussed earlier, this document is in two ways, one is only with CTC and another with complete salary break-up.
If complete salary break-up is to be provided, it includes the following in addition to the above details:
Basic Salary
List of Allowances
List Of Deductions
Take-Home Salary
In the end, the letter consists of a declaration that the company will not be responsible on behalf of the employee in any case.
Salary Certificate Excel Template
We have created a simple and easy Salary Certificate Format with predefined formulas and formatting. The salary certificate format is available in Excel, Word, PDF, Google Doc, and Open Office Writer. Just enter the required credentials and it is ready to print.
Additionally, this template consists of 2 different formats of Salary Certificates; One is with Only CTC and another with salary break-up.
Click here to download the Salary Certificate Excel Template.
Additionally, you can download other HR document templates like Resume and Cover Letter, Employee Termination Letter and Professional Resignation Letter from our website.
Download PDF, MS Word or Google Doc format for Employee Termination Letter from the desired type of format given below.
Salary Certificate With Only CTC
PDF Word Google Doc Open Office Writer
Salary Certificate With Salary Break-up
PDF Word Google Doc Open Office Writer
You can use PDF format with a PDF editor and change the details, for using Word and Google Doc file just change the bold text as per your need.
Let us understand the contents of this template and how to use it.
Contents of Salary Certificate Excel Template
This template consists of 5 sheets. 1 data input sheet and 4 salary certificate formats.
Data Input Sheet
Data Input sheet consists of the 3 sections.
Employer Details consist of the following heads:
Company Name
Company Address
Contact Numbers
Email ID
Name of Issuing Authority
Designation of Issuing Authority

Employee details consist of the following heads:
Employee Name
Address
City/State
Pin Code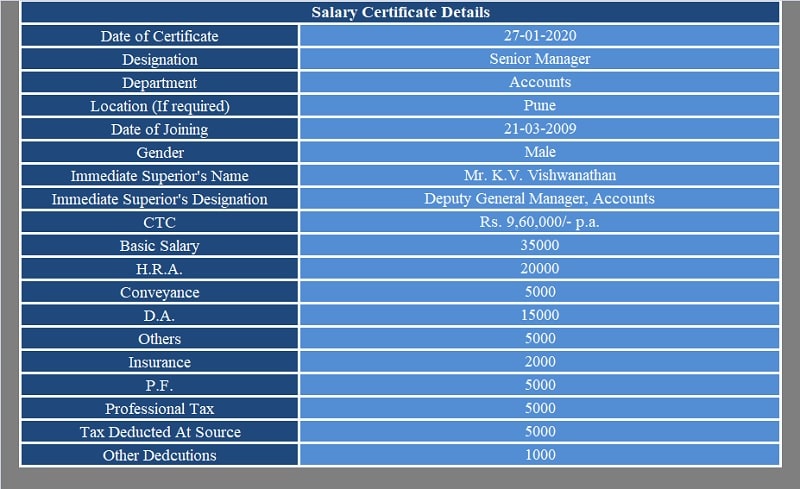 Salary Details the following heads:
Date of Certificate
Designation
Department
Location (If Applicable)
Date of Joining
Gender
Immediate Supervisor Name
Immediate Supervisor Designation
CTC
Basic Salary
H.R.A.
Conveyance Allowance
D.A.
Others
Insurance
P.F.
Professional Tax
TDS
Other Deductions

You are almost done. Go to the next sheet and print the letter.
Salary Certificate Templates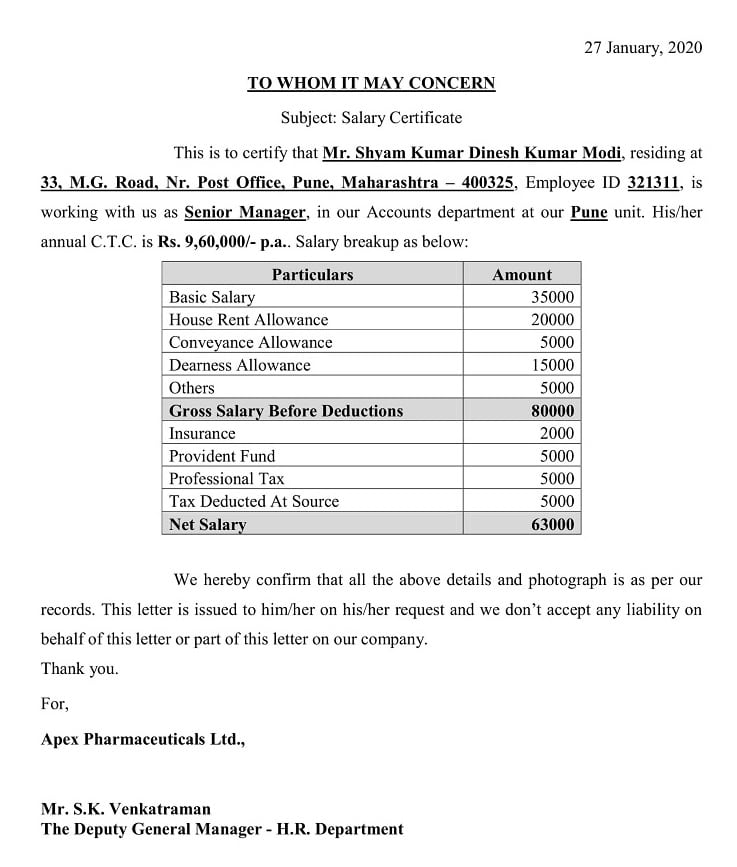 This template auto-populates as per the details entered in the previous sheet. You don't need to make any entries in this sheet.
In addition to the above, the letter consists of pre-drafted text. In case you want to change it you can do it going to the respective cell. Else just set the print area and print the document.
Moreover, If you are a small organization and don't have a preprinted letterhead then no need to worry. Just navigate to the respective sheet with the letterhead printing option and print the certificate.
The format will be the same but the template automatically prepares a letterhead with company information. Only you have to enter the company logo before printing.
Furthermore, if you are looking to send a pdf version of your letter to the company, you can use inbuilt Microsoft to PDF option from the print menu.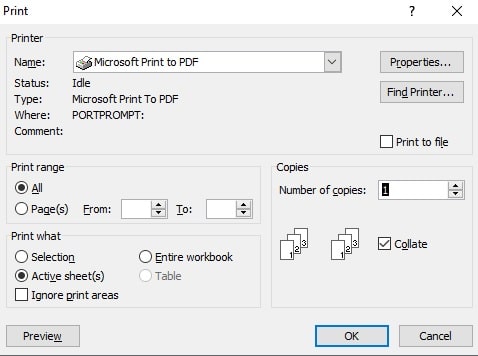 Thus, this template can be helpful to HR assistants, HR heads as well as HR professionals to create a different type of salary certificates according to their requirement in minutes.
We thank our readers for liking, sharing and following us on different social media platforms.
If you have any queries please share in the comment section below. We will be more than happy to assist you.