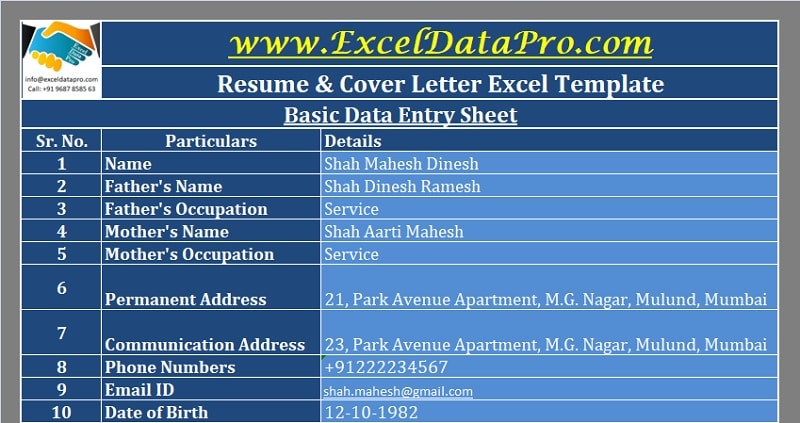 Resume/Cover Letter is a ready-to-use Excel Template that you can use to create your resume and cover letter just by feeding your credentials in the datasheet.
Usually, newly graduated students or students who are still working and want to do some part-time jobs, struggle to make a good resume.
With this template, you can make two types of resumes; one is the Resume for a fresher and another for a person with work experience.
As you enter your details, the template will also prepare the cover letter that you can attach to your Resume.
What is a Resume?
As per Wiki,
A  resume is a document used and created by a person to present their background, skills, and accomplishments. Résumés can be used for a variety of reasons, but most often they are used to secure new employment.
In simple terms, it is the summary of your skills, abilities, and accomplishments or you can say a quick biodata of who you are.
Usually, every job position requires the applicants to submit a resume along with a cover letter.
What is a Cover Letter?
A cover letter is a one-page letter that provides an overview of you to the organization and describes how relevant you are for the job.
A cover letter must be well-written so that it helps you to introduce yourself properly to the company encourages the interviewer to read your resume.
It is highly recommended to enclose a cover letter with every job application you make. If you wish to know more about cover letters, check out this article by Shabbir.
Tips to Make A Great Resume
You must follow the below tips to make your resume stand among other applicants:
First and foremost, write a custom resume for every job post.
Add keywords relevant to the job postings.
Review relevant resume from the industry.
Make it brief and simple.
List your relevant accomplishments first.
Use a professional first.
 Use active language.
Choose appropriate margins.
Tips to Make An Effective Cover Letter
A cover letter helps you to introduce yourself in a more personal way during a job application.  Follow the below tips to make it more effective:
Include information that is on your resume.
Make it relevant to the job position.
Make your introduction memorable.
Must include specific examples of relevant accomplishments and problems solved to the job posting.


It should be a concise conclusion of your resume and must include a call to action.
Resume/Cover Letter Excel Template
We have created a Resume/Cover Letter Excel Template which helps you create a professional resume along with a relevant cover letter in just minutes.
You can make 2 types of resumes with this template; one for fresher and another with work experience. Enter your credentials in the datasheet and it's ready to print.
Click here to download the Resume/Cover Letter Excel Template.
You can download other useful HR templates like Retention Rate Calculator, Yield Rate Calculator, Absent Rate Calculator, Profit Per Employee Calculator, Revenue Per Employee Calculator, Cost Per Hire Calculator, and many more from our website.
Let's discuss the content of the templates in detail.
Contents of Resume/Cover Letter Excel Template
This template consists of 4 sheets:
Datasheet
Covering Letter Template
Resume For Fresher
Resume With Work Experience
Datasheet
The datasheet consists of 6 sections.
Personal Information: Add the following details in this section:
Name
Father's Name
Father's Occupation
Mother's Name
Mother's Occupation
Permanent Address
Communication Address
Phone Numbers
Email ID
Date of Birth
Place of Birth
Nationality
Religion and Caste
Marital Status
Dependants
Objective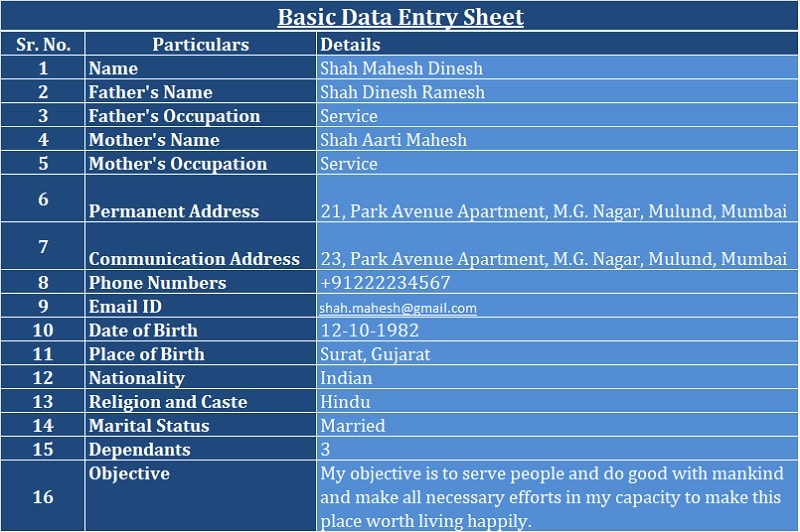 Educational Qualifications: Insert relevant details like Examination, Board/University, Year of Passing and Percentage obtained. Do this for the number of qualifications you have done.

Professional Qualification: InsertExamination, Board/University, Year of Passing, Percentage obtained, and the subject Major.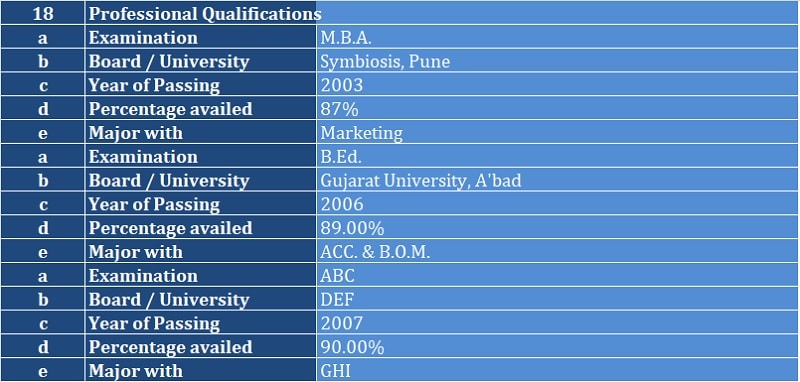 Additional Skill Set: In this section, you need to enter the course name and skill details.

Work Experience: Update your work experience. Keep the most recent at the top. Add the name of the organization, designation, job role, and duration of the work. Repeat the same for the number of work experience you have.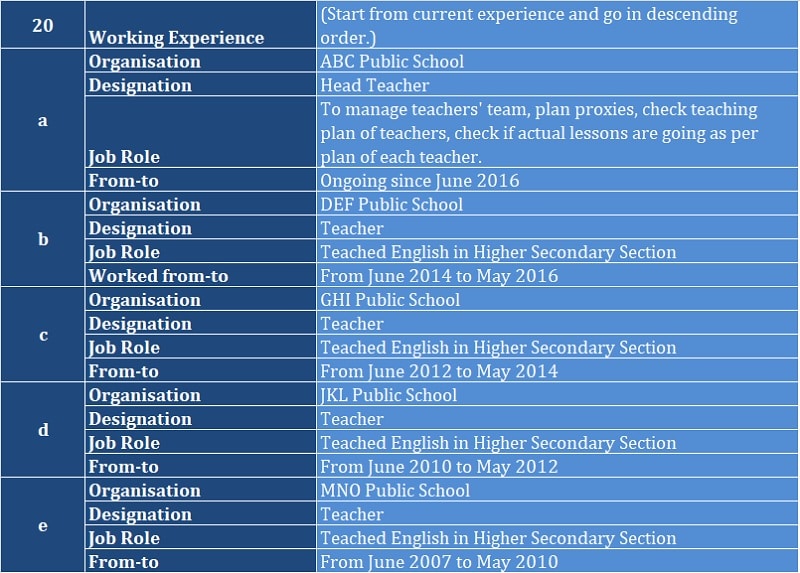 Other Details: Other details section includes the field of job position, graduation stream, languages known, place, and the enclosures. List down the enclosures properly.

You are done. Doing this will prepare your resume and cover letter.
Cover Letter Template
All the fields in this are auto-populated. No need to make any entries in this sheet. If you want to make any changes in write you can do it according to your need.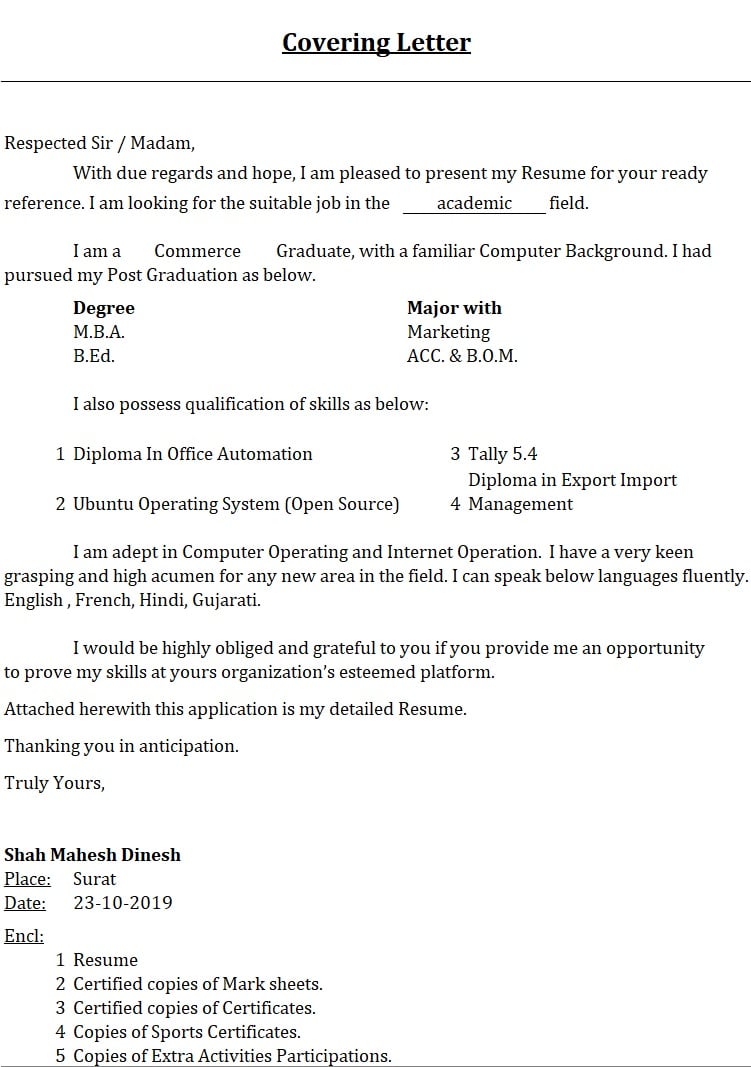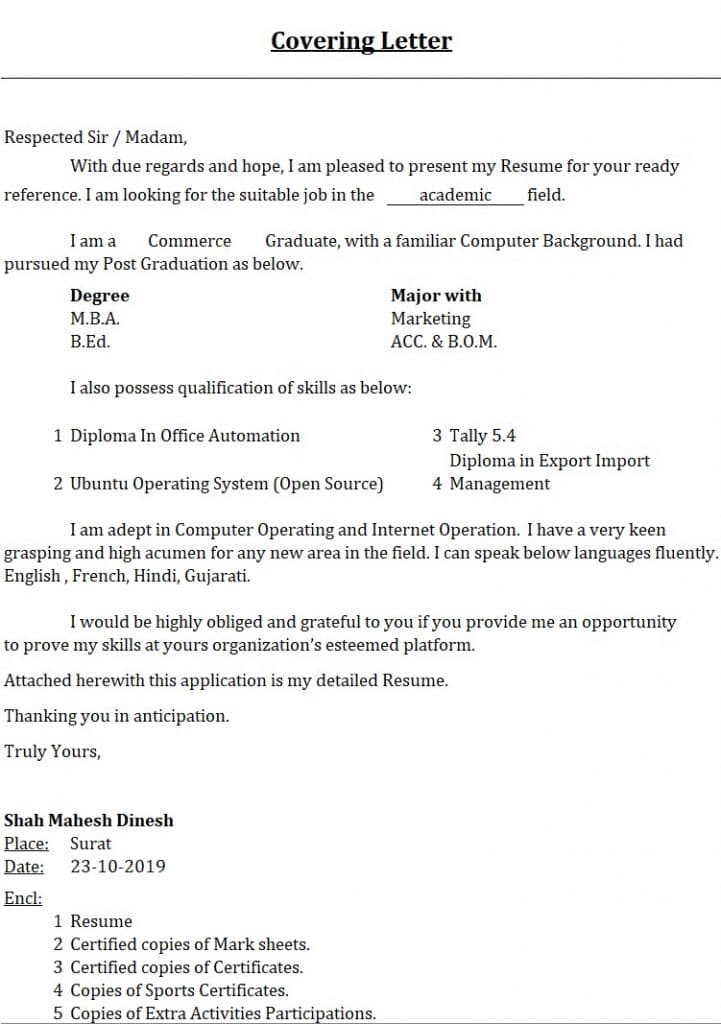 Make sure you check the print preview and page setup before printing the cover letter.
Resume Template For Fresher
If you are a fresher and don't have any relevant job experience then you need to print this resume. It is a one-page resume with no work experience.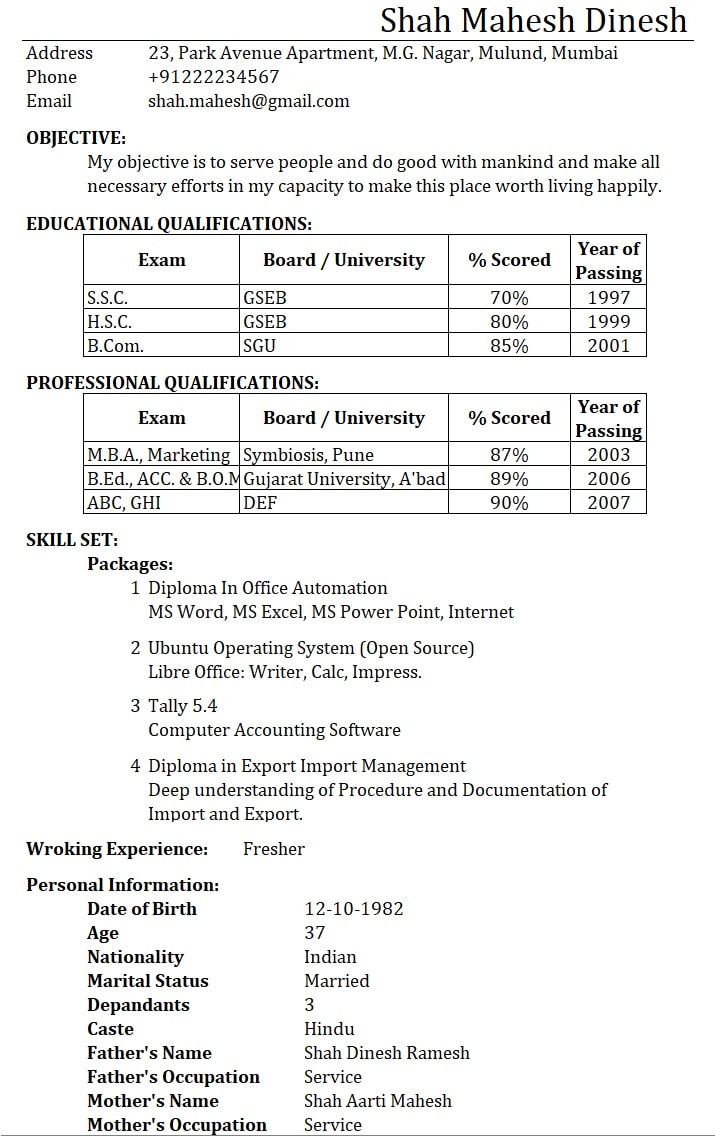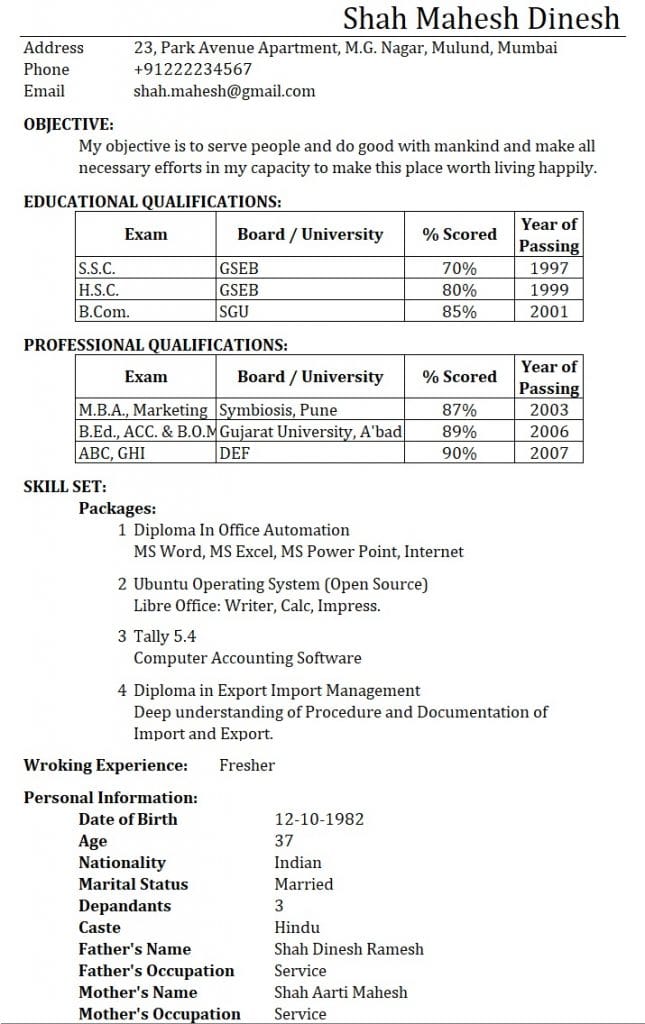 Similar to the cover letter template, this sheet also doesn't require any entry. Just check the print preview and page setup before printing.
Resume Template With Work Experience
If you have job experience and have made entries for the same in the datasheet, then print this sheet. Thus, your 2-page resume with work experience is ready to print.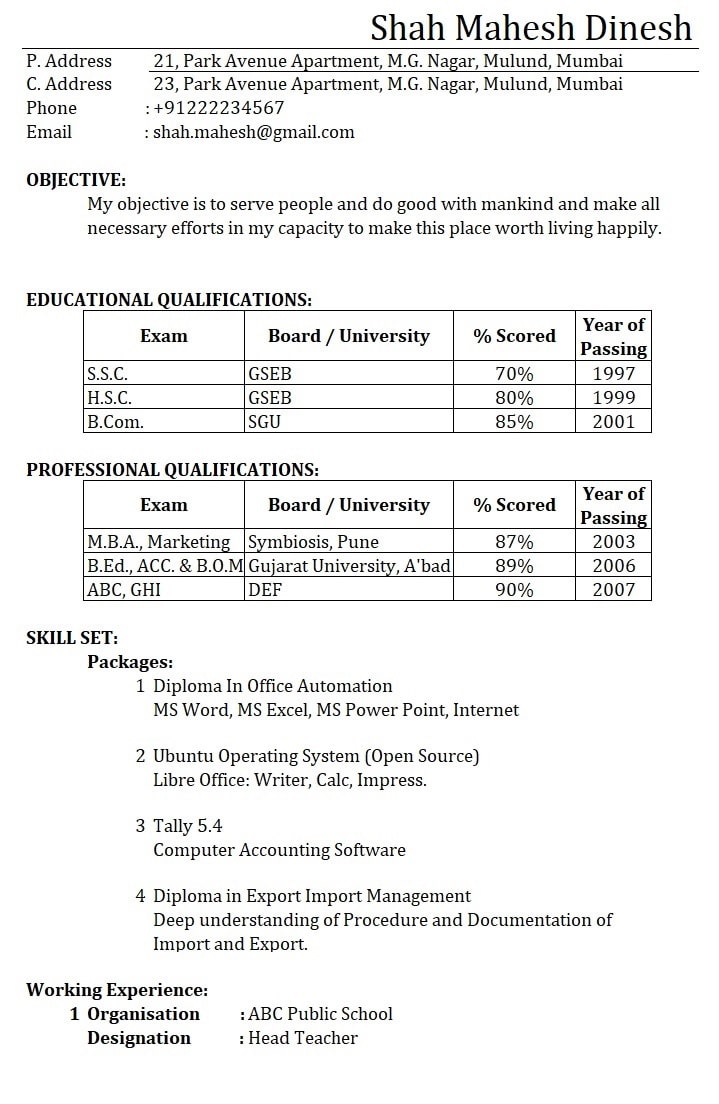 Page 1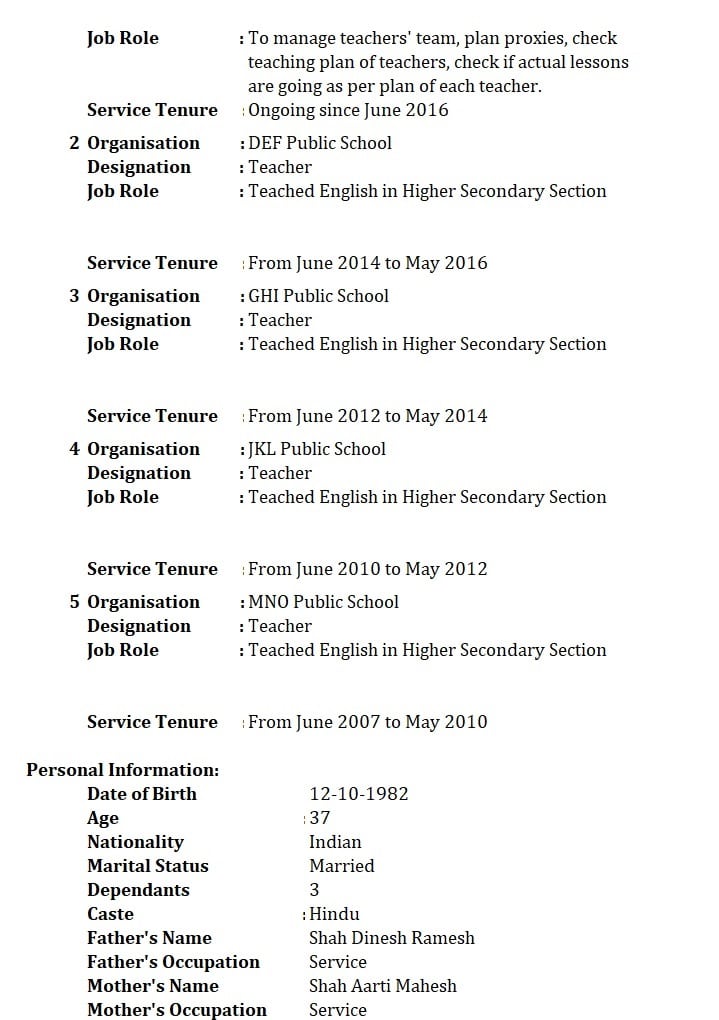 Page 2
In case, you make any changes in text on this page, ensure that you check the print preview before you take the print of the resume.
In addition to that, To convert the same into a PDF file, you can use the Microsoft PDF printer available in every excel print option. Follow the below-mentioned steps:
Press "Cntrl + P"
Select the "Microsoft Print To PDF" option from the list.
Click "OK".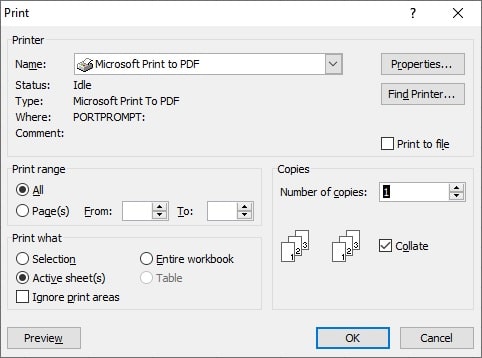 Your PDF resume is ready.
This template can be useful to students, job seekers, and recruiting agencies.
We thank our readers for liking, sharing and following us on different social media platforms.
If you have any queries please share in the comment section below. We will be more than happy to assist you.