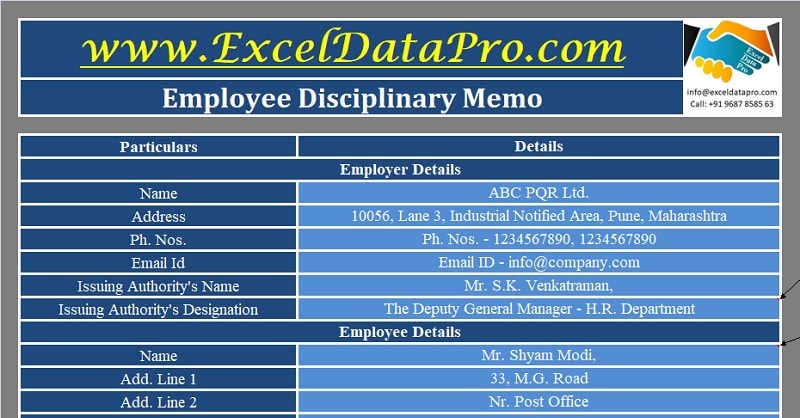 Employee Disciplinary Memo is a ready-to-use excel template that helps to issue a memo for misbehaving just by entering a few details.
You don't need to type the whole letter. A pre-typed format is ready. All you need to do is to enter the employee and employer details along with complete details of misconduct.
Furthermore,  the same letter is available in Word, PDF, Google Doc, and Open Office Writer along with Excel format. These ready formats are free to download and are completely editable. All you need to do is to download your desired format and start using it.
What is an Employee Disciplinary Memo?
Employee Disciplinary Memo is an HR Document that a company issues to warn the employees for misconduct or misbehavior while at work. It is used when things are out of control or have done more harm than good to the company.
It consists of the details of misconduct or misbehavior or violation of company policy as per the employment contract.
A disciplinary memo serves as a warning for poor performance or unacceptable behavior. It is a sign of an employer's attempts to rectify the problem. Moreover, it consists of actions to be taken as a result of similar behavior in the future which can be work without pay or even loss of a job.
Thing To Remember While Issuing a Memo
You must serve sufficient notice.
Specify the misconduct in detail.
The memo must contain proper language and relevant words defining the severity of the issue.
It should be unbiased of any personal grudges.
Handover the memo personally to the offender.
Consider every legal aspect of the action and include the same in the letter.
It must be done under the supervision of the proper authorities.
Notify proper section or clause of contracts or guide books as and when required.
Employee Disciplinary Memo Excel Template
We have created a simple and easy Employee Disciplinary Memo Excel Template with a ready predefined letter format. Just enter the employee/employer credentials and the misconduct details and your notice letter is ready to print.
Click the link below to download the desired format for Disciplinary Memo:
Excel  PDF  Word  Google Doc Open Office Writer
You can download other HR Letter templates like Resignation Letter, Promotion Letter, Casual Leave Application, Absconding Letter, and much more from our website.
Let us understand the contents of the template in detail and how to use this template.
Contents of Employee Disciplinary Memo Excel Template
This template consists of 3 sheets: 1 Data Input Sheet and 2 Disciplinary Memo Formats.
Data Input Sheet
Data Input Sheet consists of 3 sections: Employee Details, Employer Details, and Memo Details.

Employer Details consist of the following heads:
Company Name
Company Address
Contact Numbers
Email ID
Name of Issuing Authority
Designation of Issuing Authority

Employee details consist of the following heads:
Employee Name
Address
City/State
Pin Code
Employee Contact Number

Memo details section consist of the following heads:
Date of Memo
Description of Misconduct
Negative Effect Of Misconduct
Employee Disciplinary Memo Template
No entries have to be made in this file. The template fetches the date from the data input sheet.
The letter consists of pre-drafted text. In case you want to change it you can do it going to the respective cell. If you don't have a pre-printed letterhead of the company, use the third sheet to print a Memo on Letterhead.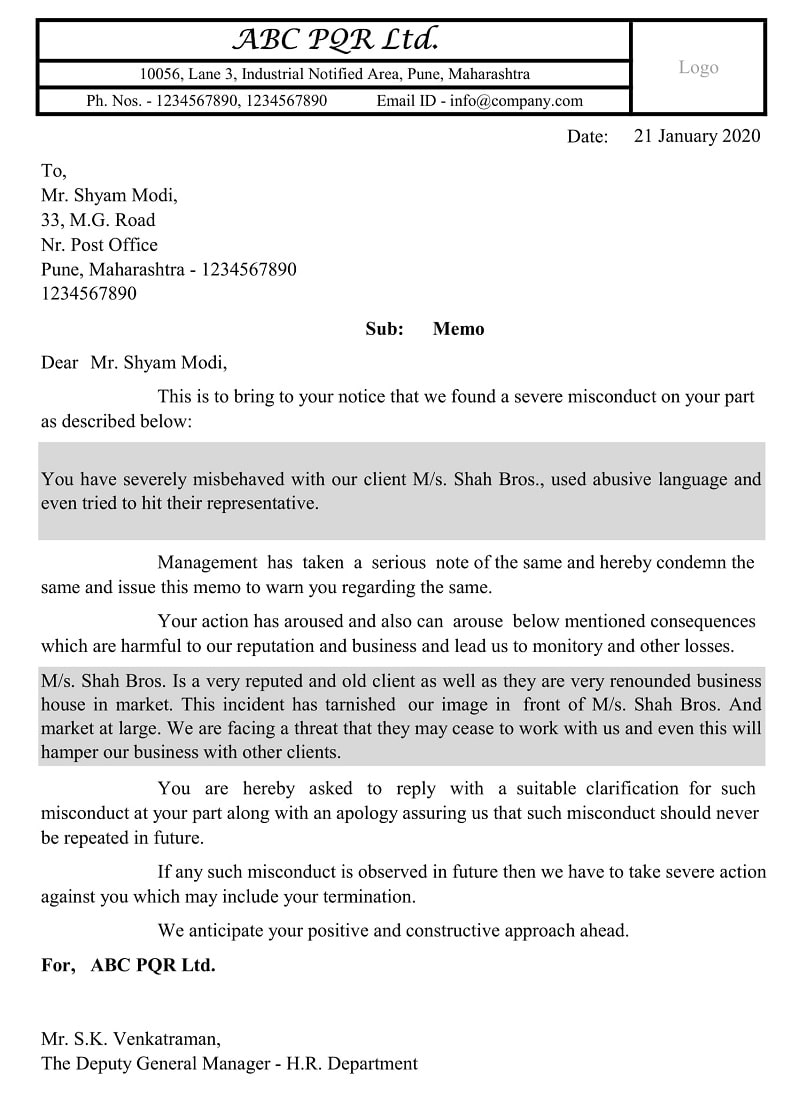 Print from the Excel file looks different from Word as it consists of table format. Hence, there will be more space between letters.
Additionally, to send a pdf version to the employee, use the inbuilt Microsoft to PDF option available in the print menu.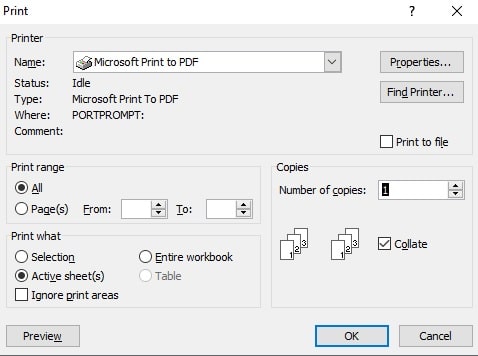 Thus, this template can be of great help to HR assistants, HR heads as well as HR professionals to create employee disciplinary memos according to their requirements in just a few minutes.
We thank our readers for liking, sharing and following us on different social media platforms.
If you have any queries please share in the comment section below. We will be more than happy to assist you.