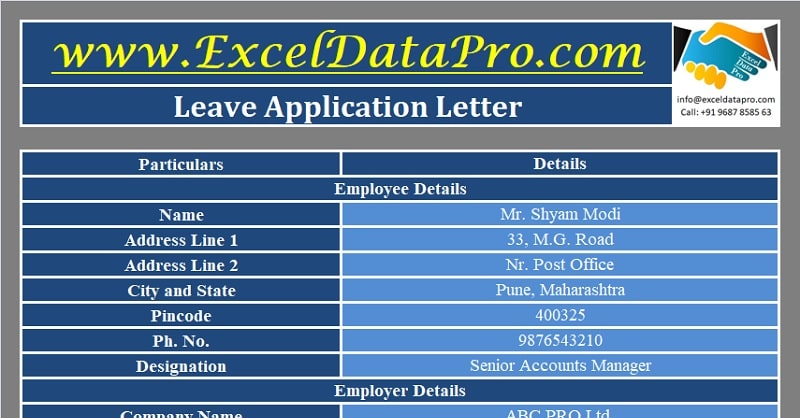 Casual Leave Application is a ready-to-use excel template that helps to prepare a leave request for absence from work just by entering a few details.
No need to type the whole letter manually. A pre-typed letter format is ready. Just enter the employee and employer details along with the purpose of requesting the leave.
Additionally,  the letter is also available in Word, PDF, Google Doc, and Open Office Writer. All files are free to download and are completely editable. Download your desired format and start using it.
What is Casual Leave?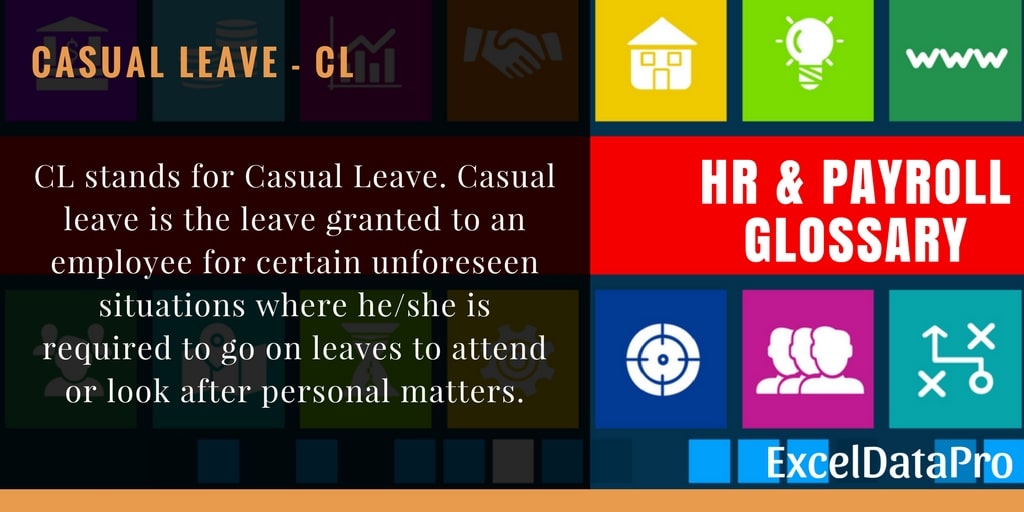 Generally, the number and the type of leaves vary according to the industry, the employer and the state in which an employee is located. Different states have different leave entitlement and leave policies.
Casual leaves are not carried forward. The unused CLs get lapsed at the end of the year. Casual leaves are not encashable.
Casual Leave Application is formal communication to inform your supervisor to request a leave of absence from work mentioning your reason. It serves as a written record for the company.
This application provides an explanation for your request for time off. A detailed and understandable request make easier for your superiors to consider the request without any clarifications. This leave application also serves as a legal record if your request and situation fall under the law.
Casual Leave Application Excel Template
We have created a simple and easy Casual Leave Application Letter a ready predefined letter format. Enter the employee/employer credentials and select the reason for leave of absence. That's it. Your leave application letter is ready to print.
Click here to download the Casual Leave Application Excel Template.
You can download other HR Letter templates like Resignation Letter, Promotion Letter, Casual Leave Application, Memo Letter, Absconding Letter, and much more from our website.
Click the link below to download the desired format for Casual Leave Application:
Casual Leave Application Single Day
 PDF  Word  Google Doc Open Office Writer
Casual Leave Application Multiple Days
 PDF  Word  Google Doc Open Office Writer
Let us understand the contents of the template in detail and how to use this template.
Contents of Casual Leave Application Excel Template
Leave Application template consists of 3 sheets: 1 Data Input Sheet and 2 Leave Application Templates.
Data Input Sheet
Data Input Sheet consists of 3 sections: Employee Details, Employer Details, and Leave Details.
Employee details section consists of the following:
Employee Name
Address
City/State
Pin Code
Employee Contact Number
Designation
Employer Details section consists of the following:
Company Name
Company Address
City/State
Name of Superior
Designation of Superior
Leave details section consists of the following:
Reason for Leave
Application Date
Leave Start Date
Leave End Date
No. of Days
Resuming Date

You can select the predefined reasons from the dropdown menu. If you have any other reason you can type in your custom reason in the light blue box given at the end of the Data Input sheet. You can also change the existing reasons according to your needs.
Casual Leave Application Templates
This template consists of two types of leave application formats. One is for a Leave Application for a single day and another for multiple days. In most of the organizations, casual leaves have a limit of 0.5 minimum days to 3 days maximum.
Both types of letters mentioned above can be printed using the same template. If you enter the same date in from and to fields then you need to print the first template and if you plan for more than one day then use the second template.
Print from the Excel file looks different from Word as it consists of table format. Hence, there will be more space between letters. Thus, we have provided other formats also for convenience.
Additionally, to send a pdf version to the employee, use the inbuilt Microsoft to PDF option available in the print menu.
Thus, this template can be of great help to individual employees to create leave application letters in just a few minutes.
We thank our readers for liking, sharing and following us on different social media platforms.
If you have any queries please share in the comment section below. We will be more than happy to assist you.