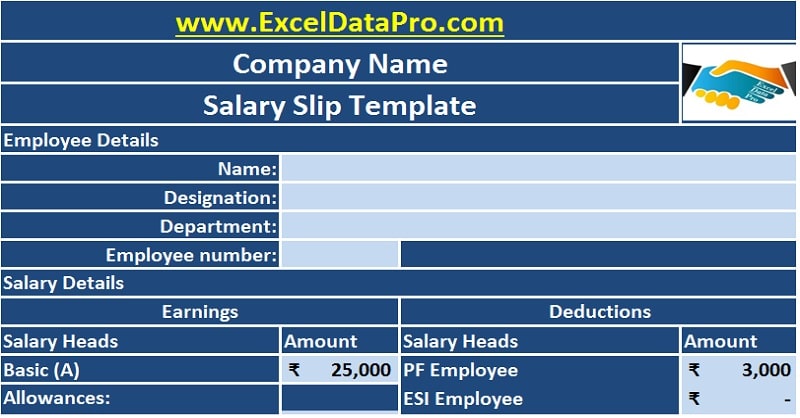 Salary Slip Template is a ready-to-use template in Excel, Google Sheets, OpenOffice Calc, and Apple Numbers that helps to issue salary slip to the employees with ease.
This template performs the calculations automatically. Insert the salary and it calculates the PF and EPS amount based on Indian law.
What Is Salary Slip?
Salary slip is a business document issued by the employer to the employee every month upon receipt of a salary. It is also known as Payslip. Salary Slip is an HR/Payroll document. Thus, Payslips are an important part of the Payroll process.
Download Corporate Salary Slip Template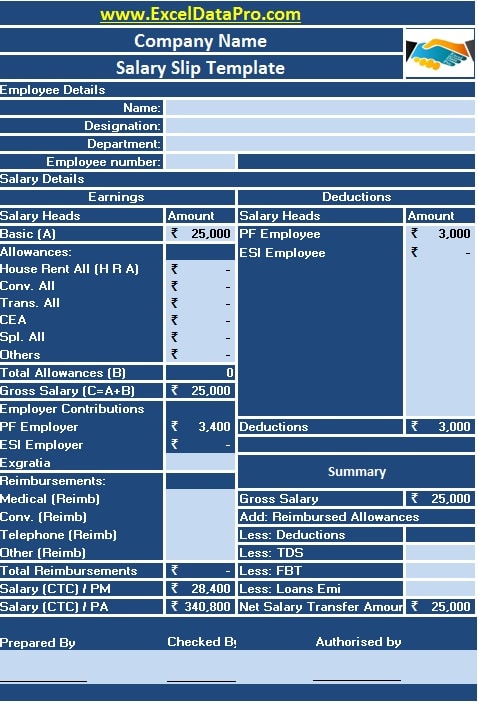 We have created a Salary Slip template with predefined formulas. It automatically calculates the Gross earnings and deductions. You just need to enter a small amount of data and our salary slip is ready in a few minutes. This template can be useful for HR professionals, HR executives, Administrative staff, etc.
This template is available in 4 file formats – Excel, Google Sheets, Open Office Calc, and Apple Numbers. Click on the button below to download the desired format:
Excel Google Sheets Open Office Calc Apple Numbers
The functioning and formulation in all the four file formats are the same except the SpellNumber Function as it is not supported in OpenOffice Calc, Google Sheets, or Apple Numbers.
Click here to Download All HR & Payroll Excel Templates for ₹299.
Important Note: To edit and customize the Google Sheet, save the file on your Google Drive by using the "Make a Copy" option from the File menu.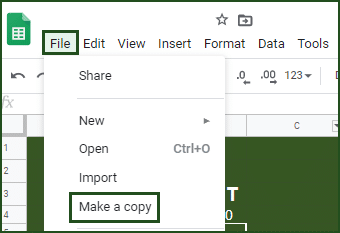 Additionally, you can download other HR and Payroll related templates like Employee Performance Evaluation, Attendance Sheet, Weekly Timesheet, Salary Sheet, and much more.
Let us discuss the contents of the template in detail.
Components of Corporate Salary Slip Template
The template consists of 5 major sections: Header Section, Employee Details Section, Salary Bifurcation Section, Summary Section, and Approval and Notes Section.
As usual, the Header Section consists of the company logo, document heading, and the company name.

Employee details section consists of following employee details:
Name
Designation
Department
Employee Number

The salary bifurcation section is further divided into 2 subsections: Earnings and Deductions.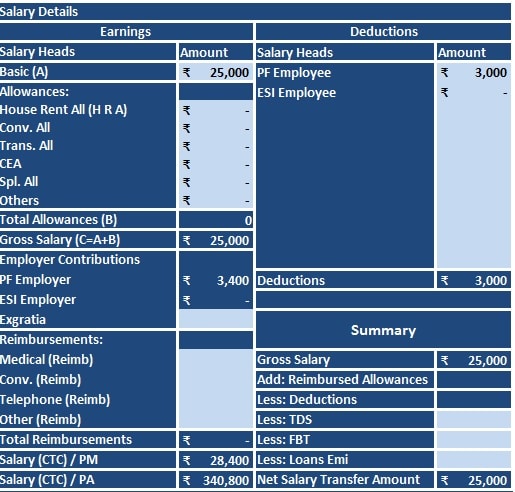 Earnings Section
The major components of the earning section are basic salary, allowances, Employer contribution to PF/ESI, and reimbursements.
Insert the Basic salary of the employee. Insert other applicable allowances like HRA, Conveyance Allowance, Transport allowance, Child Education Allowance, Special Allowance, etc.
Basic Pay/Basic Salary
Basic salary is the fixed amount that an employer pays to an employee without adding any allowances or subtracting any deductions. Therefore, bonuses, overtime, dearness allowance, etc are not a part of basic pay. For more information about Basic Salary click here.
Allowances
Allowances are the financial benefits an employer provides above the Basic Salary to his employees. These allowances differ based on company policy, industry, job profile, and department. The template adds all the following amounts to form the gross salary.
Allowances may include the following:
Dearness Allowance (DA)
House Rent Allowance (HRA)
Conveyance Allowance
Medical Allowance
Special Allowance
Travel Allowance (TA)
Child Education Allowance (CEA)
Click on each Allowance to know more about it in detail.
Gross salary = Basic + Total of all Allowances
Employer Contributions
The Employer contribution consists of Provident Fund (PF), Employee State Insurance (ESI), and Exgratia (bonus).
Employer contribution to the Provident fund is a total of 12 % of the basic salary. Employer Contribution to ESI is 3.25 % of the gross salary. The cell consists of a predefined formula.
Thus, it automatically calculates the Provident Fund amount as well as the ESI amount. ESI is only applicable if the salary of the employee is less than Rs. 21000.
Hence, if the gross salary is above that amount template will automatically display 0. Exgratia or bonus consists of the amount that an employer pays to the employee with no obligation or liability to pay it back.
Reimbursements
Furthermore, Reimbursement items depend on the designation of the employee. Reimbursements are those amounts that an employee gets reimbursed based on the amount spent actually under a particular head.
These reimbursements include excessive medical reimbursements, conveyance or travel reimbursements, or Telephone reimbursements.
Moreover, CTC/PM is the total salary of an employee without deductions. Keep in mind that CTC also includes the employee contribution, which is not payable every month but is a part of the salary.
CTC/PM (per month) = Gross salary + Employer Contribution + Reimbursements.
CTC/PA (per annum) = CTC PM X 12 months.
Deduction Section
Employee Deductions are the amounts subtracted from an employee's gross pay to reach net pay. Deductions include the following:
Employee Contribution To PF
Employee Contribution to EPS
ESI – If applicable
Professional Tax
TDS – Tax Deducted At Source
Salary Advances
Employee Contributions
Employee Provident fund is a type of retirement benefits scheme for salaried employees. Under this scheme, the employee makes a stipulated contribution from his salary. The government decides this percentage.
Generally, the deductions consist of employee contribution to PF and Employee contribution to ESI. The Employee contribution to the Provident fund is a total of 12 % of the basic salary.
Employee Contribution to ESI is 0.75 % of the gross salary. The cell consists of a predefined formula and automatically calculates the amount by itself.
Government Tax Deductions
Professional Tax is a tax that a government levies on professionals based on their salary/monthly income.
Income Tax Deductions
Tax Deducted at Source is the income tax that an employer deducts from the salary of the employee. Hence, the employer deposits this collected tax to the IT Department. Click here for more information on TDS, TDS Threshold, TDS Return, etc.
Salary Summary Section
The summary section consists of the final calculation of the net receivable salary amount.
Net salary = Gross Salary + Reimbursed Allowances – Deductions – TDS – FBT – Loan EMI.
Approval and Notes Section
The last section consists of the Approval and Notes section.

Approval section includes the signatures areas for those who prepared it, checked it, and authorized/approved it. The Notes include the instruction of the company if any for the employee.
We thank our readers for liking, sharing, and following us on different social media platforms.
If you have any queries please share in the comment section below. I will be more than happy to assist you.
Frequently Asked Questions
What is ESI?
ESI stands for Employee State Insurance. It is managed by Employee State Insurance Corporation. It is created by the law under the Ministry of Labour and Employment, Government of India.
Companies with a staff of 10 employees or 20 employees in some cities and their salaries are under Rs. 21000 has to pay under ESI. It is mandatory for such companies to register with the ESIC.
Under this scheme, the employer needs to contribute an amount of 3.25% of the gross salary whereas the employee contributes only 0.75% from monthly salary every month.
On which amount is ESI calculated?
ESI is calculated on Gross Salary. Gross salary is the total income earned by the employee while working in their job before any deductions are made for health insurance, social security, and state and federal taxes.
How much percentage is ESI calculated?
3% Employer Contribution and 1 % Employee on Gross Salary
What are Allowances?
​Allowances are fixed periodic amounts, apart from salary, which is paid by an employer to meet some particular requirements of the employee. E.g., Tiffin allowance, transport allowance, uniform allowance, etc.
What is CTC?
CTC stands for Cost to Company. "Cost to Company" means all the costs borne by a company associated to employ an individual.
What is Net Pay or Take Home Salary?
Net pay is the amount an employee receives after all taxes/deductions during a particular pay period.
How much total contribution does the employer make towards EPF?
The employer makes a total of 12% contribution. 8.33% out of 12% toward EPS (Employee Pension Scheme) and the remaining 3.67% towards EPF (Employee Provident Fund).