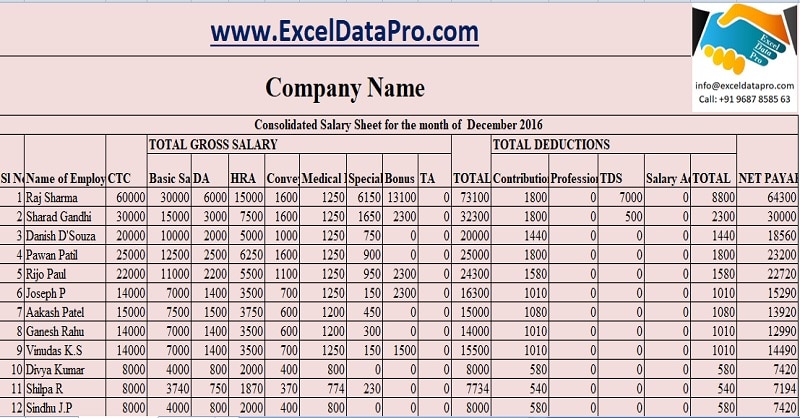 Salary Sheet Excel Template is a payroll document in which you can record payroll data for multiple employees along with Salary slip in Microsoft Excel prepared according to Indian rules of Employment which includes provident fund and employee allowances.
What is Salary Sheet?
Salary Sheet is a document that includes complete details of the amount payable to an employee for work done during a particular period. It includes details like basic pay, allowances, deductions, and overtime, etc of employees.
A salary sheet or Employee sheet is the Payroll or Human Resource document used to calculate the salaries of employees in any company.
Salary Sheet Excel Template
Payroll Assistants need to micro-manage payroll data of employees which include basic salary, HRA, TA, Conveyance, Leave details, provident fund deductions, etc.
With the help of our VBA team, we have created an automated Salary Sheet Excel Template. With the help of this Salary Sheet Template, you can calculate the salary of multiple employees within minutes.
Click Here to Download Salary Sheet Excel Template.
Click here to Download All HR & Payroll Excel Templates for Rs 199.
You can download an advanced version of the same where both attendance and payroll calculation are merged for easy preparation of staff salary.
Salary Sheet With Attendance Register
You can download the same in Apple Numbers from the link below:
Salary Sheet Apple Numbers Template
You can download other HR and Payroll related templates like Salary Slip, Attendance Sheet, Weekly Timesheet and much more.
You can download the HR Apple Numbers Template from the link below:
Let us discuss the contents of the template in detail.
Contents of Salary Sheet Excel Template
Salary Sheet template consists of 3 different sheets as mentioned below:
Employee Database
Consolidation Sheet
Employee Salary Slip
Note: After you download the template, don't forget to enable the content in the security warning pop-up below the ribbon as shown in the images below: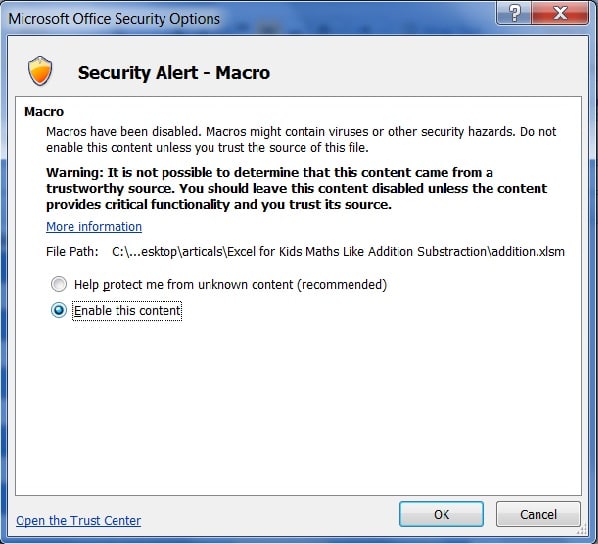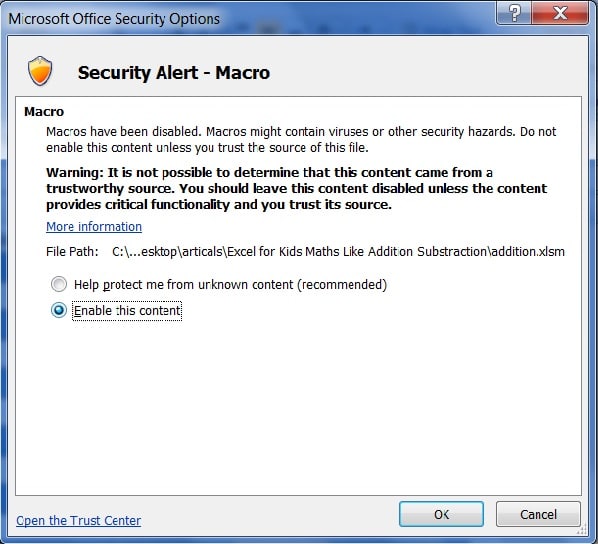 1. Employee Database
The database sheet is the master sheet where data of each employee will be entered. This sheet consists of Following columns:
Employee Name
Designation
Gender
Basic Salary
Allowances
Provident fund
These are required for salary preparation according to the Indian Salary structure.
The user needs to enter data only in blue colored cells. The pink-colored cells contain predefined formulas. You need not enter data in pink colored cells. See image below: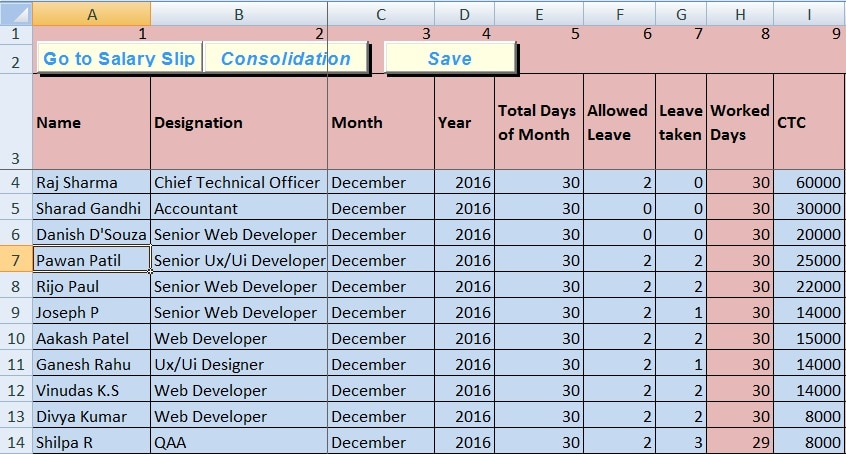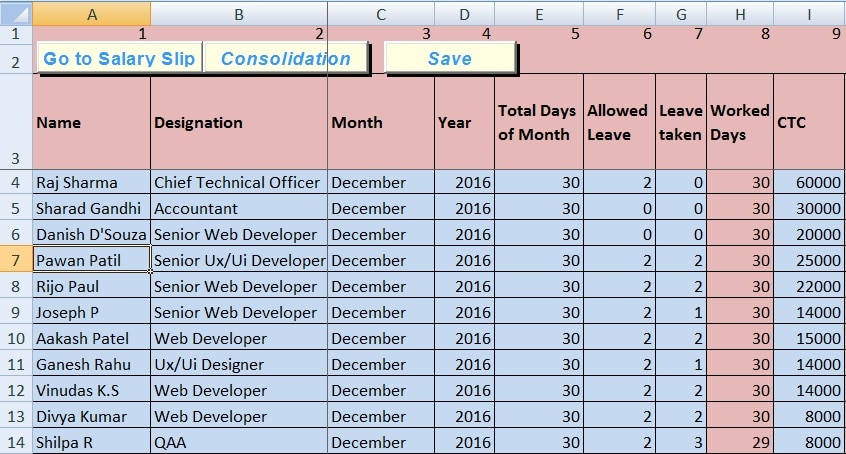 In this sheet, some data input columns have a drop-down menu, which makes it easier for the user to select and enter data. Month, Year, Title, Gender, etc are the drop-down menu. See image below: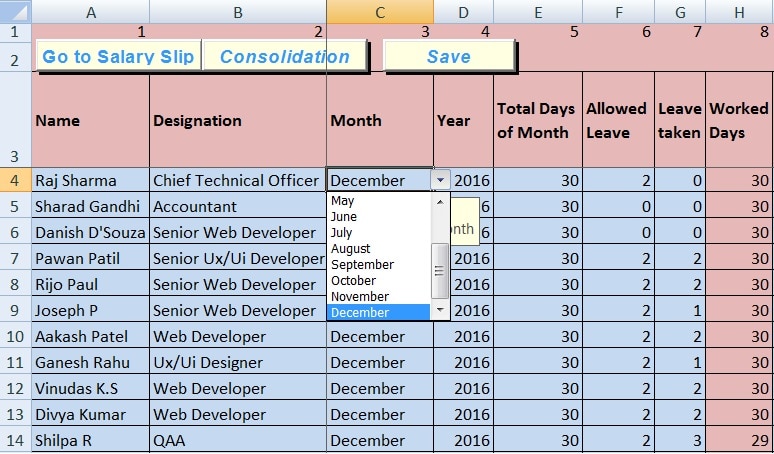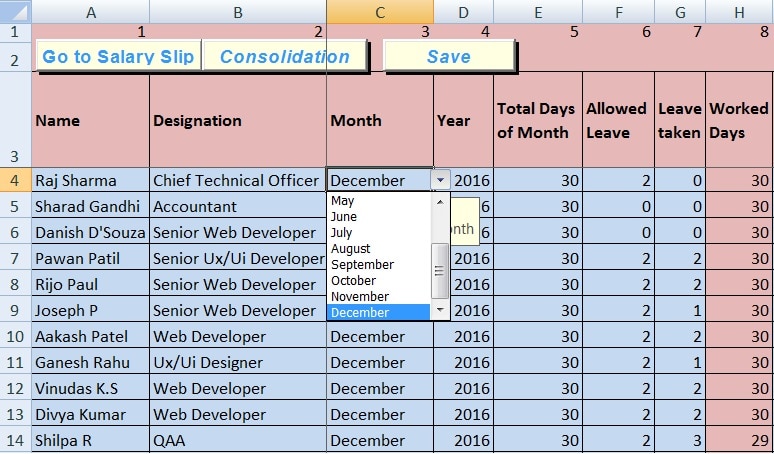 For easy navigation, buttons for each sheet are given on top of the sheet in as shown below:


After entering data in the Database Sheet clicking on the "Consolidation button" will navigate to Consolidation Sheet.
2. Consolidation
The consolidation sheet is the month-wise sheet of salary data entered in Database Sheet. This sheet is linked with the Database sheet and fills in all data automatically when entered in the Database sheet. You don't need to enter any data into this sheet.
Please note that if the month or year entered in the database sheet differs then it will not show in the consolidation sheet for that month.
You can print a monthly report of salary for approval from higher management.
Click on the "Go to Salary Slip" button to navigate to Salary Slip.
3. Salary Slip
Lastly, comes the salary slip. The salary sheet is programmed using the VLOOKUP Function. Select the name from the drop-down list and data of the respective employee will appear. Click on the print button to print the Salary Slip.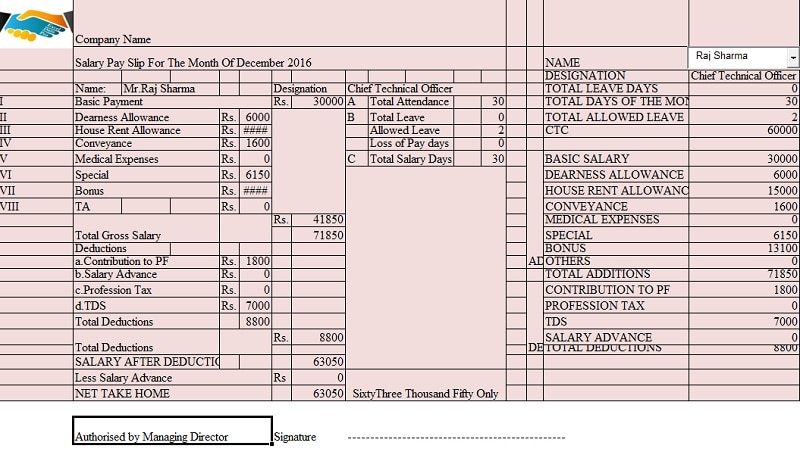 It's done. This template is very user-friendly and easy to use for everyone. This template can be helpful for Accounts assistants, Office Admin, HR Assistants, Executive Assistants, etc for preparing salaries.
If you want to make only a Salary slip without keeping the data you can use our ready-to-use Corporate Salary Slip Template.
We thank our readers for liking, sharing and following us on different social media platforms.
If you have any queries or questions, share them in the comments below. I will be more than happy to help you.