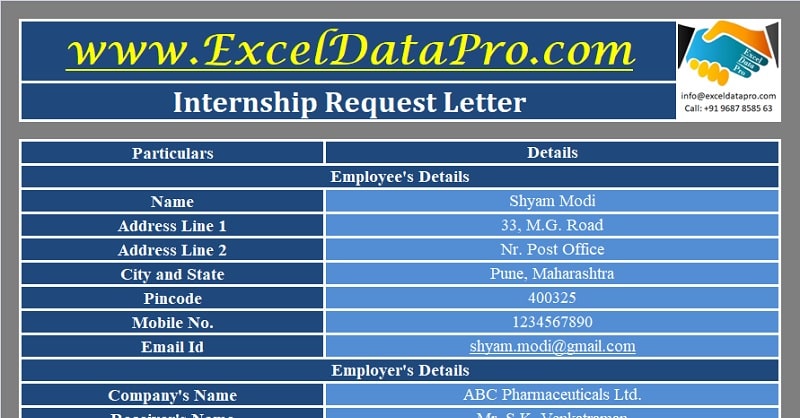 Internship Request Letter is a ready-to-use excel template that helps to prepare a request for an internship in a company in less than 5 minutes.
You just need to enter your details, company details along with your educational credentials to get the letter ready. It consists of a pre-drafted letter. No need to manually type the whole letter.
What is an Internship Request Letter?
An internship request is a letter written by a student to obtain an internship in a company that is usually required in the final year of studies before getting the certificate.
This letter can be of two types. One is with reference and another is without any reference. The requester needs to furnish the reference letter from the referrer.
An internship is the position of a student or trainee who works in an organization, sometimes without pay, to gain work experience or satisfy requirements for a qualification.
Here are both types of Internship Request Letters with and without reference.
Furthermore, this internship request letter is available in other formats like Word, PDF, Google Doc, and Open Office Writer format. Click the download button given below each image and start using it. The best part is that all these formats are editable and free to download.
Internship Request Letter Excel Template
We have created a simple and easy Internship Request Letter Excel Template with a pre-drafted letter. Just enter your details, employer details along with your credentials and achievements. That's it and your letter is ready to print.
Click here to download the Internship Request Letter Excel Template.
Additionally, you can download other HR Letter templates like Workplace Harassment Complaint Letter, Loan Application Letter, Promotion Request Letter, Resignation Letter, Casual Leave Application, Resume and Cover Letter and much more from our website.
Internship Request Letter With Reference
 PDF  Word  Google Doc Open Office Writer
Internship Request Letter Without Reference
 PDF  Word  Google Doc Open Office Writer
Once you download the desired format, change the bold text to get your letter ready.
Let us understand the contents of the template in detail and how to use this template.
Contents of Internship Request Letter Excel Template
This template consists of 2 sheets: Data Input Sheet and Internship Request Template.
Data Input Sheet
There are 3 sections in the Data Input Sheet: Internship Candidate details, employer details, and Other Details.

Internship Candidate details consist of:
Name
Address
City and State
Pincode
Ph. No.
Email address

Employer details include:
Company's Name
Receiver's Name
Designation
Department
Address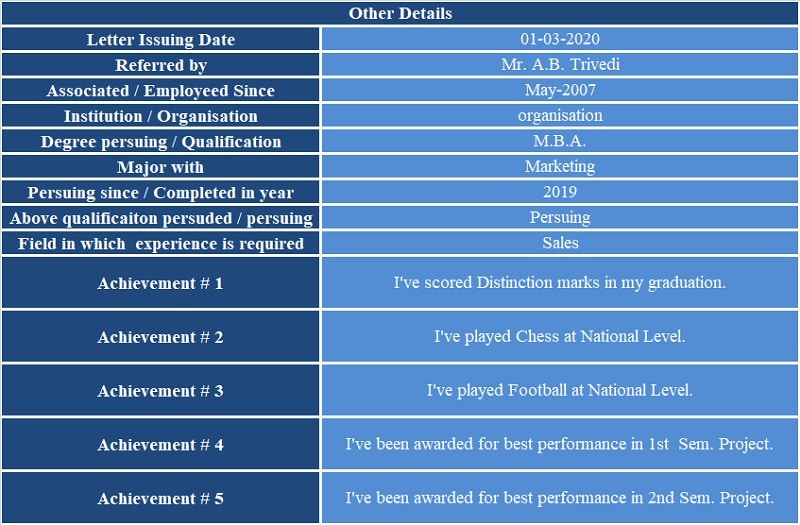 Other Details section consists of the following heads:
Letter Issuing Date
Referred by
Associated/Employeed Since
Institution/Organisation
Degree pursuing/Qualification
Major with
Pursuing since/Completed in the year
Above qualification pursued/pursuing
A field in which experience is required
Achievements
If you don't have any reference then leave the reference cell blank. The letter will print it without reference details.
Internship Request Letter Templates
You can print both types of letters just by entering the details in the Data Input Sheet.  The cells are linked to the data input sheet and it will automatically fetch the required data at relevant places.
Printing the letter using the Excel file will look a bit different from Word. The cells have been designated to place the required data. Hence, there will more space near the credentials. We have given also other formats for your ease.
Additionally, to send a pdf version use the inbuilt Microsoft to PDF option available in the print menu. See image below: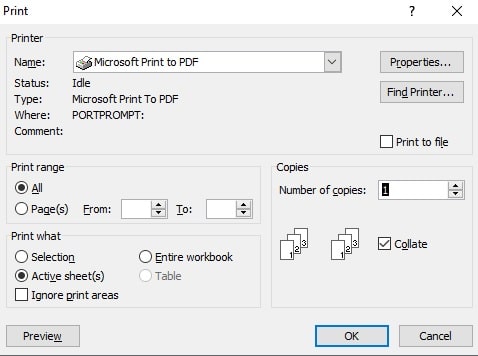 Thus, this template can be helpful to individual employees to apply for an internship in a company with or without reference in just a few minutes.
We thank our readers for liking, sharing and following us on different social media platforms.
If you have any queries please share in the comment section below. We will be more than happy to assist you.