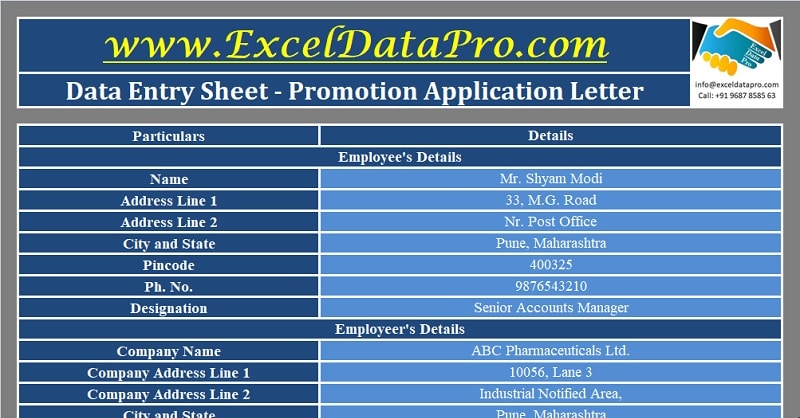 Promotion Request Letter is a ready-to-use excel template that consists of application formats to request promotion for 3 different situations.
These templates are ready letters where you just need to insert your as well as your employer credentials and the letter is ready.
Additionally, this template comes with 4 different formats; Word, Open Office Writer, PDf and Google Doc. Download the desired format and start using it. All formats are free to download and completely editable.
What is a Promotion Request Letter?
Promotion Request Application is a letter that an employee provides to the employer requesting promotion to a higher position in the company.
Moreover, it highlights the employee's capability and suitability of the desired position. This includes the achievements, performance records as skills preferable for the higher position.
How to Write A Professional Promotion Request?
Appropriate timing is a must while asking for a promotion.
It should be not sent while the company is facing economic slags.
The employee must prepare the required grounds before requesting.
They must not surprise management. Some prior conversations about performance, strengths, skills, etc should be done.
Expressing your intentions to immediate supervisors helps to make things easy.
Use a professional heading, salutation, and greeting at the start.
Praise the work environment and support from the team especially the supervisors.
Moreover, present and match the skills and strengths that make you the best choice for the position.
Mention things that you think you can excel after attaining the new position.
Finally, draft the final paragraph to express thanks for considering your application.
Promotion Request Letter Excel Template
To simplify and ease to prepare a promotion application, we have created a Promotion Request Letter Template in multiple file formats and pre-drafted text. Just enter the required credentials and your letter is ready to print.
There are three different types of promotion request letters; Promotion Request with another job offer, Promotion Request without another job offer and Promotion Request after a long time.
Click here to download the Promotion Request Letter Excel Template.
You can download other HR Letter templates like Transfer Request Letter, Resignation Letter, Casual Leave Application, Resume and Cover Letter and much more from our website.
Click the link below to download the desired Promotion Request Letter in PDF, DOC, Open Office or Google Doc format:
Promotion Request With In-Hand Job Offer
 PDF  Word  Google Doc Open Office Writer
Promotion Request Without In-Hand Job Offer
 PDF  Word  Google Doc Open Office Writer
Promotion Request For No Promotion for a Long Time
 PDF  Word  Google Doc Open Office Writer
Download any of the above formats of your choice to get your letter ready.
Let us understand the contents of the template in detail and how to use this template.
Contents of Promotion Request Letter Excel Template
This template consists of 4 sheets: 1 Data Input Sheet and 3 Promotion Request Letter Templates.
Data Input Sheet
There are 3 sections in the Data Input Sheet: Employee Credentials, Employer Credentials, and Promotion Request details.

Employee Credentials include:
Name of Employee
Employee Address
City/State
Pin Code
Contact Number
Designation

Employer Credential section consists of:
Company Name
Address
Contact
Name of Supervisor
Designation of Supervisor

Promotion Request details consist of the following:
Date of Joining
No. of Years Last Promotion Received
Desired Post of Promotion
Desired Department of Promotion
Additional Qualifications Acquired
Salary offer from another company
List of 3 Achievements

You can leave the last promotion received and salary offer from another company details blank if it is not applicable.
Salary offer is applicable when you want to ask for a promotion when you have an in-hand job offer and last promotion received is required when there has been no promotion since long.
Employee Promotion Request Letter Templates
There are 3 different Promotion Request Letter templates. One is with an in-hand job offer, one is without a job offer and the last one is for promotion not received for a long time.
Just enter the details in the Data Input Sheet and all the letters will fetch the required details automatically.
Keep in mind that printing the letter using the Excel format will look different as the cell arrangements are made for fetchable text. Thus, it will have more blank space near the credentials. In such cases, you can use the other formats have been provided above.
Moreover, if you want to send a pdf version to your employer, then you can use the inbuilt Microsoft to PDF option as shown in the image below: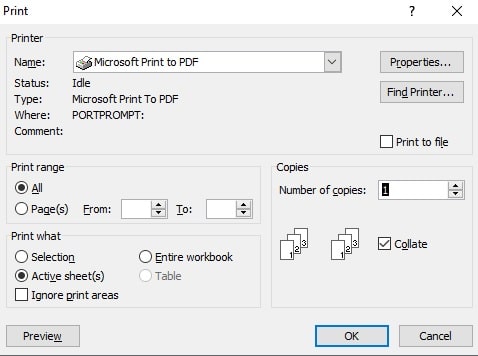 Thus, this template can be helpful for individuals to prepare a promotion request as per your requirements in just a few minutes.
We thank our readers for liking, sharing and following us on different social media platforms.
If you have any queries please share in the comment section below. We will be more than happy to assist you.