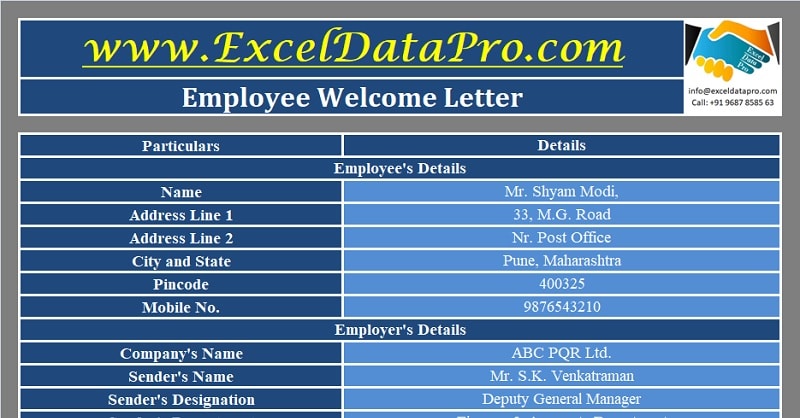 Employee Welcome Letter is a ready-to-use excel template that helps you issue a letter welcoming the newly recruited employee in less than 5 minutes.
First, enter the details of the newly hired employee and your company details. Insert details of reporting time and orientation details of the first day at work and your letter is ready. The template consists of a pre-drafted letter. Hence, you don't need to manually type the letter.
Furthermore, this welcome letter template is also available in Word, PDF, Google Doc, and Open Office Writer format. Click the download button with the desired format icon. All these formats are editable and free to download.
What is a Welcome Letter?
A welcome letter is an HR document that an employer issues newly hired employees to welcome them at the workplace, team, and company.
Along with a warm welcome, it also provides information about the schedule of the first day on the new job and other relevant details. It is a great way to make a newly hired employee more comfortable before they even join.
Usually, there is no orientation schedule when the company is small. But in big companies, these letters also include the orientation schedule and the activities of the first day at work.
Employee Welcome Letter Excel Template
We have created a simple and easy Employee Welcome Letter Excel Template with a pre-drafted letter. You just need to enter the employee details along with other relevant details like reporting authority and orientation schedule and your letter is ready.
Click the link below to download the desired format for Employee Welcome Letter:
Excel  PDF  Word  Google Doc Open Office Writer
Additionally, you can download other HR Letter templates like Transfer Rejection Letter Promotion Rejection Letter, Job Rejection Letter, Disciplinary Memo, Promotion Letter, Casual Leave Application, Absconding Letter, and much more from our website.
Let us understand the contents of the template in detail and how to use this template.
Contents of Employee Welcome Letter Excel Template
This template consists of 2 sheets: Data Input Sheet and Welcome Letter Template.
Data Input Sheet
This sheet consists of 3 sections: Employee details, Employer details, and Other Details section.

Employee details consist of:
Name
Address Line 1
Address Line 2
City and State
Pincode
Ph. No.
Employer details include:
Company Name
Sender's Name
Designation
Department
Email ID
Mobile Number
Other Details section consists of the following heads:
Letter Issue Date
Joining Employee's Designation
Deputed Department
Reporting Date
Reporting Time
Dress Code
Orientation Starting Time
You can leave the orientation cell blank if it is not applicable.
Welcome Letter Template
You can print the letter just by entering the details in the Data Input Sheet. The cells are linked to the data input sheet and it will automatically fetch the required data.
Important Note: Printing the letter using the Excel file will look different from Word as the cells have been designated to place the required data. There will more space near the credentials. We have given other formats for your ease.
Additionally, to send a pdf version use the inbuilt Microsoft to PDF option available in the print menu. See image below: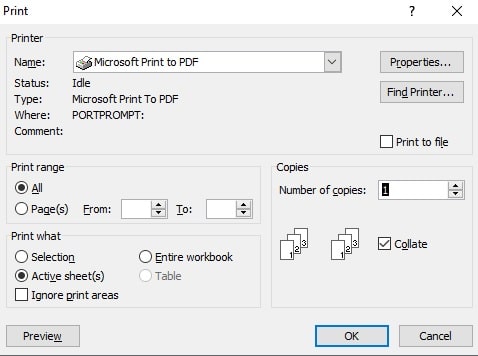 Thus, this template can be helpful to HR assistants, HR heads as well as HR professionals and department heads to create a welcome letter according to their requirements in just a few minutes.
We thank our readers for liking, sharing and following us on different social media platforms.
If you have any queries please share in the comment section below. We will be more than happy to assist you.