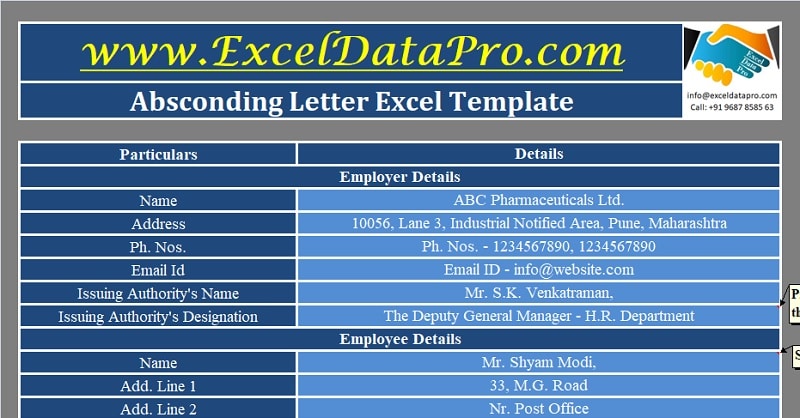 Absconding Letter is a ready-to-use excel template that helps to issue a notice to the absconding employee just by entering the employer/employee details.
Usually, to prepare a letter we need to type the whole text. We have simplified the process of preparing the letter using excel. Only enter the employee and employer credentials and the letter is ready to print. It fetches the required details at the respective places.
In addition to that, this template consists of Word, PDF, Google Doc, and Open Office Writer formats of Absconding Letter other than Excel. The best part is that all these are free to download and are editable. All you need to do is to download your desired format and use it.
What is an Absconding Letter?
Absconding Letter is an HR document that a company issues to employees who are absent on work for a period more than the limit mentioned in the employment contract.
In simple terms, it is a show-cause that a company issues to an employee who has willingly/unwillingly left the work without any prior information. Absconding means unprofessional separation of the employee from an organization without any proper procedure.
Usually, an absconding employee doesn't get the remaining compensation or documents like an experience letter or relieving letter. They can even get blacklisted by the company.
Purpose Of An Absconding Letter
The main reason for issuing this letter is to safeguard company interest. This helps in taking any legal action against the employee in case of any fraud.
Furthermore, it helps the company to recover the costs or any additional perks provided to the employee. These include access to company areas, ID Cards, a Laptop, a Corporate Credit-card, accommodation, House, Car, etc.
Absconding Letter Excel Template
We have created a simple and easy Absconding Letter Excel Template with a ready predefined letter format. Just enter the employee/employer credentials and the absconding details and your notice letter is ready.
Click the link below to download the desired format for Abscondint Letter: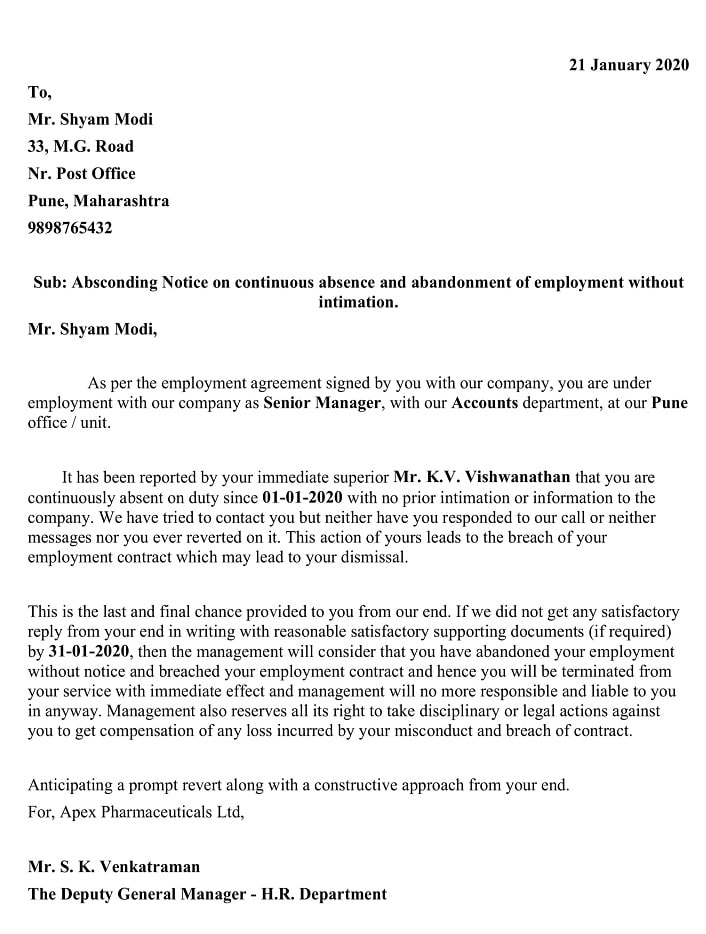 Excel  PDF  Word  Google Doc Open Office Writer
You can download other HR Letter templates like Resignation Letter, Promotion Letter, Casual Leave Application, Memo Letter, and much more from our website.
Contents of Absconding Letter Excel Template
This template consists of 3 sheets: 1 Data Input Sheet and 2 Absconding Letter Formats.
Data Input Sheet
Data Input Sheet consists of 3 sections: Employee Details, Employer Details, and Absconding Details.

Employer Details consist of the following heads:
Company Name
Company Address
Contact Numbers
Email ID
Name of Issuing Authority
Designation of Issuing Authority

Employee details consist of the following heads:
Employee Name
Address
City/State
Pin Code
Employee Contact Number

Absconding details section consist of the following heads:
Date Of Letter
Employee Designation
Department
Location (If Applicable)
Immediate Superior's Name
Immediate Superior's Designation
Absent Since
Last Date to Revert or Reply
You are almost done. Go to the next sheet and print the letter.
Absconding Letter Templates
You don't need to make any entries in this file. It auto-populates according to the data entered in the previous sheet.
The letter consists of pre-drafted text. In case you want to change it you can do it going to the respective cell. If you don't have a pre-printed letterhead of the company, use the third sheet to print an Absconding letter on Letterhead.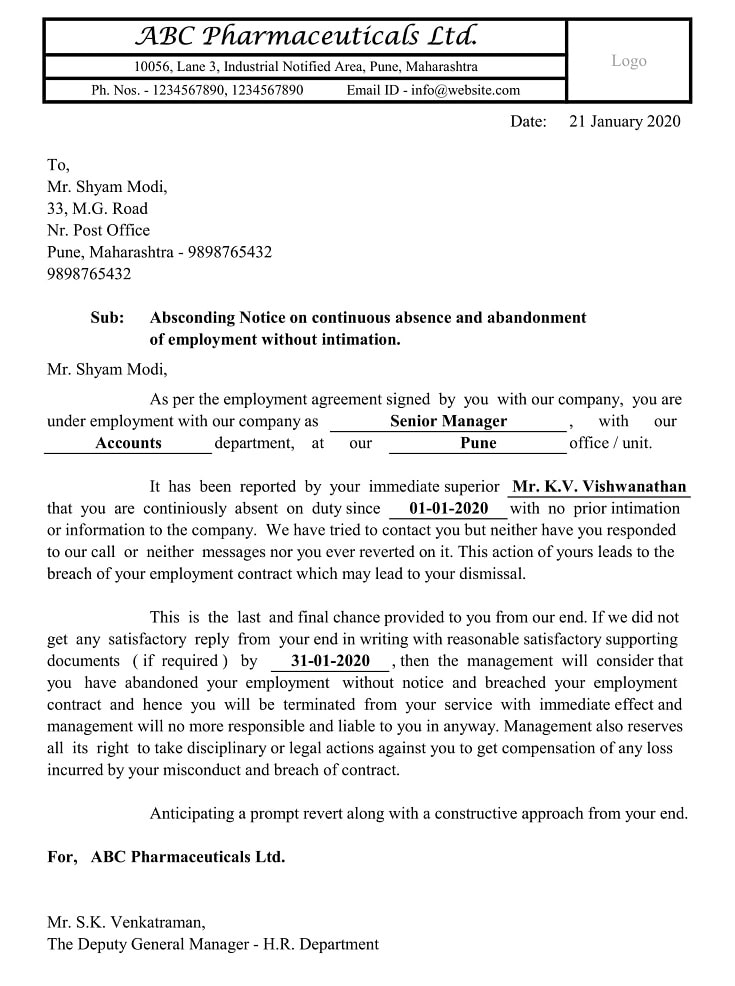 Print from the Excel file will look a little bit different from Word as it consists of tables format. Hence, there is more space between letters.
Furthermore, if you are looking to send a pdf version of your letter to the company, you can use inbuilt Microsoft to PDF option from the print menu.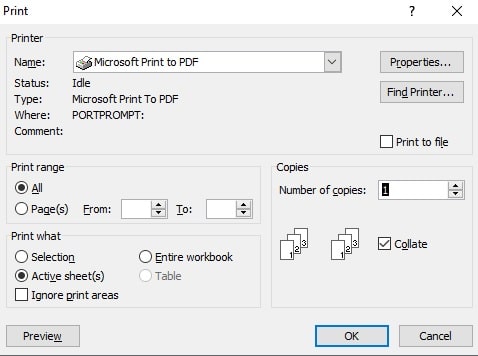 Thus, this template can be helpful to HR assistants, HR heads as well as HR professionals to create an absconding notice according to their requirements in minutes.
We thank our readers for liking, sharing and following us on different social media platforms.
If you have any queries please share in the comment section below. We will be more than happy to assist you.