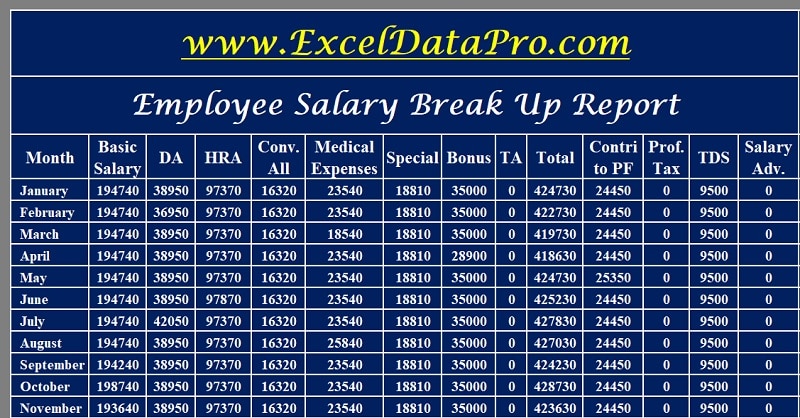 Employee Salary Break Up Report is a ready-to-use Excel Template with predefined formulas to calculate salary break of each head paid to your employees.
It includes the breakup of salary like how much basic salary, allowances, deductions, etc are paid/deducted during that time.
Salary Breakup Report Excel Template can be useful to HR assistants, HR professionals, and office admins. Accountants can use this template to predict future budgets and other financial reports related to payroll.
What is Salary Breakup?
Salary breakup is the detailed statement total compensation paid to all employees during a specific period of time.
It includes heads like basic earnings like salary, Dearness Allowance, House Rent Allowance, Conveyance Allowance, medical expenses, special allowance, bonus, TA, etc. It also includes deductions like Contribution to provident fund, profession tax, TDS, Advance Salary, etc.
Salary Breakup Report Excel Template
We have created an easy and ready-to-use excel template for Salary Breakup Report with predefined formulas. Either you can copy-paste the salary data from your monthly salary sheet or maintain the records in this template.
Using the linking function of excel, each sheet has been linked to the report. You need to enter the data only once and it will automatically display the totals for you.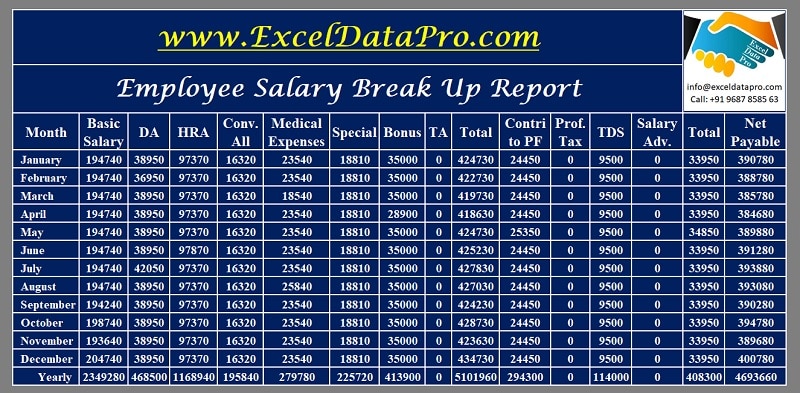 Click here to download the Salary Breakup Excel Template.
Click here to Download All HR & Payroll Excel Templates for Rs 199.
You can download other useful HR templates like Employee Training Log Template, Employee Vacation Tracker Template, Salary Arrears Calculator Template, and Resume/Cover Letter Template.
Let us understand how to use this template in detail.
How To Use Salary Breakup Excel Template?
This template consists of 13 sheets;
Employee wise Monthly Salary Data Sheet (12 Sheets – 1 sheet for each month)
Consolidated Monthly & Yearly Salary Breakup Report.
1. Employee wise monthly Salary Data Sheet
In this sheet, you need to punch salary data or each employee and it will automatically display the monthly total for each head as well as Net Payable amount for each employee.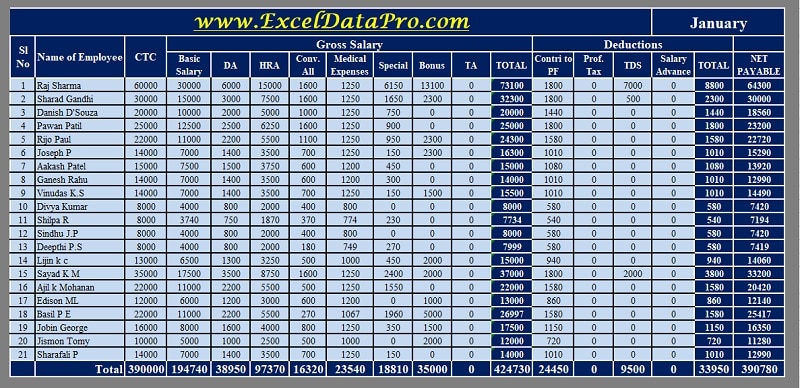 If you have the data in another sheet you can also copy-paste the data in light blue colored cells. Dark Blue Colored cells have the formulas so do not enter any data in these cells.
Usually, different companies have different heads for salary and deduction. You can amend them according to your needs. Don't forget to amend the formulas. If you face any issues, we are there to assist you.
2. Consolidated Monthly & Yearly Salary Breakup Report.
The consolidated sheet consists of the final total of each month as well as the yearly total of each head along with the net payable amount for each month and each year.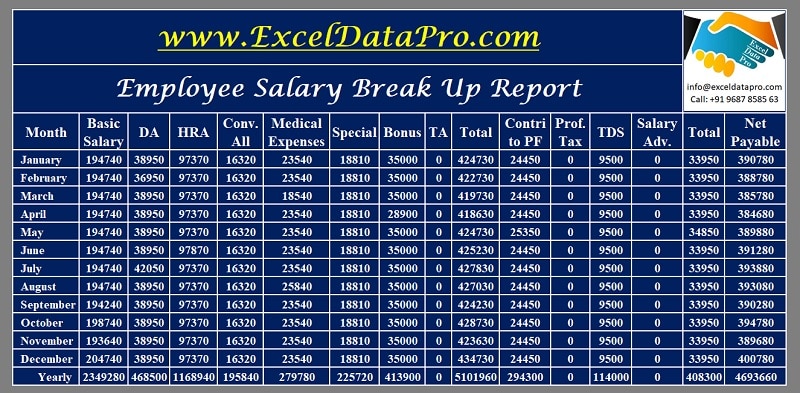 By any chance, if you make changes in monthly sheets then the Salary Breakup Report Template must also be changed accordingly.
Please note that here you don't need to enter any data. it will automatically fetch the data from the monthly sheets.
We thank our readers for liking, sharing and following us on different social media platforms.
If you have any queries or suggestions please share in the comment section below. I will be more than happy to assist you.