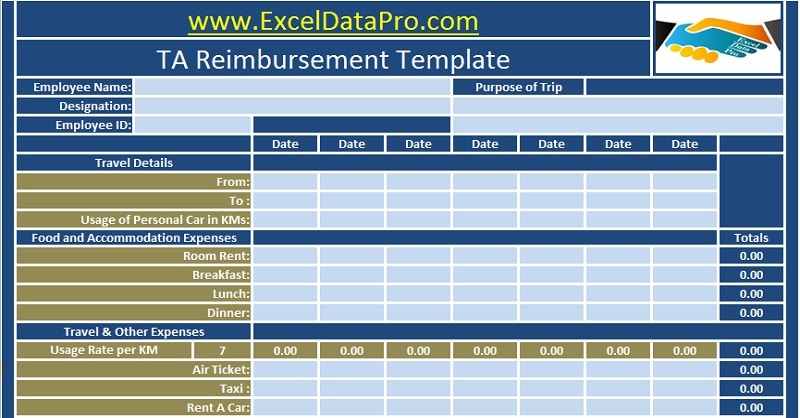 Employees are entitled to TA reimbursement for their official travels.TA stands for Traveling Allowance.
Traveling Allowance is an additional amount paid to an employee when he/she travels to other places for business purpose. This amount not deducted from the salary of the employee.
TA is either paid in advance before the travel or reimbursed after the travel has been made. It depends on company policy, employee rank, workplace policies etc.
Usually, the reimbursement of traveling allowance includes mode of travel, accommodation, meals and other incidentals. Different companies have their predefined formats for reimbursement of TA.
We have created a ready to use Employee TA Reimbursement Template in Excel with predefined formulas.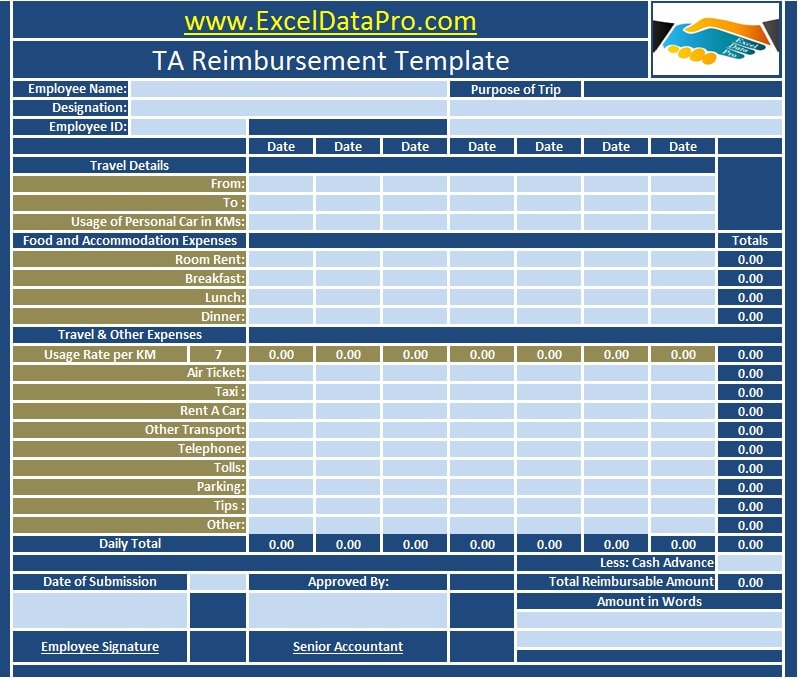 This template is useful for employees to claim reimbursements of their TA as and when they travel for the business purpose.
Click here to Download Employee TA Reimbursement Excel Template.
Click here to Download All HR & Payroll Excel Templates for Rs 199.

Additionally, you can download other accounting templates like Petty Cash Book, Simple Cash Book, and Accounts Payable Excel Templates from here.
Let us discuss the contents of the template in detail.
Contents of the Employee TA Reimbursement Template
This template consist of 6 sections
Header Section.
Employee Details Section.
Travel Details Section.
Food and Accommodation Expenses Section.
Travel and Other Expenses Section.
Approval Section
1. Header Section
Header section consists of the company name, company logo and heading of the sheet "TA Reimbursement Template".

2. Employee Details Section
Employee details section consists of general details like employee name, employee id, designation, department and purpose of trip.

3. Travel Details Section
Trave details section consists of date for each day, From and To Travel destinations.

If you are using your own vehicle for the official travel then you need to enter kilometers for a daily run.
Once you add the kilometers the sheet will automatically multiply it with the usage rate and displays the result in travel expenses section.
4. Food and Accommodation Expenses Section:
This section consists of expenses related to room rent, daily breakfast, lunch, and dinner.

5. Travel and Other Expenses Section
Travel and other expenses section includes all expenses related to travel. It includes expenses of air tickets, taxi charges, rent a car, parking etc.

If you are using your personal vehicle for travel, you need to mention the daily run in travel details section.
If you mention daily run and rate in the respective column, it will automatically calculate the mileage for you.
The template shows both; daily totals as well as weekly totals of each head of expense. With this template, you can claim up to 7 days of travel expenses.
6. Approval Section
At the end, there is an approval section. This section consists of final calculations.
If you have received any advances from the company you need to mention them in the cell below totals.
Total Reimbursable amount = Sub-Total – Advances.

Furthermore, it includes the signature boxes for the claiming employee and the approving authority.
Note: It should be kept in mind that travel reimbursements should be claimed well in time. Usually previous fiscal years reimbursements are non-claimable.
We thank our readers for liking, sharing and following us on different social media platforms.
If you have any queries please share in the comment section below. I will be more than happy to assist you.