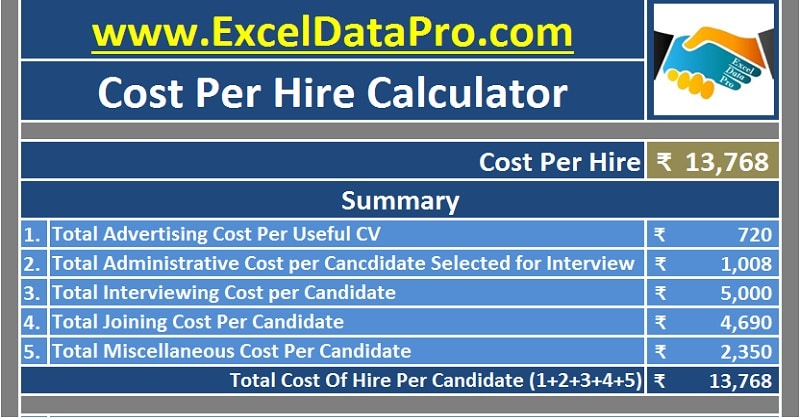 Use this Online Cost Per Hire Calculator to get the desired metric in just a few clicks or download a free template in Excel.
Cost Per Hire Calculator
Direct Recruiting Expenses
Indirect Recruiting Expenses
No. of Candidates Recruited
Cost Per Hire :
Cost Per Hire Calculator helps to calculate the costs associated with the advertising, recruiting and staffing, etc borne by a company to fill an open position.
In other words, Cost Per Hire or CPH means expenses incurred by an employer for recruiting new staff from advertising to joining an employee against the total number of recruitments.
Moreover, CPH or Cost Per Hire is one of the widely used HR metrics to measure the effectiveness of the recruiting process.
Thus, it is advisable to have low CPH while recruiting. It should be kept in mind that maintaining the quality of recruits is also necessary.
Cost Per Hire = Direct Expenses + Indirect Expenses / No of Candidates Recruited.
Direct Expenses = Salaries of recruiting staff, expenses incurred by recruiting staff, candidate background checks, reference checks, etc.
Indirect Expenses = Recruiter Fees, Advertising costs, Career Fair Expenses, Job board postings, etc.
Thus, CPH varies according to the size of the organization, recruitment channels, the seniority of the position, etc.
Moreover, to simplify and ease the CPH calculations, we have created a Cost per Hire calculator excel template. Just add your details and it will automatically calculate the Cost per Hire for you.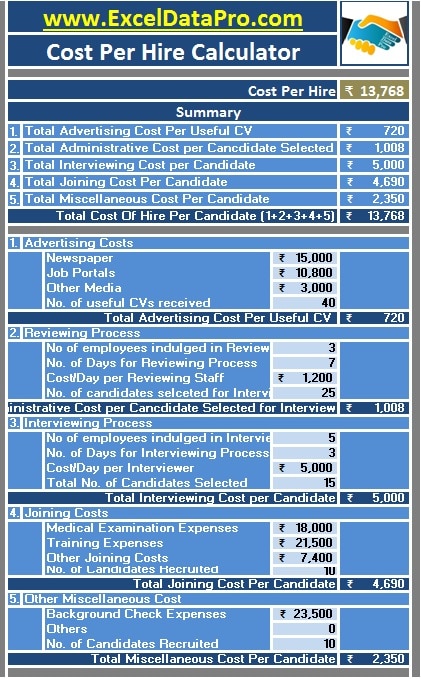 Click here to Download the Cost Per Hire Calculator Excel Template.
Click here to Download All HR Metrics Excel Templates for ₹299.

Additionally, you can download HR Metrics templates in Excel like Revenue Per Employee Calculator, Profit Per Employee Calculator, Time To Hire Calculator, and Time To Fill Calculator
Let us discuss the contents of the template in detail.
Contents of Cost Per Hire Calculator Template
This template consist of 7 sections
Header Section
Summary Section
Advertising Costs Section
Reviewing Costs Section
Interviewing Costs Section
Joining Costs Section
Miscellaneous Costs Section
1. Header Section
Firstly, the header section consists of the company name, company logo, and heading of the sheet "Cost Per Hire Calculator".
Additionally, it displays the CPH per recruit on the top of the template.

2. Summary Section
Secondly, the summary section consists of calculations of cost per candidate for each expense.
Cost Per Hire = Advertising cost per candidate + Reviewing Cost + Interviewing Cost  + Joining Costs + Miscellaneous Costs.

Calculations of each expense of recruiting are explained below.
3. Advertising Costs
Advertising costs include advertising in newspapers, through job portals, and other media. After adding all advertising costs it is divided by the number of candidates recruited to get Advt. Cost Per Candidate.
Advt. Cost Per Candidate = Sum of all advertising expenses / no. of candidates recruited.

4. Reviewing Process Cost
CV reviewing cost includes the cost of scrutinizing and finalizing the candidates' applications.
Reviewing Cost Per Candidate = No. of HR staff employed X No. of days X Cost per Day / No. of Candidates Recruited.

You can use our Job Candidate Tracker Template for the easy maintenance of multiple job applications at once.
5. Interviewing Process Cost
All cost related to interviewing the candidate is Interviewing costs.
Interviewing Cost per Candidate = No. of interviewers X No. of days X Cost Per Day / No. of Candidates Recruited.

6. Joining Costs
The joining cost includes all expenses made on the candidate to join the organization. It includes the medical examination, training of candidates, and other expenses.
Joining Cost Per Candidate = Medical Examination Expenses + Training Expenses + Other Expenses / No .of Candidates Recruited

7. Miscellaneous Cost
Miscellaneous costs include the cost incurred to conduct the background checks on the candidates and confirming the references provided by the candidates.
Misc. Cost per Candidate = Total Costs / NO of Candidates Recruited

Furthermore, while calculating the CPH, it should be kept in mind that CPH should be specific to a period like annual, six months, or quarterly.
Additionally, the type of recruitment like part-time, full-time, temporary, or permanent should also be kept in mind while calculating CPH.
We thank our readers for liking, sharing, and following us on different social media platforms.
If you have any queries please share in the comment section below. I will be more than happy to assist you.