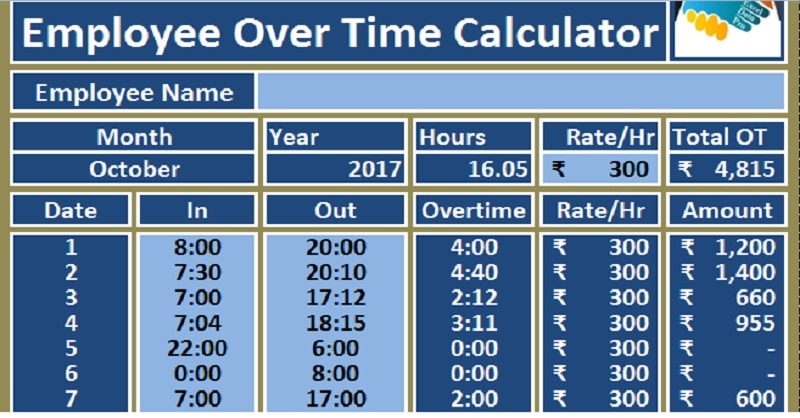 Employee Over Time Calculator is a ready-to-use calculator that helps you to calculate overtime of employees in a small or medium-sized organization.
Over Time Pay means the amount compensated for hours or days worked more than the maximum limit mentioned in your contract or set by federal/provincial law.
Usually, small companies and factories require managing the employee hours for the payment of overtime. It sometimes becomes a tedious job.
Employee Over Time Calculator Excel Template
We have created an Over Time Calculator Excel template with predefined formulas. You can easily and efficiently calculate overtime. Just enter the In and Out time along with the overtime rate and it will automatically calculate everything for you.
Click here to Download Employee Overtime Calculator Excel Template.
Click here to Download All HR & Payroll Excel Templates for Rs 199.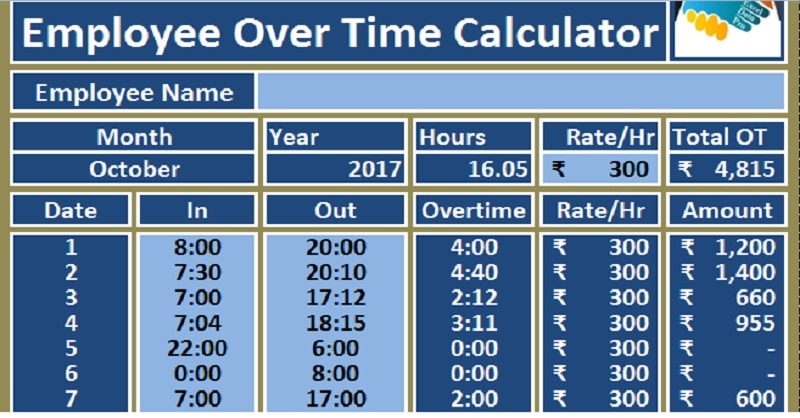 You can download the same in Apple Numbers from the below link:
Overtime Calculator Apple Numbers Template
Additionally, you can download other HR Templates like Salary Sheet, Attendance Register, Gratuity Calculator, etc.
Let us discuss the contents of the template in detail.
Contents of the Employee Overtime Calculator Template
This template consist of 3 sections
Header Section.
Summary Section.
Data Input Section.
1. Header Section
The header section consists of the company name, company logo and heading of the sheet "Employee Overtime Calculator".

2. Summary Section
The summary section consists of the following subheadings:
Employee Name: Name of Employee.
Month: Select the month from the drop-down list.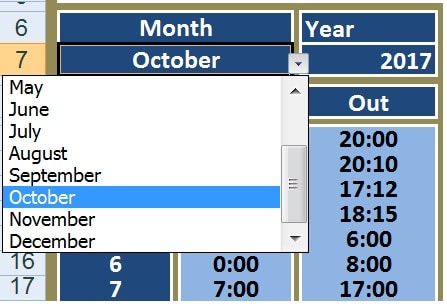 Click on the link below to learn how to easily create a drop-down list.
How to create a drop-down list in 3 easy steps.
Year: Enter year.
Hours: This cell will display the total number of hours worked by the employee for the whole month.
Rate/Hr: Enter the rate per hour for overtime.
Total OT: Total OT shows the total amount of Overtime earned by the employee.
3. Data Input Section
Data Input section consists of the following subheadings:

Date: Date from 1st of every month till the end is displayed here.
In: Employee In time is entered here.
Out: Employee Out time is entered here.
Overtime: The template automatically calculates the number of hours worked more than the limit.
The formula applied here is =IF(OR(D11="",F11=""),"",(IF(D11>"12:00″,"00:00″,("24:00"-D11)+F11))-"08:00")
We have set the limit to 8 hours. You can change it by changing the last part of the formula.
Rate: Rate per hour of Overtime.
Amount: The total amount of overtime per day is displayed.
In the end, totals of monthly overtime hours and amounts are displayed.

We thank our readers for liking, sharing and following us on different social media platforms.
If you have any queries please share in the comment section below. I will be more than happy to assist you.