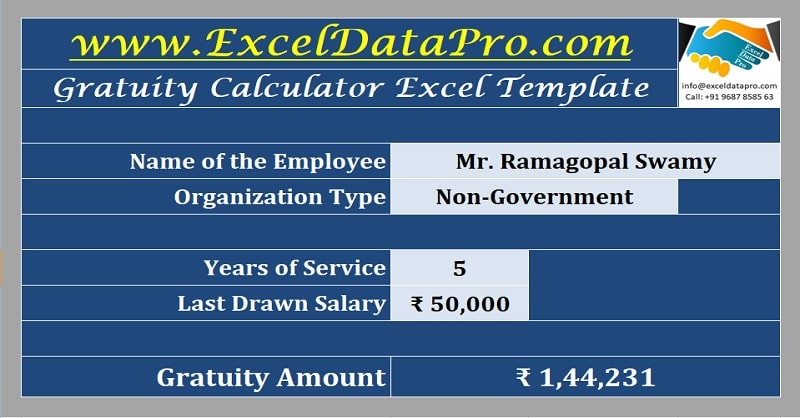 Gratuity Calculator is an excel template with predefined formulas that help you easily calculate your gratuity amount. The end of service amount also known as Gratuity will be calculated according to the new rules of gratuity as per Gratuity Act in India.
Just enter your last drawn salary and total years of service and will automatically calculate your gratuity amount. Let us understand the term
What is Gratuity?
Gratuity is the end of service benefits provided by the employer to the employee for the service rendered to the organization.
An employee is entitled to get gratuity when he/she:
Resigns
Retires
Laid off
Death or Disablement
According to the Gratuity Act, an employee is paid gratuity if he/she completes a minimum service of 5 years with that particular employer.
Furthermore, in the case of death or disablement, there is no minimum eligibility period.
Disablement means the loss of the earning capacity of an employee. It is of two types; temporary disablement & permanent disablement.
Formula To Calculate Gratuity
The formula to calculate Gratuity is as follows:
Last Drawn Salary X Total Years of Service X 15/26
Last Drawn Salary: Basic Salary + Dearness Allowance (DA)
Total Years of Service: Number of years of service in a company. The mathematical rule of point will apply here in calculating the years.
For example, if Mr. X has completed 5 years and 3 months then it will be considered 5 years and if it is 5 years and 6 months or above then it will be considered as 6 years.
15/26: 15 is wages for 15 days and 26 are the working days of the month. In simple terms, it is approximately a half month's salary (Basic + DA).
Gratuity Calculator Excel Template
We have created and simple and ready-to-use excel template for Gratuity Calculator (India). Just enter only a few data and it will calculate the gratuity for you.
Click here to download Gratuity Calculator (India) Excel Template.
Additionally, you can download other useful HR Templates like Salary Sheet, Attendance Register, etc.
Let us discuss how to use this calculator to calculate gratuity.
How To Use This Gratuity Calculator (India)?
This template consists of 2 sections;
Personal Information
Gratuity Calculations
1. Personal Information
In this section, you need to enter the name and your organization type. It can be a government organization or non-government organization.
2. Gratuity Calculations
To calculate gratuity, you need to enter 2 details;
Last drawn salary and
Total years of service.
Applying the above-mentioned formula, the template calculates the gratuity for the given years of service.
The last drawn salary will not be a total take-home salary. It is only the basic salary in addition to the dearness allowance.
If your years of service are less than 5 years the gratuity calculator will display NIL.
Disclaimer: This template has been created for educational purpose. Kindly consult required authority before finalizing the gratuity amount. 
We thank our readers for liking, sharing and following us on various social media platforms.
If you have any queries or suggestions, please share in the comment section below. We will be more than happy to assist you.