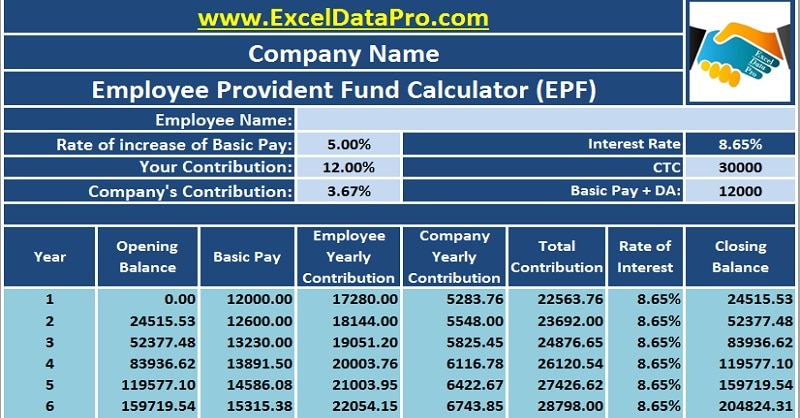 Employee Provident Fund Calculator is an important document for HR Professionals. They require calculating the retirement benefits for employees retiring in their organization.
These calculations are based on EPF and MP (Employee Provident Fund and Miscellaneous Provisions) Act 1952 in India. For more details, you can visit the website EPFindia.com.
EPF is a retirement benefits scheme available for all salaried employees. It is maintained and looked after by the EPFO (Employees Provident Fund Organisation of India).
It is mandatory by law for all organization with more than 20 employees to register with the EPFO.
EPF is a saving platform which helps employees to save a proportion of their salary every month. Employees can use it in the event either they are unemployed, unable to work or at the time of retirement.
As an employee, we would like to know how much provident fund has been accumulated during the years of service.
We have created an Employee Provident Fund Calculator in Excel with predefined formulas. You just need to enter few details and the sheet automatically calculates the PF up to 35 years.
This template helps to calculate year-wise contributions of the employee and the employer along with the yearly interest amount on Provident Funds.
Click here to Download the Employee Provident Fund Calculator Excel Template.
Click here to Download All HR & Payroll Excel Templates for Rs 199.

Additionally, you can download other accounting templates like Petty Cash Book, Simple Cash Book, and Accounts Payable Excel Templates from here.
Let us discuss the contents of the template in detail.
Contents of Employee Provident Fund Calculator
The EPF calculator template consists of 3 sections:
Header Section
Employee Detail Section
Provident Fund Calculation section
1. Header Section
The header section consists of the company name, company logo and heading of the sheet " Employee Provident Fund Calculator".

2. Employee Detail Section
This section consists of following employee details:
Employee Name: Name of the employee.
Yearly Rate of increase in Basic pay: An estimated yearly % rate of increase in Basic pay.

Percentage of Employee Contribution to EPF: Percentage of Basic salary contributed by Employee.
Percentage of Employer/Company Contribution to EPF: Percentage of Basic salary contributed by Employer.
Interest Rate: Interest rate by govt. on these savings. Currently approved percentage is 8.65 %.
3. Year-wise Provident Fund Calculation section
Year-wise Provident Fund Calculation section consists of 8 subheadings as follows:
Year: Total Year of service
Opening Balance: Starting from the first year, this column displays the balance at year-end.
Basic Pay: This column shows each year's basic pay. From the second years as per the estimated increase percentage the basic pay increases.
The formula applied here is Basic pay of previous year X 5 %.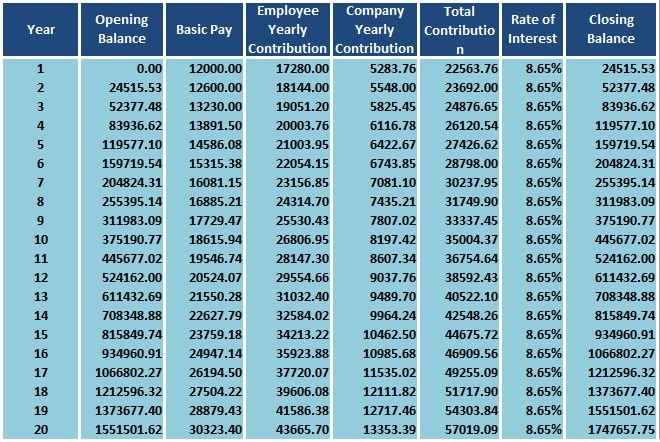 Employee Yearly Contribution: As per the EPF and MP Act the employee contribution is 12 % of the Basic Salary.
Employee contribution = Basic Pay X 12% X 12 months
By using the fill handle function of excel, copy the formula till the end.
Company Yearly Contribution: Employer or company's contribution to EPF is 3.67 % according to EPF and MP Act.
Employer Contribution = Basic Salary X 3.67% X 12 months
Use the fill handle to copy the same formula till the end.
Total Contribution: Total Contribution for that year = Employee Contribution + Employer Contribution.
The rate of Interest: This rate of interest is fixed by govt. The current rate for EPF is 8.65% per annum.
Closing Balance: This column shows the closing balance at the end of the year including the previous years.
Closing Balance = Opening Balance of the year + Total Contribution of the current year X 8.5 %
In the end, the total amounts of employee contribution, employer contribution, the total contribution and the balance with current EPF balance with interest are displayed.
We thank our readers for liking, sharing and following us on different social media platforms.
If you have any queries please share in the comment section below. I will be more than happy to assist you.