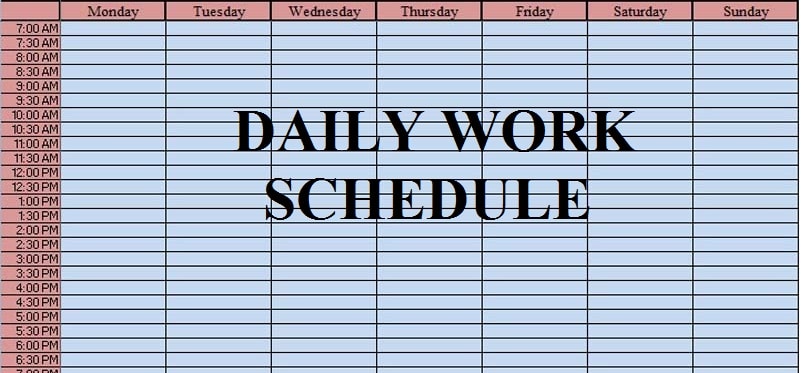 Daily Work Schedule Template is a planner that helps us to prioritize and schedule our routine tasks daily. It is a document that gives you the most granular details of the tasks and helps you to track every smallest bit of the tasks during the day.
Work Schedule is made for workdays from Monday to Friday/Saturday or for the whole week from Monday to Sunday.
I use this Daily Work Schedule to plan my work. Starting from article writing, client's appointments, and meetings….and the list goes on.
Everything that I need to do during the day from the time I wake up till I go to sleep.
Furthermore, accomplishing our tasks, goals, and dreams always begins by focusing on our important tasks.
If our schedule is not planned we will end up with the busy work that will make our days slip away without good productivity.
This template for Daily Work Schedule can help you beat procrastination and get more important works done.
Daily Work Schedule Excel Template
I created a simple but very effective Daily Work Schedule template which is very helpful for us to prioritize our tasks and eventually increase our productivity.
Click here to Download the Daily Work Schedule Excel Template.
Click here to Download All HR & Payroll Excel Templates for Rs 199.

Additionally, you can download other HR documents like Salary Sheet With Attendance Register, Employee Mileage Log and many more templates given on the left bar.
Let's discuss in brief about the template.
Template Content
Row 1: Heading of the Sheet "Daily Work Schedule". Merge cells from B1 to H1.
Row 2: Enter Week Days from Monday to Sunday or Monday to Friday or Saturday as per your work schedule.
Row 3 to Row 32: Cell A3 to cell A32 period for every half an hour interval.  Starting from morning 7:00 am to 9:00 pm. You can input it as per your requirement.
Cell B3 to H32 is for data input.
See image below for an overview of the Daily Work Schedule Template:


Uses of Daily Work Schedule Template
Meeting or Appointment planner
To manage all your appointments and meetings daily.
Print out this daily schedule and put it in your office or home for easy accessibility and action.
Also, we can access it on your Smartphone and Laptops so that we can easily add, delete, or edit it as you require.
To-do List
To organize your daily to-do list and remove them when completed from this list.
Additionally to break long to-do lists and distribute the work during the week so that we can know exactly what we need to achieve every day.
We express our gratitude to our valuable viewers for encouraging us by liking and sharing our content on different social media platforms, especially facebook viewers.
If you have any queries or questions, share them in the comments below and I will be more than happy to help you.