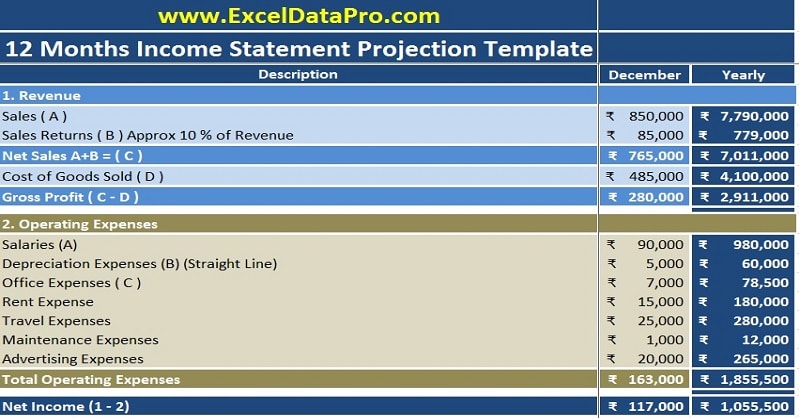 An Income Statement Projection Template is a ready-to-use excel template that represents an estimate of the financial results of a company in a future period of time. It is similar to the "Income Statement".
What is the Income Projection Statement?
An Income Projection Statement is just similar to Income Statement or Profit and Loss Statement. The main difference between is that in an income statement the actual figures are taken into consideration, whereas in projections estimated figures are taken into consideration.
It is one of the most important documents of a Business Plan. Projection statement projects the revenue to be earned and expenses to be made for a future period of time. It can monthly, quarterly or yearly as per our requirement.
Formula To Calculate Projected Income
Similar to an income statement, the Income Statement Projection follows the following Rule:

Purpose and Application of  Income Projection Statement
Income Projections are vital for every business. The main purpose to create an Income Statement Projection for a business is to know the amount of money they will earn in the future.
Big companies make projections in order to achieve their sales and other business goals. Startups use it for making a business plan and present it to investors for raising money for their business.
It's often used by new startups to check the feasibility of their new business before getting into actual markets.
Furthermore, this projection helps the investor to know the duration a transaction takes to complete.
For example, Product A takes 1 week to be produced and packed. 2 days to sale and 3 days for the payment to be delivered from to your business account. Thus, the transaction cycle is of approximate 2 weeks.
These projections help you to decide your workforce against the targets. These projections will help the management to take important decisions in favor of the organization.
How To Calculate Income Projection Using Excel?
We have created an easy and ready to use 12 months Income Statement Projection Template with predefined formulas. You just need to input data and it will automatically calculate the net earnings for you.
Click here to Download the Income Statement Projection Template.
Click here to Download All Financial Analysis Excel Templates for Rs 199.

Additionally, you can download other accounting templates like Petty Cash Book, Simple Cash Book, and Accounts Payable Excel Templates from here.
This template is useful for finance professions, finance students, accountants, auditors, etc.
Let us discuss the contents of the template in details.
Content of Income Statement Projection Template
The template consists of three major sections:
1. Header Section
2. Revenue Section
3. Operating Expenses Section
1. Header Section
As usual, the header section consists of the company name and the title of the template " 12 months Income Statement Projection".

2. Revenue Section
Revenue Section consists of sources of revenues of a company. Projections of all sources of income are listed in this section depending upon the type of a company.
In our example, we have taken only the Sales of products as our revenue source.

we have considered an approximate 10 % value of sales as sales returns. You will not have to enter the sales return figures. The sheet will automatically calculate it.
Formula: = C5*10%.
For gross profits, we deduct the estimated cost of goods sold (COGS) from the Net Sales amount.
2. Operating Expense Section
You will have to list all the Operating Expenses like salaries, rents, maintenance, Travel, transportation, etc under this section. All these expenses are totaled.

Use the SUM Function to make the total of the operating expenses.
Finally, the operating expenses are deducted from the Gross Profits. This will give you the Projected Net Profit for that particular period.
The subheading included here are as per the Income statement data that we have taken into consideration. It differs from cases to cases. You can add or remove subheadings are per your requirement.
We thank our readers for liking, sharing and following us on different social media platforms.
If you have any queries please share in the comment section below. I will be more than happy to assist you.