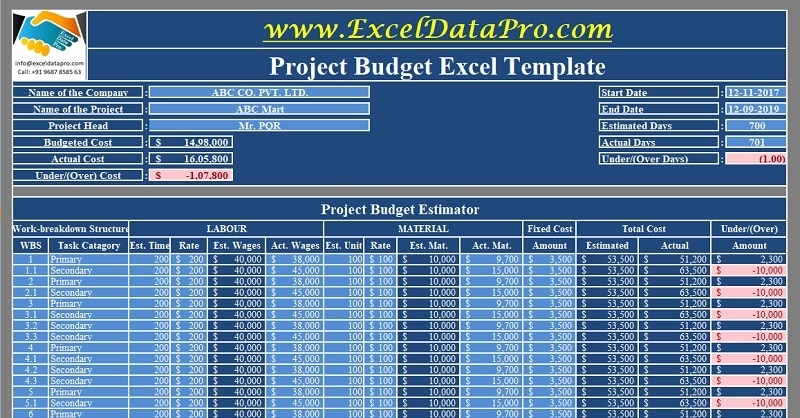 Project Budget is a ready-to-use excel template to help you prepare budget estimates for your project and also compare them with actual expenditure.
This template can be useful to contractors, small business owners, event managers, and other professionals whose work involves different kinds of projects.
What is Project Budget?
Project Budget is a tool used by project managers to define the cost of in-hand projects, provide a quotation for the project offered and also to apply for a project. It usually includes hours, labor, raw material or workforce, and other fixed costs.
The main objective of this budget is to avoid and eliminate unnecessary costs and to allocate the correct amount of the budget to each task.
A ready template for budgeting your project can help you simplify your task and save you time.
Project Budget Excel Template
We have created a simple and easy Project Budget Excel template with predefined formulas. Enter details of tasks and their pertaining costs and it will automatically derive the estimates for you.
Furthermore, it also helps you compare the estimates with the actual amount of money spent on those tasks and hence lets you know the profitability of the project.
Click here to download the Project Budget Excel Template.
You can download other Financial Analysis templates like Sales Revenue Analysis, Break-Even Analysis, Ratio Analysis, etc from our website.
Let us discuss the contents of this template in detail and how to use it.
Contents of Project Budget Excel Template
This template consists of 2 sheets.
Project Budget
The sheet consists of 2 sections:
Details of Project
Project Estimator
Details of Project
It section consists of the following details:
Name of the Company
Name of Project
Project Head/Manager
Budget Cost
Actual Cost
Difference (Under or Over Cost)
Start Date
End Date
Estimated Days
Actual Days
Difference (Under or Over)

Budget Cost, Actual Cost, Cost Difference and Days Difference are auto-populated and contain predefined formulas. Rest details you need to manually enter.
Project Estimator
The Project Estimator consists of 5 main headings; Work Breakdown Structure, Labor, Material, Fixed Costs, Total Costs, and Cost Difference.
In the WBS section enter the Project task and subtask with point system numbering.
Enter the estimated time and rate per hour in the labor section. It will automatically calculate the estimated labor cost.
Similar to the above section, in the material section enter the estimated units to be used and the price per unit. The cell will fetch the estimated material cost by itself as it contains predefined formulas.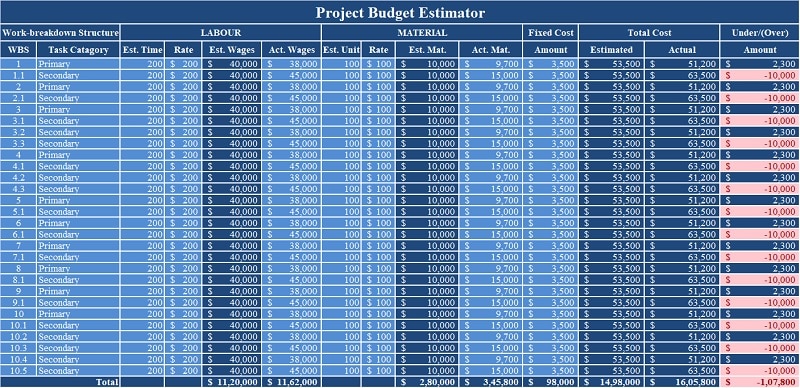 Enter the fixed cost applicable to the project. This section doesn't have estimates as they are fixed and actual.
Once you are done with this, your estimates are ready to be provided to your client, manager or department.
As soon as you start working on your project, enter the actual cost.
This will automatically display the difference between the estimated and actual costs in the difference column. If your cost is above the estimated amount of that particular task, then the cell turns red.
Furthermore, all the columns have their final totals that will help you know the individual costs incurred in each head.
Thus, it helps you spot the difference and also regulate your cost according to the requirements.
Comparison Graph
This sheet is consists of the summary of costs incurred under each head and displays the same in graphical format.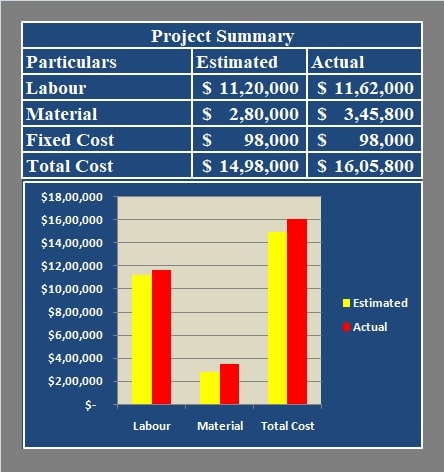 Tips To Creating A Feasible Budget
For your first budget, get help from an experienced team member.
If you are working with other teams, get input from everyone's work estimates.
Get a reference from your past projects. The one that you have similar to the current so that you can use it as a model.
Keep a contingency amount in the budget. Many times some unexpected things happen and you have to be prepared for those.
We thank our readers for liking, sharing and following us on different social media platforms.
If you have any queries please share in the comment section below. We will be more than happy to assist you.