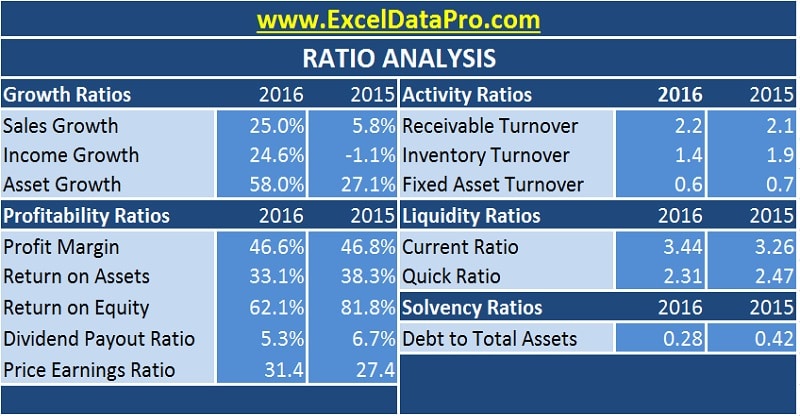 Ratio Analysis is a type of Financial Statement Analysis used to obtain a rapid indication of a company's financial performance in key areas of a business.
You can use Ratio analysis to evaluate various aspects of a company's operating and financial performance like its efficiency, liquidity, profitability, and solvency, etc.
Individual investors, owners, finance professionals use these ratios to determine the company's strengths.
Normally, an investor primarily requires a basis for estimating the earning capacity of the company.
The creditors/banks and other lending institutions are concerned with the liquidity or the ability to pay interest and redeem loan within a specified period.
Management of the company is usually interested in evolving analytical tools to measure costs, efficiency, liquidity, and profitability with a focus to make intelligent decisions.
Ratio Analysis Excel Template
We have created a Ratio Analysis Template with all growth, profitability, operations, liquidity and solvency ratios. All the ratios are configurated with a predefined formula.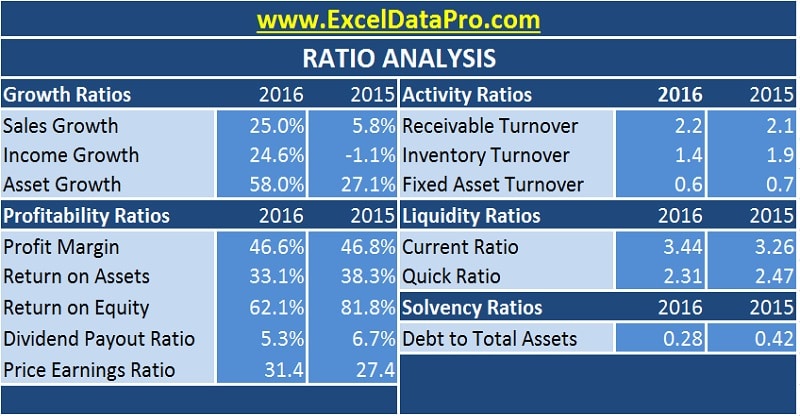 The user just needs to input data from the financial statements of the company in the Datasheet. It will automatically calculate the ratios.
Click here to download the Ratio Analysis Excel Template.
Click here to Download All Financial Analysis Excel Templates for Rs 199.

Additionally, you can download other Financial Analysis templates like Break-Even Analysis Template, Business Net Worth Calculator, Break-Even Analysis Template, and Sales Revenue Analysis Template
Let us discuss the Contents of the Ratio Analysis Template in detail.
Contents of Ratio Analysis Template
This template consists of two worksheets, Datasheet and Ratio Analysis Sheet.
A. DataSheet
The Datasheet workbook has 5 sections:
1. Header Section
2. Income Statement Section
3. Balance Sheet Section
4. Cash Flow Section
5. Share Information.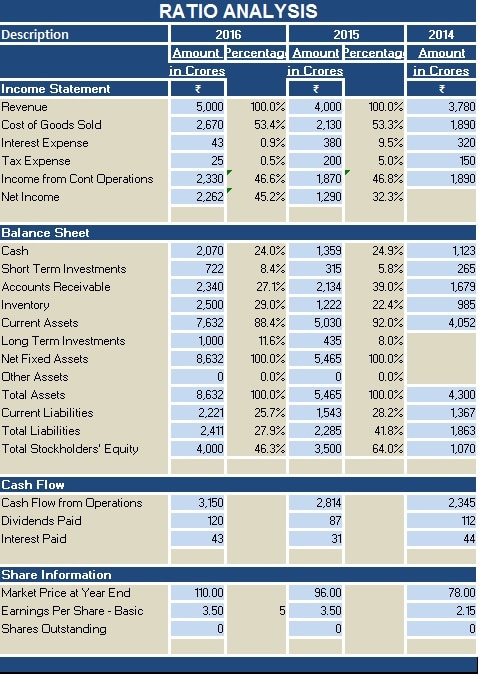 All relevant items from the financial statements (balance sheets, income statement and cash flow statement) useful for calculating the ratios are already given.
You just need to fill the amounts from the annual report of the company into the blue boxes for all 3 three years.
Note: Financial data of 3 years minimum is required for the ratio analysis.
That's it, and you are ready with the major useful ratios in this template.
B. Ratio Analysis Sheet
This sheet consists of 5 major categories of ratios.
1. Growth Ratios
2. Profitability Ratios
3. Activity Ratios
4. Liquidity Ratios
5. Solvency Ratios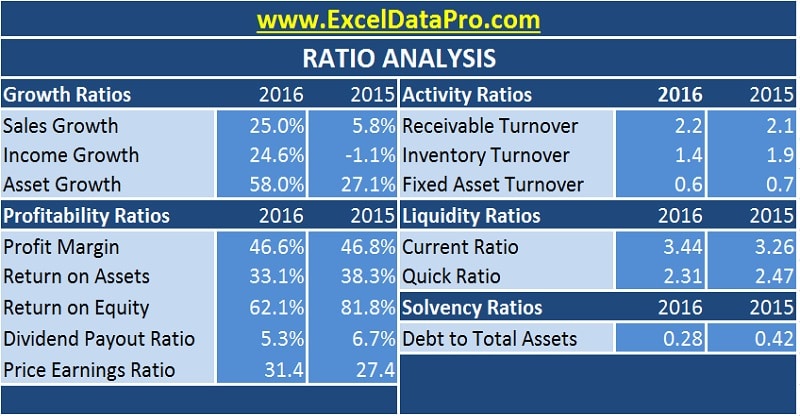 1. Growth Ratios
Growth Ratios include sales growth, income growth, and asset growth ratios.
2. Profitability Ratios
Profitability Ratios include the profit margin, Return on Assets, Return on Equity(ROE), Dividend Payout, Price Earnings(PE) ratios.
3. Activity Ratios
Activity or operational ratios include Receivable Turnover, Inventory Turnover, and Fixed Asset Turnover ratios.
4. Liquidity Ratios
Liquidity Ratios include the current ratio and quick ratio.
5. Solvency Ratios
Solvency Ratio includes the Debt to Assets ratio.
Thus, Ratio Analysis very important component of financial analysis which gives a clear picture of a company's financial and operational activities.
We thank our readers for liking, sharing and following us on different social media platforms.
If you have any queries please share in the comment section below. I will be more than happy to assist you.