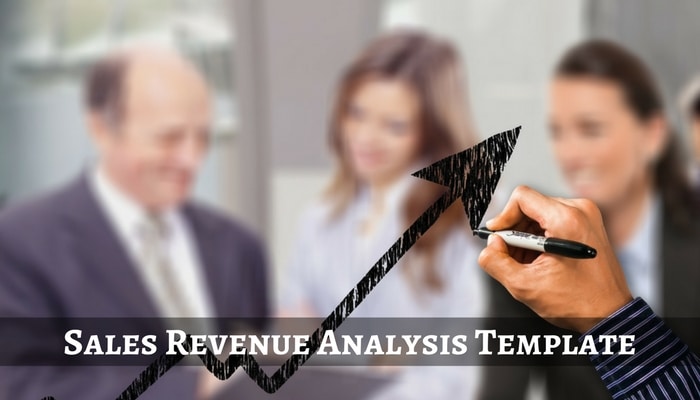 The Sales Revenue Analysis Template makes it easy for you to keep track of the fast-moving products in your product line.  Apart from that, it will give you product wise profit in % and in terms of revenue.
First of all, let us understand some terms associated with Sales and Revenue Analysis.
Revenue refers to the total sales of a firm based on a given quantity of goods. To calculate revenue, you need to multiply the total quantity of goods sold by the price of the goods during a specific period.
Eventually, this analysis of the revenues will help you decide whether to expand product lines or cut them down depending on the profitability. Revenue analysis lets you project present trends into the future.
Thus, Revenue is a key variable for analyzing the business performance of a company.
Similarly, an analysis of your revenues generated from sales enables you to make informed decisions regarding your business strategy.
I have created an easy to use Sales Analysis Template with graphical presentations. With the help of this template, you can track additional costs like shipping charges along with returns.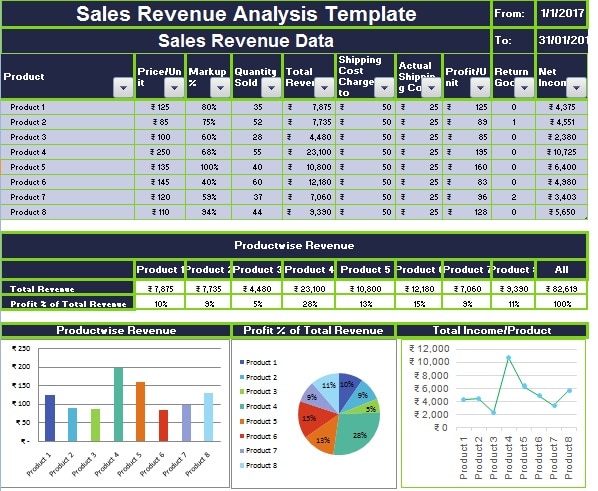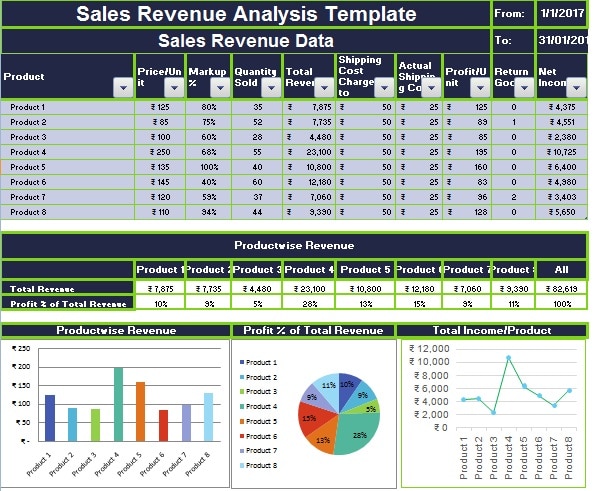 This template can be an effective tool for marketing and sales teams for achieving and defining targets.
This analytical template would be useful for new startups, online retail sales, or any other small business to track their sales and profits.
Click here to Download the Sales Revenue Analysis Excel Template.
Click here to Download All Financial Analysis Excel Templates for Rs 199.

Additionally, you can download other accounting templates like Cash Book with VAT, Accounts Payable with Aging and Trial Balance from here.
Let's discuss the template contents in detail.
Content of Sales Revenue Analysis Template
This template consists of four sections:
Heading and Period
Sales Data
Revenue Breakdown in Percentage
Graphs
1. Heading and Period
The first line of the sheet displays the heading of the template and starting date of the desired period.
The second line of the sheet displays the subheading of Sales Revenue Data and the end date of the desired period.


2. Sales Data
This section includes the data input subheadings as follows:
Product: Product name or Product code.
Price/Unit: Sale Price per Unit.
Markup %: Desired profit percentage per unit.
Quantity Sold: Number of units sold.
Total Revenue: Price per Unit X No of Units Sold X Markup %
Shipping Cost Charged to Customer: The amount which is charged by us to end customer.
Actual Shipping Cost: The amount which we actually pay to the Shipping company.
Profit/Unit: Profit per Unit in terms of revenue. Price per Unit X Markup % + Shipping Cost Charged – Actual Shipping Cost.
Return Goods: Quantity of product returned due to defect or other reason.
Net Income: (Quantity Sold – Return Goods X Price/Unit) + (Return Goods X Actual Shipping)
3. Revenue Breakdown
Revenue Breakdown section consists of percentage wise share of each product in total revenue. Total revenue of all products / Total Revenue per product.


4. Graph
In this section, the above data is visually presented in graphical form. There are three different type of graphs representing three types of comparisons.


Product wise Revenue per product.
% of Profit per Product.
Total Revenue per product.
Therefore, analyzing your sales revenue over a period of time enables you to establish sales patterns. It will also assist you in setting sales related budgets in the future.
We thank our readers for liking, sharing and following us on different social media platforms, especially Facebook.
If you have any queries or questions, share them in comments below. I will be more than happy to help you.