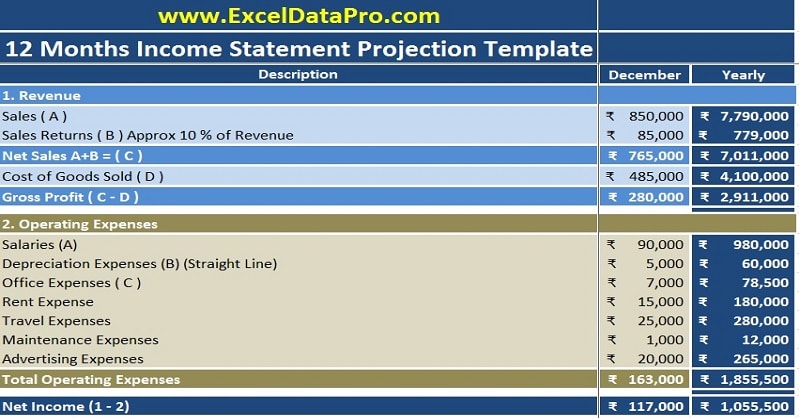 Projected Income Statement is a ready-to-use template in Excel, Google Sheets, and OpenOffice to represent the estimated income statement for the future period. It is similar to the "Income Statement".
Moreover, you can prepare the income statement monthly, quarterly, half-yearly as well as yearly. This template is useful for finance professionals, finance students, accountants, auditors, etc.
What is the Projected Income Statement?
A Projected Income Statement is just similar to Income Statement or Profit and Loss Statement. The main difference is that the income statement consists of the actual figures whereas the projected income statement consists of estimated figures for the future period.
It is one of the most important documents in a Business Plan. Projected Income Statement projects the estimates of revenue as well as expenses that the company might bear in the future period. It can either be monthly, quarterly, or yearly as per our requirement.
Formula To Calculate Projected Income
Similar to an income statement, the Income Statement Projection follows the following Rule:

Purpose and Application of  Income Projection Statement
Income Projections are vital for every business. The main purpose to create an Income Statement Projection for a business is to know the amount of money they will earn in the future.
Big companies make projections to achieve their sales and other business goals. Startups use it for making a business plan and present it to investors for raising money for their business.
New start-ups often use it to check the feasibility of their new business before getting into actual markets.
Furthermore, this projection helps the investor to know the duration a transaction takes to complete.
For example, It takes 1 week to Produce and pack Product A. It takes 2 days to sell and 3 days for the client to transfer the payment. Thus, the transaction cycle is of approximately 2 weeks.
These projections help you to decide your workforce against the targets. These projections will help the management to take important decisions in favor of the organization.
Types of Projection
There are two types of Projected Income Statements. One is for existing businesses and another for a startup.
Ongoing Business Projection
An ongoing business prepares the projections based on historical data of the previous years. Furthermore, with the help of historical data, you can increase the credibility of your business plan by using the data of your ongoing operations. A proven track always pursues as evidence of continued success.
New Start-up Business Projection
Usually, a new start-up faces problems preparing projected financial statements as there is no previous data. Thus, in such cases, the revenue-generating efficiency or your sales funnel channel matters the most.
Therefore, to win the trust of the investors, it is advisable to include personal financial strengths as well as personal assets that you would be used for business.
Components of Projected Income Statement
A Projected Income Statement consists of items similar to the Income statement or Profit and Loss Account. There are 2 major components: Revenue, and Operations. Taxes are subject to actual and can be deducted.
The Revenue section consists of all kinds of revenues generated by the company. These revenues include Sales Revenue, Service Revenue, Interest Revenue, etc.
Furthermore, the Expenses section consists of all the expenses that your company incurs during the operational activities. These include expenses like advertising, COGS, depreciation, utilities, employee expenses, rent, etc.
Projected Income Statement Template (Excel, Google Sheet, OpenOffice)
We have created an easy and ready to use 12 months Income Statement Projection Template with predefined formulas. Thus, you just need to input data and it automatically calculates the net earnings for you.
Excel Google Sheets Open Office Calc
Click here to Download All Financial Analysis Excel Templates for ₹299.
Note: To edit and customize the Google Sheet, save the file on your Google Drive by using the "Make a Copy" option from the File menu.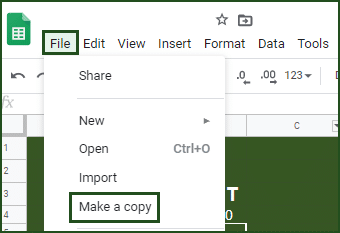 Additionally, you can download other Financial Analysis templates like Break-Even Analysis Template, Business Net Worth Calculator, and Sales Revenue Analysis Template.
Let us discuss the contents of the template in detail.
Contents of Projected Income Statement Template
The template consists of three major sections: Header Section, Revenue Section, AND Operating Expenses Section.
Additionally, this template consists of 13 columns to prepare 12 monthly and also yearly projected income statement.
As usual, the header section consists of the company name and the title of the template " 12 months Income Statement Projection".

Revenue Projections
Revenue Section consists of sources of revenues of a company. Projections of all sources of income depend on the type of company.
In our example, we have taken only the Sales of products as our revenue source.

We have considered an approximate 10 % value of sales as sales returns. You will not have to enter the sales return figures as it consists of a predefined formula.
Formula: = C5*10%.
Thus, to calculate the gross profits, you need to deduct the estimated cost of goods sold (COGS) from the Net Sales amount.
Operating Expense Projections
You will have to list all the Operating Expenses like salaries, rents, maintenance, Travel, transportation, etc under this section. All these expenses are totaled.

Furthermore, use the SUM Function to make the total of the operating expenses.
Finally, the template deducts the operating expenses from the Gross profit. This gives the Projected Net Profit for that particular period.
Moreover, in this template, the inline items are as per the Income statement. It differs from cases to cases. Thus, you can add or remove subheadings are per your requirement.
We thank our readers for liking, sharing, and following us on different social media platforms.
If you have any queries please share in the comment section below. I will be more than happy to assist you.
Frequently Asked Questions
What are the main accounts that need to be covered when projecting the income statement?
Sales Revenue, Cost of Goods Sold (COGS), Administration, General, and Selling Expenses, Depreciation, Interest, and Taxes.
How to easily forecast sales revenue?
You can easily forecast sales revenue by multiplying the previous year's Net sales figure with the expected growth rate percentage.
Factors to consider while forecasting revenue?
The following factors are to be considered while forecasting revenue:
Price. Will it be the same, higher or lower?
Markets. Will you cover new markets to acquire new customers.
Marketing. The cost is involved in marketing new or old products to cover new markets or gain new customers.
Outlet Costs. Consider the costs involved in opening and tapping a new market with new outlets.
Future Administrative and Transportation expenses depending on the growth ratio.
What questions you must ask while you plan to forecast your revenues?
What's working and what's not?
How can you replicate this success in other customers and clients?
What's missing?
How can you go about fixing or mitigating risk to resolve these issues?
Are there new opportunities to take advantage of?