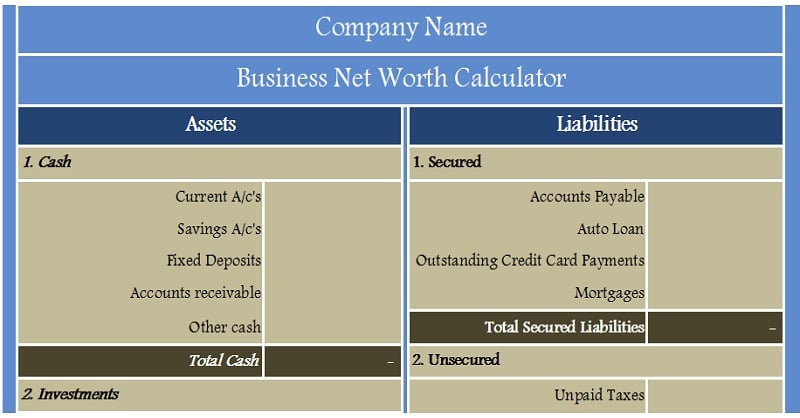 The Business Net Worth Calculator is a document that easily calculates current Net Worth of a company.
In simple words, Net Worth Calculator shows what is the business/company's wealth after paying everything that it owes to other.
Total assets include cash, investment, Accounts Receivables and other asset accounts.
The Liabilities include all payments like loans, Accounts Payables, mortgages and other things that you owe to others.
We have created a Business Net Worth Calculator with predefined formulas and categories of Assets and Liabilities. It is free to use and you can also customize it as per your need.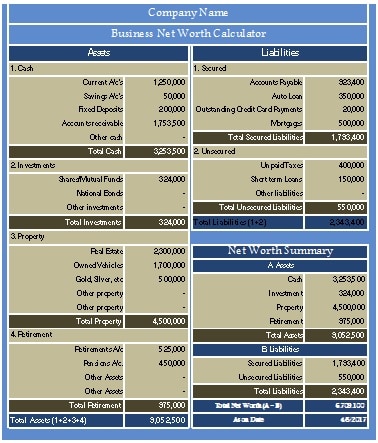 Net worth calculator can be useful to accounting professionals, assistant accountants, Auditors etc.
Click here to Download the Business Net Worth Calculator Excel Template.
Click here to Download All Financial Analysis Excel Templates for Rs 199.

To download other templates like Weekly Timesheet, Salary Sheet and Checkbook Register from here.
Let us discuss the content of the Business Net Worth Calculator in detail.
Contents of Business Net Worth Calculator
The template consists of 4 sections as given below:
1. Header
2. Assets
3. Liabilities
4. Net Worth Summary
1. Header Section
This section consists of your Company name and heading of the sheet " Business Net Worth Calculator".

2. Assets
Assets are defined as things of financial value that your company owns. The assets of a company include bank balance, cash balance, accounts receivable, investments, real estate, equipment or inventory that are owned by a company.
The Asset section is further divided into following 4 parts:
Cash – Enter Cash in hand, Cash in current/savings accounts, Fixed Deposits, Accounts receivables etc in this section.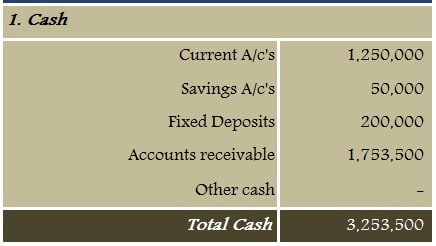 Investments – Input the investments like invested in shares/stocks, bonds etc by your company.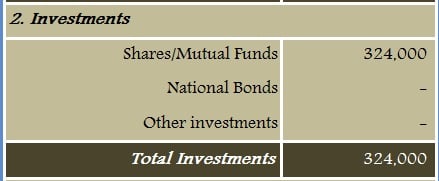 Property – Property includes both movable and non-movable property including real estate, vehicles, and bullion (gold and silver).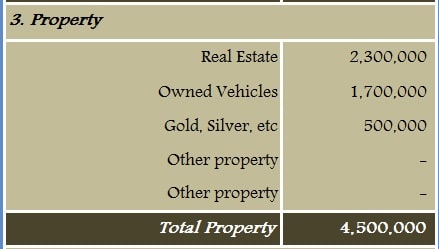 You need to add real estate properties with their market value. Whereas the company owned vehicles are evaluated on their current price.
Retirement – Here in this part you need to enter Retirement related amounts in their respective accounts. For example, Retirement or Pensions accounts.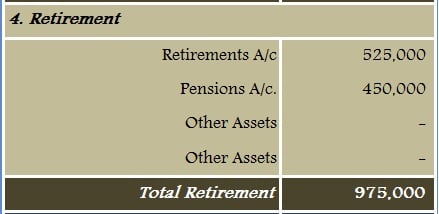 3. Liabilities
A liability of a company means the financial debt or obligations to pay which arises during the course of its business operations.
Liability is the amount that a company owes to a supplier, banks or other financial institutes in form of loans, and provider of goods, services etc.
Liability section is further divided into two parts
Secured Liabilities – Secured liabilities include Accounts payable, auto loans, credit card payments etc.
Unsecured Liabilities – Unsecured Liabilities include short-term loans without security, unpaid business taxes like VAT, GST etc.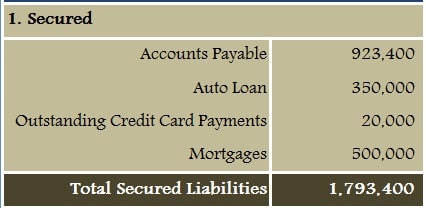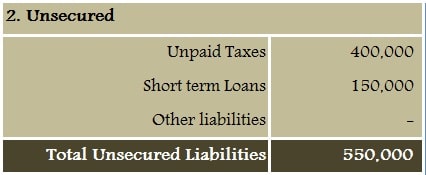 4. Net Worth Summary
You can calculate financial net worth by subtracting your financial liabilities from your financial assets.
Business Net Worth = Total Assets – Total Liabilities.
Where Assets = Total Cash + Total Investment + Total Property + Total Retirement and Liabilities = Total Secured Liabilities – Unsecured Liabilities.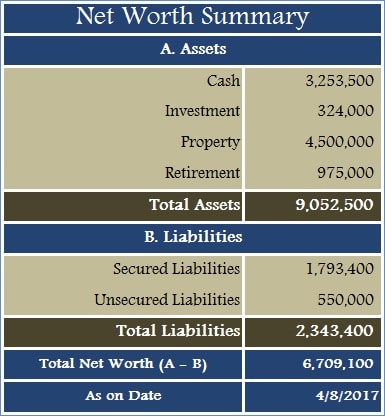 Lastly, the template shows the date on which the Net Worth is calculated. You don't need to change the date as it has been configured using the TODAY Function. Thus, it automatically updates the current date of the system.
We thank our readers for liking, sharing and following us on different social media platforms.
If you have any queries please share in the comment section below. I will be more than happy to assist you.