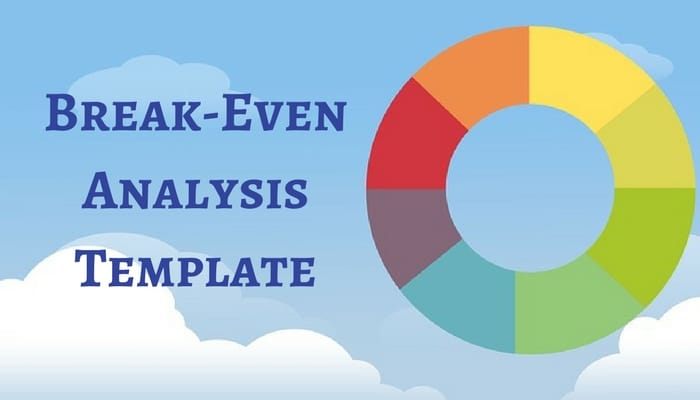 Break-Even Analysis Excel template is a ready-to-use template to calculate financial feasibility for launching a new product or starting new ventures.
The formulas for calculating the break-even point are relatively simple. But, it becomes difficult when it comes up with the projected sales, projecting future sales price and calculating the fixed and variable costs.
What is a Break-Even Analysis?
Usually, the Break-Even Point is the number of units you have to sell or the total amount of sales required to cover your costs.
It can also be defined as the point at which an investment will start generating positive returns. Hence, you can consider the point when Total Cost equals Total Revenue.
A break-even analysis is also be used to calculate the Payback Period or the amount of time required to break even.
Break-Even Analysis Excel Template
I have created an easy to use Break-Even Analysis Template with preset formulas. Just, you need to input your fixed and variable costs and it will calculate the amount you need to sell, in the number of units/revenue, to break even.
This analytical template would be useful for new startups, online retail sales, or any other small businesses.
Click here to Download the Break-Even Analysis Excel Template.
Click here to Download All Financial Analysis Excel Templates for Rs 199.
Additionally, you can download other accounting templates like Ratio Analysis Template, ROCE Calculator, ROE Calculator With DuPont Analysis, and Online Sales Tracker Excel Template
Let's discuss the template contents in detail.
Content of Break-Even Analysis Template
This template consists of 3 sections:
Break-Even Point Calculations
Fixed cost and
Variable Cost
Break-Even Point section, you need to enter only the duration and the price per unit.

In the Fixed cost section, enter all the relevant to the product.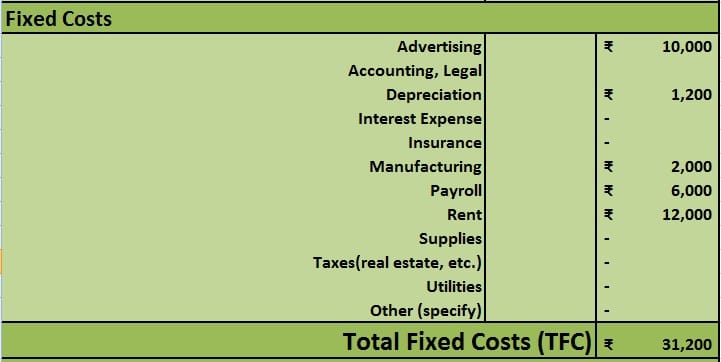 The Variable cost section, enter all the variable cost relevant to the product.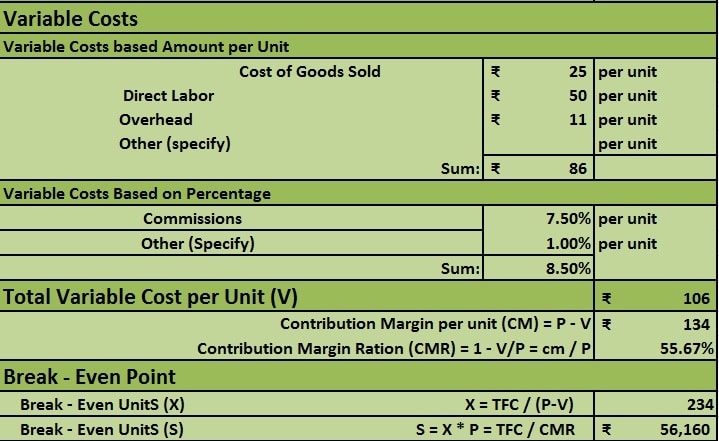 Note: All the terms and definitions are explained below in detail.
The calculation of a breakeven point (BEP) is based on the linear Cost-Volume-Profit (CVP) Model. It is a practical tool for simplified calculations and short-term projections.
All types of break-even analyses are based on the basic equation mentioned below.
Break-Even Equation
Total Cost (TC) = Total Revenue (TR).
TC = Total Fixed Cost (TFC) + Total Variable Cost (TVC).
TR = Selling Price Per Unit (P) X No. of Units Produced and sold (X).
P-V = Contribution Margin per unit (CM).
CMR = Contribution Margin Ratio = (P – V) / P.
Payback Period
The Payback Period is the time it will take to break even on your investment.
Sales Price
The projected or current price of the unit on which it is sold. Mostly, the Sales Price per unit (P) remains constant. So, the total revenue equals the price (P) multiplied by the number of units sold (X).
Variable Costs
Variable costs include production, direct labor, materials, and other expenses which depend on the number of units produced and sold.
Fixed Costs
Fixed costs are the costs that are assumed to be constant during the specified payback period and do not depend on the number of units produced.
Costs like advertising, insurance, real estate taxes, rent, accounting fees, and supplies, etc are fixed costs.
Conclusion
Conducting a break-even analysis is important for discovering when your business will be able to cover all expenses and begin to make a profit.
This template will help to determine the sales revenue needed to cover all startup costs and ongoing expenses and hit your break-even point.
We thank our readers for liking, sharing and following us on different social media platforms, especially Facebook.
If you have any queries or questions, share them in the comments below. I will be more than happy to help you.