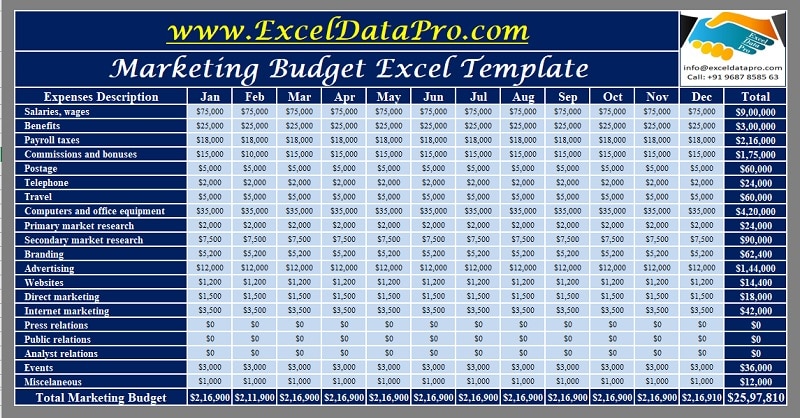 The marketing department is considered to be the main pillar of any organization. As good is the performance of this department, the better the revenue figures. Many companies allocate a huge amount of money for Marketing Budget.
What is a Budget?
A Budget is a quantitative expression of a financial plan of a company for a defined period of time. budget expresses the strategic plans of business units, organizations, activities or events in measurable terms.
What is Marketing Budget?
Marketing Budget is a document that records a specific amount of budget for different activities of a marketing department for a defined period. It can be quarterly, half yearly or yearly.
These activities include branding, promotions, giveaways, events, commisions, salaries, etc. These expenses are not limited to only these expenses. Different type of organization has a different type of expenses.
Marketing Budget Excel Template
To simplify the budgeting process of the marketing department, We have created a Marketing Budget Excel Template Template with predefined formulas.  This template will help you manage your allocated finances for marketing department well and decide your revenue goals.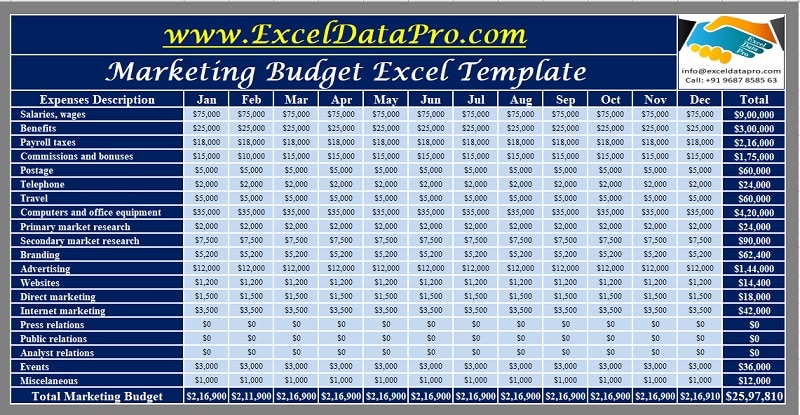 This Marketing Budget Excel Template can be useful to Marketing heads, General Manager, Managers, and Team leaders.
Click here to download the Marketing Budget Excel Template.
Click here to Download All Accounting Excel Templates for Rs 199.
You can download other Accounting Templates like Purchase Return Book With Tax, General Budget With Charts, Accounts Payable With Aging and many more templates given on the left side of the article.
Now let us discuss the contents of this template in detail.
Contents of Marketing Budget Excel Template
The Marketing Budget Template consists of 4 sections:
Header Section
Expenses Description
Monthly Budget Amounts
Totals
1. Header Section
As usual, Header Section consists of the company name, the company logo and heading of the sheet.

2. Expense Description
We have tried to list most applicable expenses to the marketing department. The marketing expenses listed here are as follows:
Salaries, wages
Benefits
Payroll taxes
Commissions and bonuses
Postage
Telephone
Travel
Computers and office equipment
Primary market research
Secondary market research
Branding
Advertising
Websites
Direct marketing
Internet marketing
Press relations
Public relations
Analyst relations
Events
Miscellaneous
If you cannot find any you can change/add them into the template.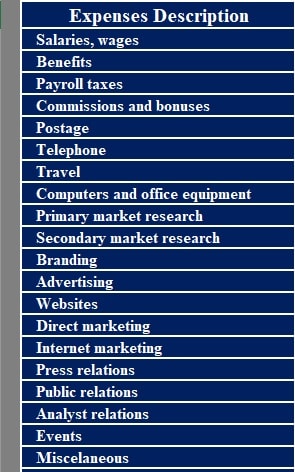 3. Monthly Budget Amounts
One column for each month from Jan to Dec has been given to enter the respective amounts.

4. Totals
In the end, both vertical and horizontal totals are given. The vertical total will give you the total expense of a particular month, whereas the horizontal total will give you yearly total of each expense.
We thank our readers for liking, sharing and following us on different social media platforms.
If you have any queries or suggestions please share in the comment section below. I will be more than happy to assist you.