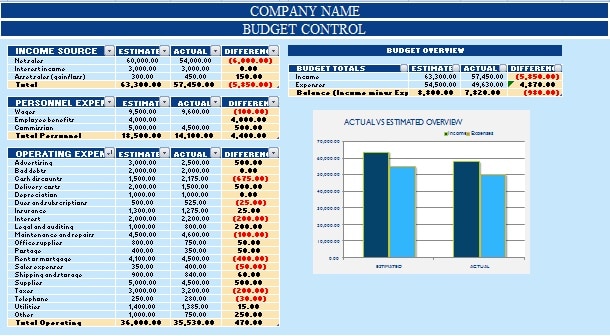 A Budget Template is a quantitative expression of a financial plan of a company or individual for a defined period. It includes estimated sales volumes and other revenues, expenses and cash flows.
In other words, a budget is the allocated amount for a particular business purpose and the summary of intended expenditures.
Budget Excel Template
I have created a Budget Template with Chart. This template will help you manage your finances well and decide financial goals.
This Budget Template is useful for Accounts Assistant, Accountants, Audit Assistants, etc.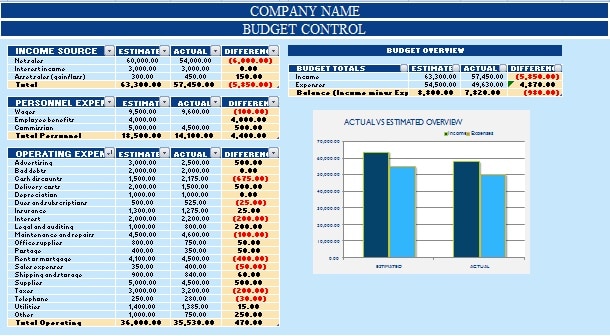 Click here to Download Budget With Charts Excel Template.
Click here to Download All Accounting Excel Templates for Rs 199.

You can download other accounting templates like Accounts Payable Template with Aging, Accounts Receivable Template with Aging and Invoice Excel Templates.
Let's discuss the template contents in detail.
Contents of Budget Template
This template consists of three sections:
Header Section and
Data Input Section
Chart
1. Header Section
The Header section consists of Company name and heading of Budget Control.

2. Data Input Section
This section consists of four parts.
Income Sources, Personnel Expenses, Operating Expenses, and Budget Overview.
Income Sources: Estimated and Actual Income from sales, interest, etc for a specific period are recorded in this head.
Personnel Expenses: Estimated and Actual expenses related to wages, employees and Commission are recorded under this section.
Operating Expenses: Estimated and Actual operating expenses like Legal and auditing, Maintenance and repairs, Office supplies, Postage and Rent or mortgage, etc are recorded.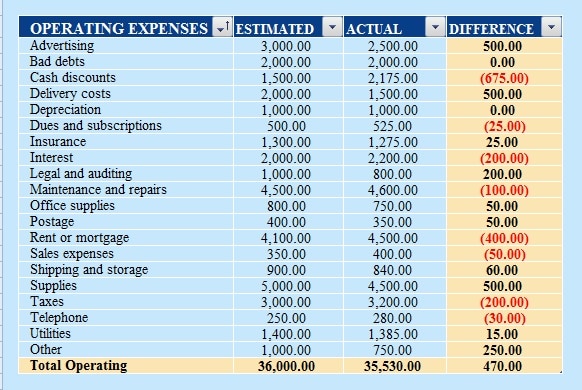 Budget Overview: Estimated and Actual Incomes vs Expenses.

Note: Column for Estimate contains Budget estimates for a specific period. Column for Actual contains Actual income or expenditure for a specific period. The Difference column contains the difference between the Estimated and Actual.
The differences between the actual and the estimated budget amounts are known as variances.
3. Chart
This section consists of a graphical representation of the data of Budget Overview.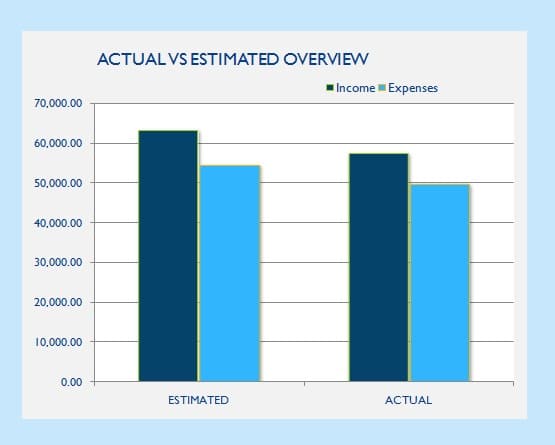 Importance of Budget
Budgeting is a very important part of the company's financial well-being. Budget assists in controlling the actual costs. A budget serves as a plan of action to achieve quantified objectives. Additionally, it serves as a standard for measuring the performance of a company.
Eventually, Budgeting gives an in-depth understanding of how and where your money is being spent.
Furthermore, It reduces debt troubles by thorough planning and well execution of budgets.
Thus, Budget is one of the most important administrative tools for managing finances.
Conclusions
There are three kinds of budget results, Surplus, Balanced and Deficit.
The surplus budget means Actual expenditure is less than the estimated. Balanced Budget means that the estimated and actual expenditure is equal. Deficit Budget means that the actual expenditure is higher than the estimates.
If the company's budget is a surplus budget, then profits can be anticipated. Whereas if the company's budget is balanced, then we need to improve the execution. But if our budget is a deficit budget, the losses can be expected.
Thus, Companies need to prepare, plan and execute a budget plan that helps them to acquire a surplus budget.
We thank our readers for liking, sharing and following us on different social media platforms, especially Facebook.
If you have any queries or questions, share them in the comments below. I will be more than happy to help you.