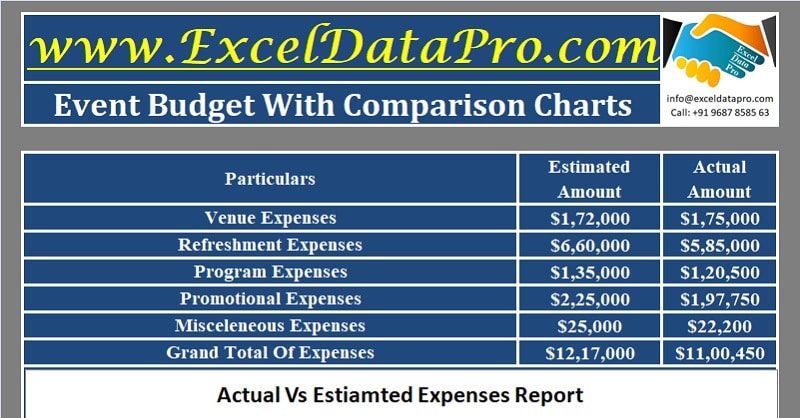 Event Budget is a ready-to-use excel template that helps you budget incomes and expenses fo your event with comparison charts. List your budget expenses and project income sources all in one template.
While projecting a budget, first it is important to account for all the fixed and variable expenses. These include space rentals, entertainment, speakers, management staff, audiovisual expenses, etc. You must ensure that nothing is left out.
Once you take into consideration all your expenses, you need to prepare an expected cash flow from the income sources of the event. These sources include registration or entry fees, sponsor income, sale of items/courses, etc.
During the planning stage, it is likely to miss out on some expenses. Budget changes during the event planning process. Recording all these helps to easily review and track your budget during the process.
Event Budget Excel Template
We have created a simple and easy Event Budget Excel Template with predefined formulas. Just enter your projected and expenses and incomes. After the commencement of the event enter the actual figures to obtain a comparison report.
Click here to download the Event Budget Excel Template.
Additionally, you can also download other budget templates like Web Development Project Budget, Project Budget, Household Budget, Marketing Budget, Business Budget With Charts, Personal Budget and many more from our website.
Let us understand the contents of the template in detail and how to use it.
Contents of Event Budget Excel Template
This template consists of 3 sheets: Event Expense Sheet, Event Income Sheet, and Event Budget Comparison Sheet.
Event Expenses Sheet
At the top, it consists of the following 7 columns:
Estimated Quantity
Estimated Rate/Unit
Actual Quantity
Actual Rate/Unit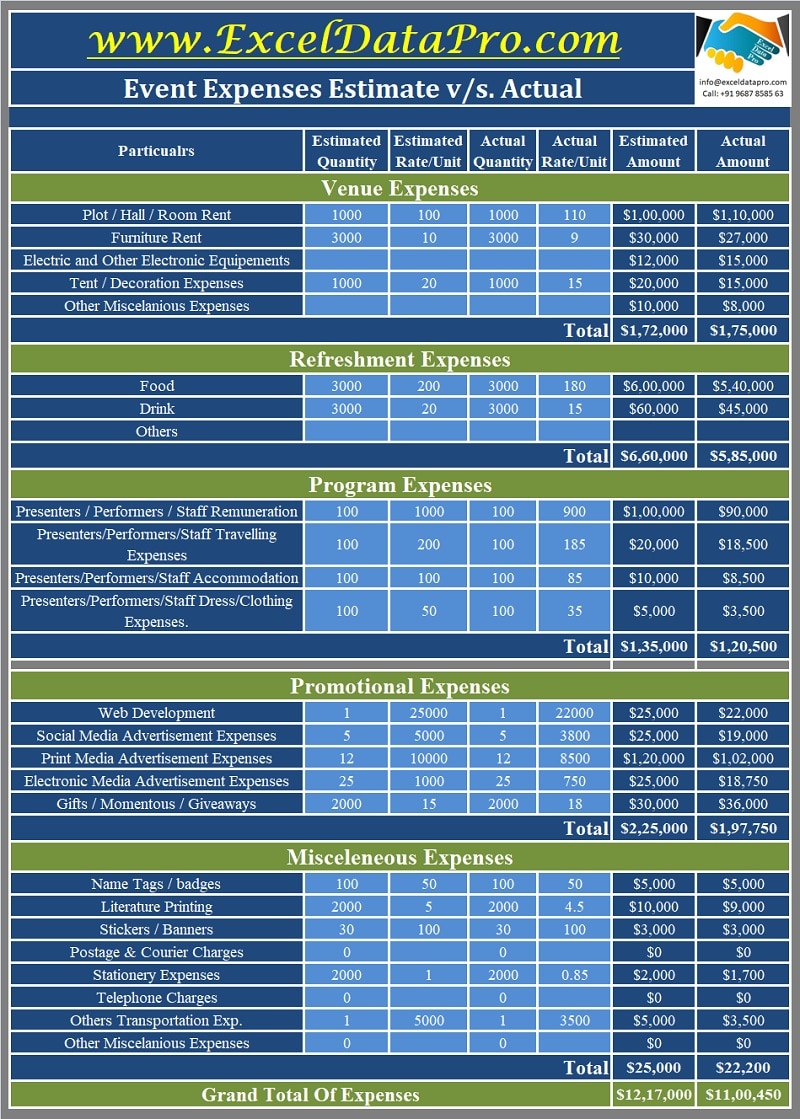 This template calculates the total estimated and actual expenses by multiplying the quantity with rates per unit.
Expenses sheet consists of 5 sections:
Venue Expenses: It includes rent, furniture rent, equipment rent, decoration, etc.
Refreshment Expenses: Food, drink, and other refreshments.
Program Expenses: Presenters, staff and performer remuneration, traveling, accommodation, uniform etc.
Promotional Expenses: Web development, social media marketing, print media advertisement, gifts/giveaways, etc.
Miscellaneous Expenses: Name tags, badges, brochures, banners, stationary, etc.
Enter all the above details and the template displays the line total as well as the grand total in the last line.
Event Income Sheet
Similar to the expenses sheet, this sheet also consists of the same columns.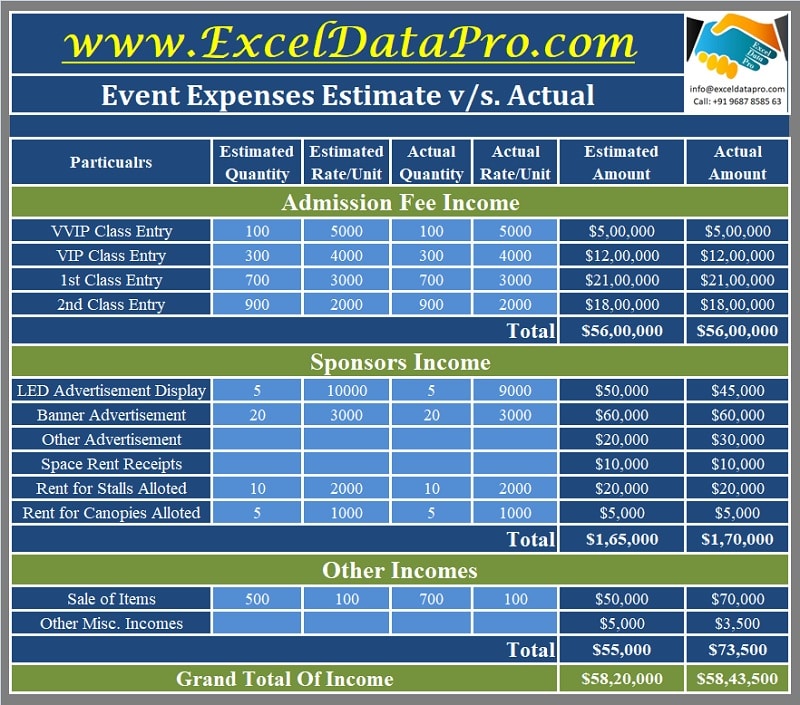 Furthermore, it consists of the following 3 income sections:
Event Registration Income: It includes different types of registration fees collected on the sale of event tickets. FOr example, ordinary entry pass, VIP pass, VVIP pass, etc.
Sponsor Income: It includes the fees collected from to display other sponsored ads on Visual ads, banners ads, stalls, etc.
Miscellaneous Income: This includes the sale of items or enrollments during the event.
In the end, the template displays the grand total and line total.
Event Budget Comparison Sheet
The third sheet consists of multiple comparison reports with graphical representation.
Actual VS Estimated Expenses Chart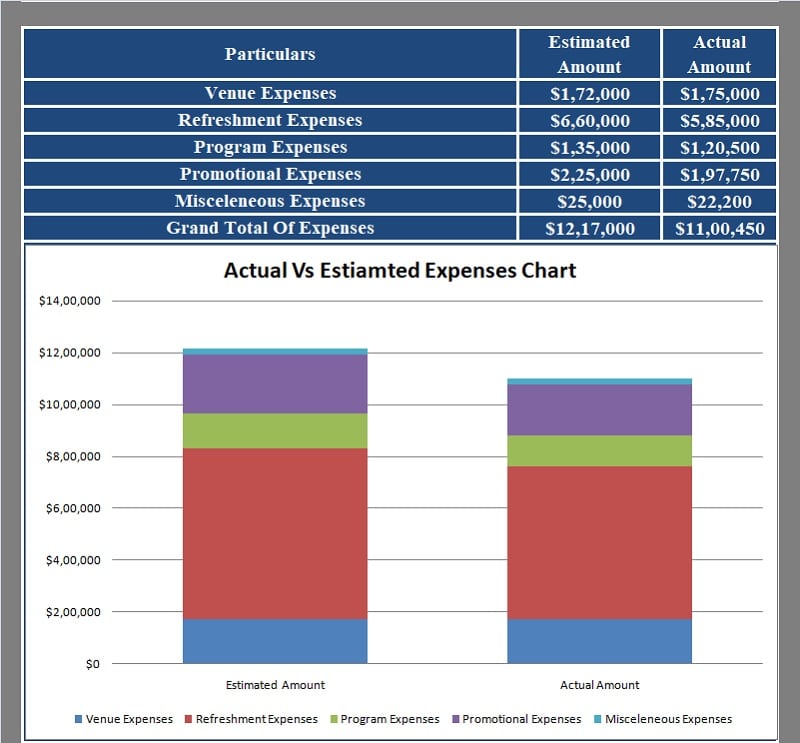 Actual VS Estimated Incomes Chart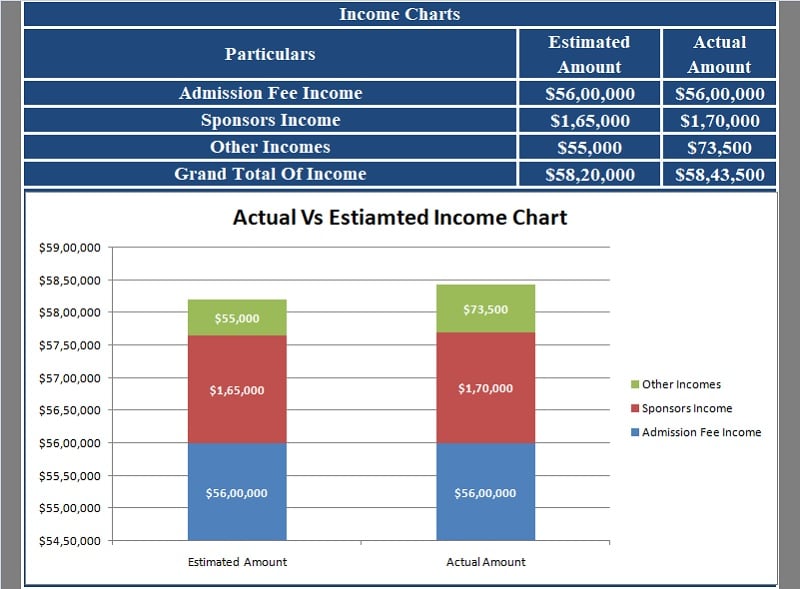 Event Income Vs Expense Chart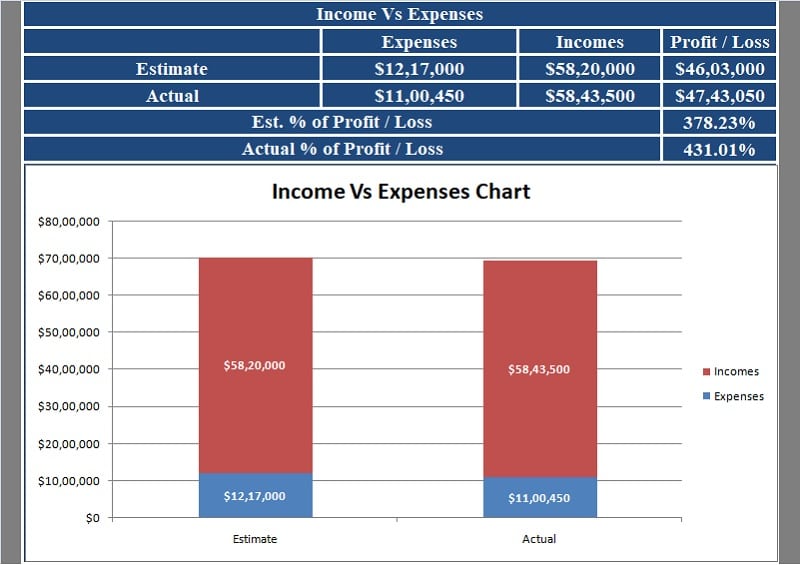 Event Profit/Loss Chart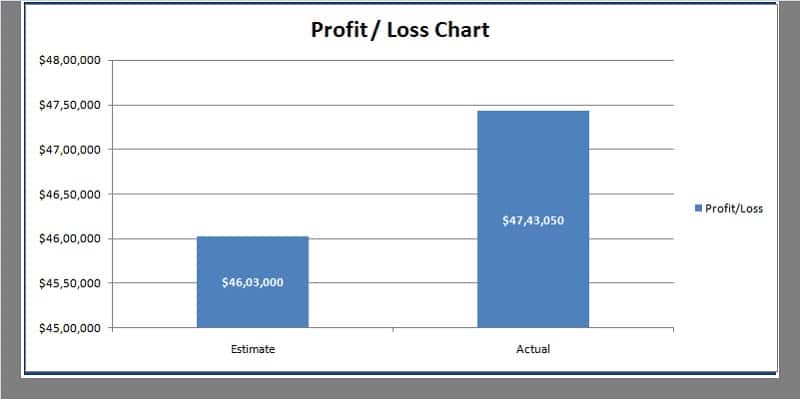 This template can be helpful to event planners, individual trainers, and other professionals to effectively plan and conduct events.
We thank our readers for liking, sharing and following us on different social media platforms.
If you have any queries please share in the comment section below. We will be more than happy to assist you.