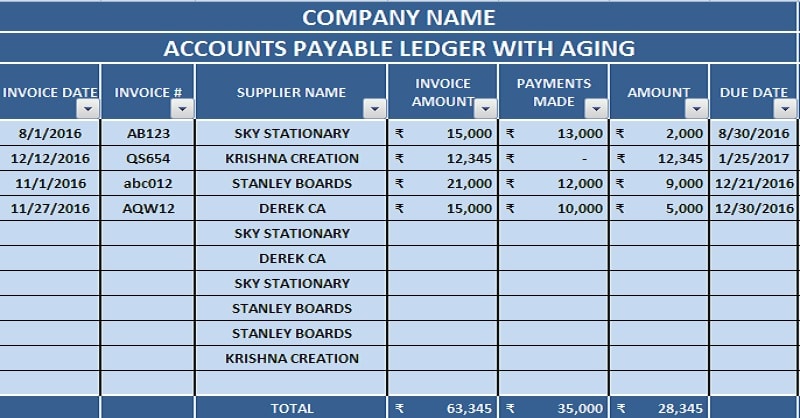 Accounts Payable Template is a document that records invoices of goods purchased by us on credit. No upfront cash is paid. In other words, our creditors whom we are liable to pay them during a specific time.
All kinds of Payable is the liability for any company and is recorded in the current liabilities section. Hence, Accounts Payable is a short-term debt that needs to be paid off to avoid default.
Normally, Accounts Payable is a credit balance. When you record a vendor invoice, you will credit Accounts Payable and debit another account as per the double-entry accounting system.
Simultaneously, when you pay your Accounts payable, you will debit Account payable and credit Cash. Therefore, the credit balance in Accounts Payable should be equal to the unpaid vendor invoices.
Accounts Payable is not a term that is used only in businesses. Even individuals like you and me have Accounts Payable.
For example, we consume electricity, telephone, broadband, cable TV, etc services. These companies generate the bills towards the end of a particular billing period.
It means that the service provider gives us some service on credit. We need to make the payment of these services on a certain date or else you will default. This is our Accounts Payable.
Accounts Payable With Aging Excel Template
I have created an Accounts Payable Template with advanced functions. With Accounts Payable Template you can efficiently and easily record entries. This template generates a vendor wise/creditors wise report in few clicks.
The Accounts Payable Template is useful for Accounts Assistant, Accountants, Audit  Assistants, etc.
Excel Google Sheets Open Office Calc
Click here to Download All Accounting Excel Templates for Rs 199.
You can download other accounting templates like Budget With Charts Template, Checkbook Register Template, Personal Budget Template, and Purchase Order Template from our website.
Let's discuss the template contents in detail.
Contents of Accounts Payable With Aging Excel Template
This template consists of two sections:
Header Section and
Data Input Section
1. Header Section
In the Header section, the right-hand side consists of the Company name and name of the Ledger of Accounts Payable.
On the left-hand side, the Balance of Accounts Payable amount as of today's date is given. Thus, Balance amount = Total of Invoices – Payments.
The date column will automatically take the current date of the system. Current date formula =Today() is given.


2. Data Input Section


The data input section consists of the following subheading for data entry of payable invoices:
Invoice Date: Date of the invoice issued by Creditor
Invoice #: Invoice number of the Creditors.
Supplier Name: Name of Creditor's company or individual.
Invoice Amount: Amount of invoice in the desired currency.
Payments made: Record amount if any amounts are paid.
Amount: This column shows the balance amount after deducting payments from the total amount of invoice. The formula here is =D5-E5.
Due Date: Due date is the last date for making payment to the creditor.
Days Above Due Date: This column shows the number of days that pass the due date. If the due date has not yet arrived it will show "NOT DUE".
I have added a formula with an IF Statement here.
Formula: =IF(TODAY()-G5<=0,"NOT DUE", (TODAY()-G5))
Remarks: Here you need to enter remarks as and when required for any disputes or discrepancies.
The last line consists of the totals, where simple column totals are given using the SUM formula.
All the subheadings in the data input section are created with a table. Thus, it allows you to generate a creditor wise, date wise, etc query/report as required.
You need to simply click on the drop-down button in a subheading and select the criteria of the report.
Furthermore, you can also download Accounts Payable Register With GST(Goods and Services Tax) as well as Accounts Payable Register With VAT(Value Added Tax).
We thank our readers for liking, sharing, and following us on different social media platforms, especially Facebook.
If you have any queries or questions, share them in the comments below. I will be more than happy to help you.