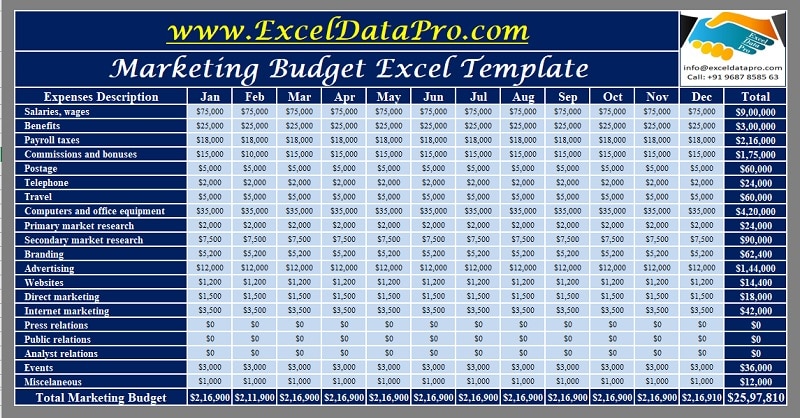 Marketing Budget Template is a ready-to-use template in Excel, Google Sheets, and OpenOffice to organise and plan your marketing budget.
This template will help you manage your allocated finances for the marketing department well and decide your revenue goals. It can be helpful to Marketing heads, General Manager, Managers, and Team leaders.
What is a Budget?
A Budget is a quantitative expression of a financial plan of a company for a defined period of time. the budget expresses the strategic plans of business units, organizations, activities, or events in measurable terms.
What is a Marketing Budget?
A marketing budget is a document that records a specific amount of budget for different activities of a marketing department for a defined period. It can be quarterly, half-yearly, or yearly.
These activities include branding, promotions, giveaways, events, commissions, salaries, etc. These expenses are not limited to only these expenses. Different type of organisation has another kind of expenses.
Importance of Marketing Budget
The marketing department is considered to be the main pillar of any organisation. Thus, as good as the performance of this department, the better the revenue figures.
Moreover, most small and mid-sized companies and start-ups fail due to a lack of proper marketing planning. Their products are good but not properly marketed. Hence, sales are stagnant. This is like having a car and not putting gas in it.
Hence, it is necessary to allocate money for promotion and marketing costs. Many companies allocate a considerable amount of money for marketing.
Furthermore, allocating a specific amount helps us to prioritise and focus on marketing activities. It helps us to track our return on investment. Generally, companies use 5% – 10% of their on their marketing. This can be a good start off.
Often, companies underspend on marketing activities. There is no doubt that they might be saving some money by not spending. But by not spending on marketing, they tend to missout on a lot of business. Hence, you need to spend money to make money.
Types of Marketing Expenses
Previously, there were a few regular expenses under marketing. But with the digitalisation of marketing activities, a variety of expenses are added to the list.
List of Marketing Expenses
Online Branding (Website setup and maintenance costs)
Online Paid Campaigns
Crisis Management
Automation tools
Self and Staff Travel expenses
Video conferencing and webinars
Digital Marketing (paid ads on social media and search engines)
Content Creation (Video production, Images, Blogs, Articles, Guides, etc.)
Personalised Gifts and samples for customers
Business cards Expenses
Brand Collaborations
Consultancy fees (General as well as digital)
External Events Participation
Organising and Promoting your events
SEO services
The above list consists of marketing expenses, but not limited to these as there can be other expenses.
How To Allocate Your Budget for Marketing?
Follow the following steps to allocate your budget for marketing properly:
Define your marketing goal: branding, Lead Generation, or sales.
Define the proportion to be spent on each activity.
Write out a 12-month plan.
Determine which advertising channels to use.
Track results of each activity in the past and current to set the best arbitrage.
Allocate the budget based on results to make the best out of your spending.
Marketing Budget Template (Excel, Google Sheets, OpenOffice)
To simplify the marketing department's budgeting process, we have created a Marketing Budget Excel Template with predefined formulas.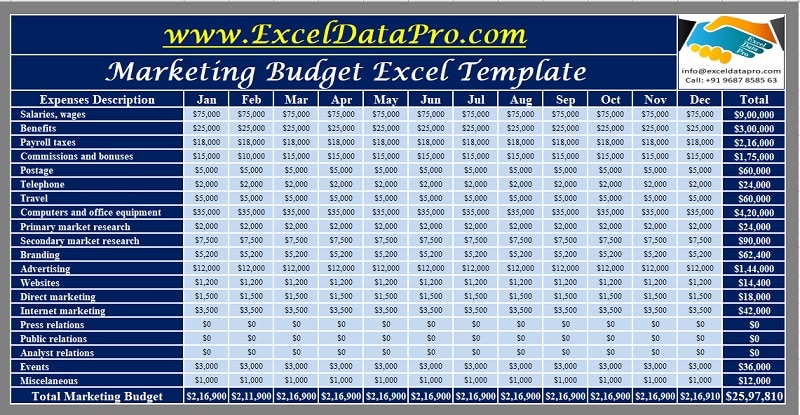 Excel Google Sheets Open Office Calc
Click here to Download All Accounting Excel Templates for ₹299.
Additionally, you can also download other Accounting Templates like Purchase Return Book With Tax, General Budget With Charts, Accounts Payable With Aging, and many more templates.
Now let us discuss the contents of this template in detail.
Contents of Marketing Budget Template
This template consists of 4 sections: Header Section, Expenses Description, Monthly Budget Amounts, and Totals.
As usual, the Header Section consists of the company name, the company logo, and the sheet heading.

Expense Description
We have tried to list the most applicable expenses to the marketing department. The marketing expenses listed here are as follows:
Salaries, wages.
Benefits
Payroll taxes
Commissions and bonuses
Postage
Telephone
Travel
Computers and office equipment
Primary market research
Secondary market research
Branding
Advertising
Websites
Direct marketing
Internet marketing
Press relations
Public relations
Analyst relations
Events
Miscellaneous
If you cannot find any, you can change/add them to the template.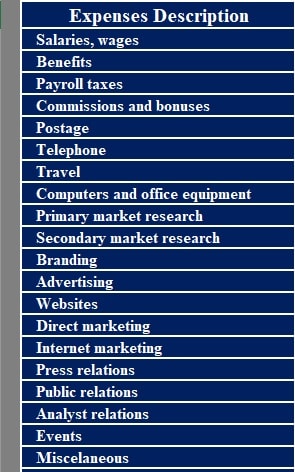 Monthly Budget Amounts
Moreover, one column from Jan to Dec has been given to enter the respective amounts for each month. Insert the amount you wish to spend on the individual activity.

Final Totals Section
In the end, both vertical and horizontal totals are given. The vertical total will provide you with the total expense of a particular month. In comparison, the horizontal total will provide you with a yearly total of each expense.
Other Useful Marketing Templates
We thank our readers for liking, sharing, and following us on different social media platforms.
If you have any queries or suggestions, please share them in the comment section below. I will be more than happy to assist you.
Frequently Asked Questions
How to make my marketing budget effective?
Find the market trend.
You must know what your competitors are spending on.
Be creative enough to make a difference.
Invest in current trends.
Check statistics and analyse what is working and what is not.
Stop that is not working. Rinse and repeat that it is working.
Use ROI KPIs to know the arbitrage.
How much budget should we allocate to social media marketing?
According to a survey, B2B companies should allocate 2-5% of revenue on marketing. Whereas B2C companies should allocate between 5-10% of their revenue on marketing. For more information on how to plan your social media budget, please click the link below:
What are the types of content marketing?
There are five types of content marketing activities: Infographics, Blog content, Podcasts, Videos, and Social media.