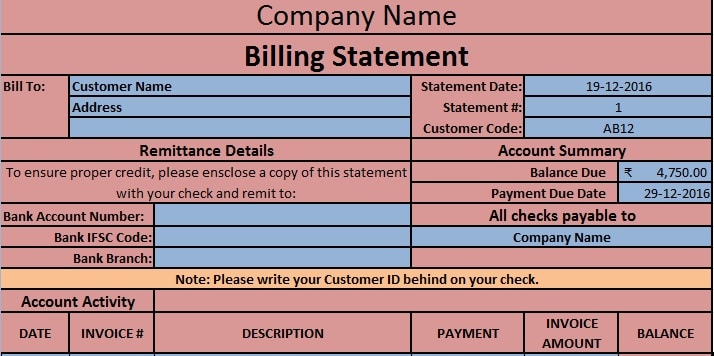 Billing Statement Template is a document that is used to track invoices, accounting details, and billing status, etc, all in one location.
In other words, the amount to be collected against goods or services sold on a credit basis for a particular customer is recorded in this statement.
Our Billing Statement Template consists of Accounts Receivable amounts. This Statement is made for a particular customer along with the payment history for a particular period.
This template is useful if you are receiving regular bi-monthly or monthly payments from that customer.
Billing Statement will also help us to prepare multiple customers' billing statements quickly and easily in a very short period.
Billing Statement Excel Template
I have created a Billing Statement Template which has professional looks. You can customize it according to your needs as and when required.
Click here to Download Billing Statement Excel Template.
Click here to Download All Accounting Excel Templates for Rs 199.

Apart from that, you can also download other Accounting templates from our website like Accounts Payable, Accounts Receivable, Invoice Excel Templates, and Inventory Control Excel Template, etc.
Let's discuss the Billing Statement in detail.
Content Billing Statement Excel Template
Billing Statement Template contains two sections as mentioned below:
Heading Section
Data Input Section
1. Header Section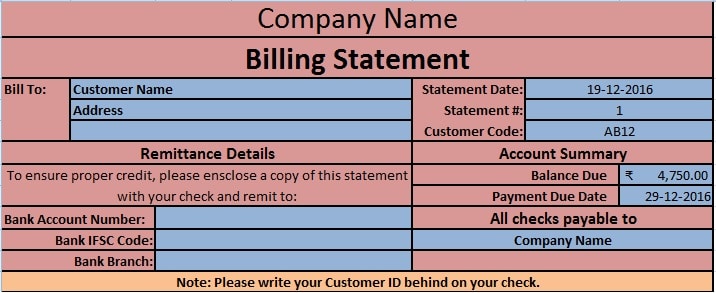 This Section includes headings like Company Name, Billing Statement, Customer Name … as shown in the above image.
Just after that, there is the Remittance section. Remittance includes all details like your Bank details like Bank Name, Bank A/c number, and Branch Code, etc.
Next to the Remittance section on the right-hand side is the Account summary. This section includes subheadings like Balance due, the due date of payment and other payment-related instructions.
Below Account summary come the Notes, where you can put notes for your customer as required.
I have put here a note for the customer to include their customer id behind the check.
2. Data Input Section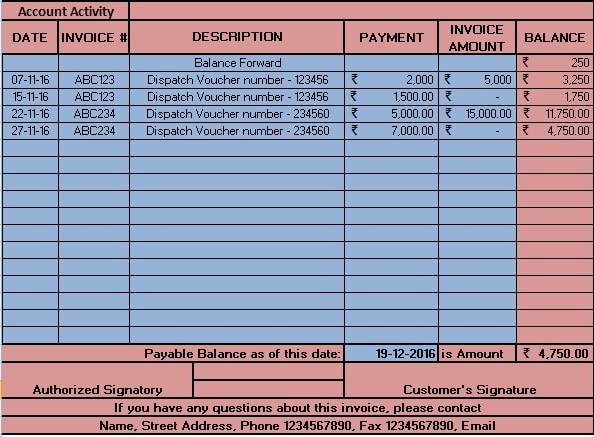 This section consists of headings like Date, Invoice number, Payments… etc as shown in the above screenshot.
The balance amount here is calculated by deducting the payment amount from the total invoice amount. Previous Balance Amount of bill is also reflected in the last column.
Note: Don't include invoice amount again and again for the same invoice to get exact receivable.
After that, there is the Total Amount of Balance as on statement issued date.
Last but not least, there is the signature area for the issuer and the receiver of the Billing Statement.
In the end, the contact details of the Accounts department are given. If the customer has any discrepancies or queries related to the statement, he can contact them and sort it out.
We thank our readers for liking, sharing and following us on different social media platforms, especially Facebook.
If you have any queries or questions, share them in the comments below and I will be more than happy to help you.