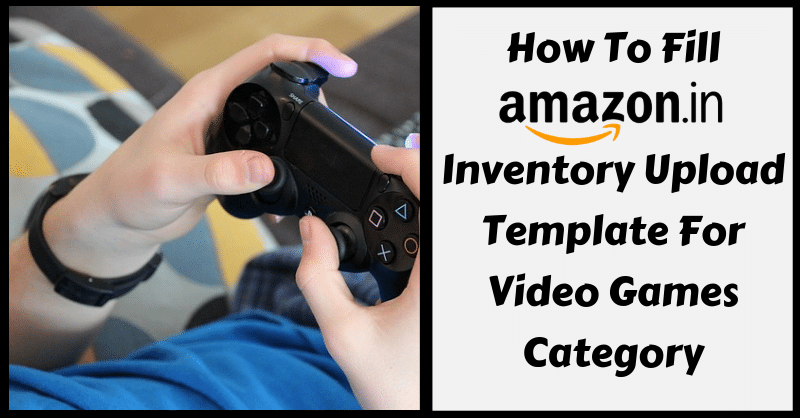 Similar to the Toys & Games Category we have Video Games Category which is again a popular one on Amazon India. Video games are rapidly becoming the largest form of mass entertainment as they generate high engagement with buyers of any age group. Buyers can't resist the urge to search & buy products like video games & toys.
So, if you are planning to list & sell video games & consoles then you are at right place. In this blog, we have explained how to fill, check & upload bulk inventory template for video games category on Amazon India.
List of Products that can be sold under Video Games Category
Digital Games & Downloadable Content
(Mac, Nintendo 3DS & 2DS, Nintendo Switch, PC, PlayStation 3, PlayStation 4, PlayStation Vita, Wii U, Xbox 360 & Xbox One Games)
Installation Services
Mac
(Accessories, Downloadable Content, Games, Add-ons & Expansions, In-game Currency & Season Passes)
Microconsoles & Handhelds
(3DO, Atari 2600, Atari 5200, Atari 7800, Atari Jaguar, Atari Lynx, ColecoVision, Commodore 64, Commodore Amiga, Game Boy, Game Boy Advance, Game Boy Color, GameCube, Intellivision, Linux Games, NEOGEO Pocket, Nintendo 64, Nintendo Entertainment System (NES), Nvidia Shield, Ouya, PlayStation, Sega CD, Sega Dreamcast, Sega Game Gear, Sega Genesis, Sega Master System, Sega Saturn, Steam Machines, Super Nintendo (SNES), TurboGrafx 16 & Xbox)
Nintendo 3DS, Nintendo DS, Nintendo Switch, Online Game Services, PC Games, PlayStation 2, PlayStation 3, PlayStation 4, PlayStation Vita, PSP, Wii, Wii U, Xbox 360 & Xbox One
(Nintendo eShop, PlayStation Network & Xbox Live, Accessories, Consoles, Downloadable Content, Games, Interactive Gaming Figures, Virtual Reality Hardware, Xbox Live! Membership Cards)
Warranties
Other (Video Games)
List of other important categories to help you understand the process of bulk listings using excel worksheet to their inventory on Amazon India:
How to Download Amazon Inventory File for Video Games Category?

Log in to your Amazon India seller account.
Click on Add Products via Upload under the Inventory tab.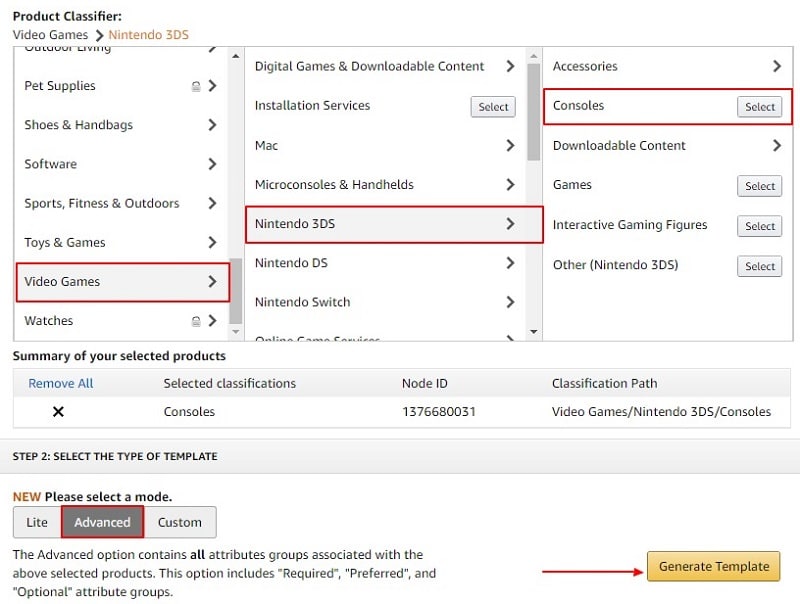 Scroll down to the Product Classifier option
Find Video Games category. We have taken Video Game Consoles as an example.
Choose the product sub-category. Click the "Select" button
Select the template mode as "Advanced".
Click "Generate Template". A product inventory excel file will be downloaded.
Check your download folder to locate the file.
How to Fill Inventory Upload File for Video Games Category?
There are total 7 worksheets in the downloaded excel file, out of which only the "Template" sheet is to be filled with item details. Other excel sheets are for reference purpose only. We have taken the video game "Consoles" template as an example.
There are total 10 sections in the Consoles Excel Template. These sections remain the same (with a minor change in the sequence of field columns) for any video game product excel sheet that you download.
Required product information
Images
Variation
Basic product details
Discovery
Product enrichment
Dimensions
Fulfillment
Compliance
Offer
Read further for a better understanding of the necessary attributes and fields relevant to the product. Leave irrelevant fields blank. A seller can upload an excel template with blank fields in it.
1. Required product information

Product type: Describe the type of product. For example, Copier, Fax machine, etc.
Seller SKU: The inventory identification number given to the product.
Product ID: Write the 12, 14 or 16 digit numerical value of the product ID.
Product ID Type: Select UPC, EAN, GCID, ASIN etc. from the drop-down list.
Title: A short product title including brand, colour, size, material, weight etc.
Manufacturer: The name of the product manufacturer.
Hardware platform: Specify which hardware platform is compatible with the video games software. You will get a total of 5 column space.

Standard Price: The selling price of the product.
Quantity: Enter the quantity of the product.
Item condition: Give the condition of the item. For example, new, used, refurbished, etc.
Currency: Write the currency name used for product pricing.
Shipping Template: Write Migrated Template here.
Maximum retail price: Provide the MRP of your product.
Main image URL: Insert the main product image URL.
2. Images

Insert other images of video games product with white background & high definition zoomable quality. Upload all the product images on Google Drive or Dropbox or any other could platform. Generate shareable links of the images. Copy these links & paste them here. You have total 8 column space to insert image URLs.
3. Variation
Fill this section only if you are listing main products. If you are adding an accessory or a close variant of the main product then give details as shown below.
Parentage: Describe whether the product is a parent or child.
Parent SKU: Provide the SKU of the main product.
Relationship type: The relationship of the main product with the product you are adding using this file.
Variation theme: Define the product variation theme. For example, size, colour, material, etc.
4. Basic Product Details

Brand: Indicate the brand of the video game.
Update delete: Enter Update or Partial Update if updating current product details or adding a totally new product. Use "Delete" if you want to completely remove a product listing.
Manufacturer part number: Refer the product packaging for the model number.
Recommended browse nodes: See valid value tab in the excel sheet for browse nodes.
Description: Describe the video game in short texts. Write the main features only.
5. Discovery

Catalogue number: Specific number ID given to a whole lot of product.
Search terms: You Get total 5 space to write searchable keywords.
Bullet points: Write short sentences or phrase indicating the most important features of the product. You get total 5 column space. Product features help to organically optimize your product listings for Amazon search rankings.
Platinum Keywords: This field is for platinum amazon sellers only with 5 column space.
6. Product enrichment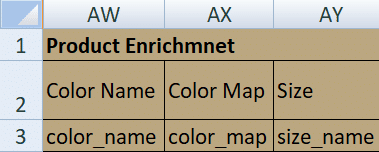 Colour name: The standard colour name of the product.
Colour map: All available colour range in the product.
Size: The physical size of the product.
7. Dimensions

Shipping weight: The final weight of the product after packing.
Website shipping weight unit of measure: Select GR, KG, OZ or LB here.
Length, width & height: Specify the length, width & height of the product.

Item dimension unit of measure: The measuring unit of the product dimensions.
Item weight: The weight of the product.
Item weight unit of measure: The measuring unit of the product weight.
Item length unit of measure: The measuring unit of the product length.
8. Fulfillment

Package height, width & length: Specify the package height, width & length at the fulfillment centre.
Package dimensions unit of measure: Write the package dimension unit of measure in CM, FT, IN, M, MM.

Package weight: The package weight including the packaging.
Package weight unit of measure: Specify the package weight unit in LB, OZ, KG, Milligrams, GR, etc.
Fulfillment centre ID:  Select AMAZON_IN or DEFAULT for fulfillment centre ID.
9. Compliance
Toys & Video games run on alternate power sources like batteries too. Hence, it is compulsory to provide battery information if the video games are operated using batteries. You can leave the compliance section empty if your product doesn't require a battery to operate.

Country/region of origin: The country where the product originated.
USK rating: This is a German standard of rating video games or software used in it. For example, infotainment, Age 6 and over, unknown, etc.
Safety warning: Write safety warnings while using a battery operated product.
Legal disclaimer: Indicate a short legal disclaimer about using a battery run product.
Is this product a battery or does it use batteries?: Specify whether the product is itself a battery or runs on a battery.

Batteries are included: State whether your product includes batteries or not.
Battery composition: Refer the battery packing for battery composition info.
Battery type/size: The size and type of battery in the product. Total 3 column space.
Number of batteries: Give the total number of batteries used to operate the product.
Battery weight (grams): The total battery weight excluding any cover or product.

Battery weight unit of measure: The measuring unit of battery weight.
Number of lithium metal cells: The lithium metal cell content in the battery. Refer the battery packing.
Number of lithium-ion cells: Describe the total number of lithium-ion cells in the battery.
Lithium battery packaging: Select values from the drop-down list depending on the how the battery is contained in the product. For example, batteries only, with equipment, pre-installed in the equipment, etc.

Watt hours per battery: Specify the total run time of the battery in hours.
Lithium battery energy content unit of measure: The measuring unit of battery in watt-hours.
Lithium content (grams): The lithium content in the battery. Refer the battery packing.
Lithium battery weight unit of measure: The measuring unit of lithium battery weight.

Applicable dangerous goods regulations: Certain products are regulated as dangerous goods. Here you need to select values from the drop-down list. You have total 5 column space. This section is required for battery operated equipment only. Thus, you can leave this field blank.
UN number: The UN number is Hazmat United Nationals Regulatory ID. You can get the UN details from the manufacturer or in the safety data sheet. For example, UN1920.
Safety data sheet (SDS) URL: Insert the URL of the safety data sheet. It can be found on the manufacturer website.
Volume: The volume capacity of the product.

Item volume unit of measure: The measuring unit of the product volume.
Flashpoint (°c)?: The flashpoint details are found in the safety data sheet or on the battery packaging.
HSN code: Write the 4 digit HSN code as per the GST regulation.
Categorisation/GHS pictograms: Select appropriate value from the drop-down list. For example, explosive, toxic, oxidizing, corrosive, etc.
10. Offer

Handling time: Time needed to pick, pack & ship the product.
Offer condition note: If item condition is not "New" then describe the condition here in brief.
Launch & offering release date: Specify the product launch & release dates.
Number of items: Total number of items in a single package.
Item package quantity: Total number of packages in single order.

Sale start & end date: The date when you want to start & end a sale.
Sale price: The price at which a seller offers a product on SALE.
Restock date: The date when a product will be restocked again. This is not mandatory.
Is gift wrap available?: If the product is available in gift wrap then select True or else False.
Can be gift message: If you can print a gift message then select True or else False.

Is discontinued by manufacturer: Select true or false from the drop-down.
Registered parameter:
Product tax code: Specify the product tax code.
Max order quantity: Number of items a buyer can order at a time.
Stop selling date: The date after which your product will be unavailable for selling.
How to Upload Your Inventory File?
Upload your excel file to validate the same by Amazon India that it is error-free. We strongly recommend checking the excel file once you finish filling the details.
Steps to Check Your Inventory File:
Keep your excel inventory file ready.
Select Inventory Files in File Type.
Click Choose File in File to Check section.
The email alert is optional, you can skip it.
Click Check my File & refresh the page.
Go to Monitor Upload Status to see the file validation process.
There are chances that your excel file template will have errors. An error excel file will not be allowed on Amazon India. Hence, address all the errors if any & repeat the above steps.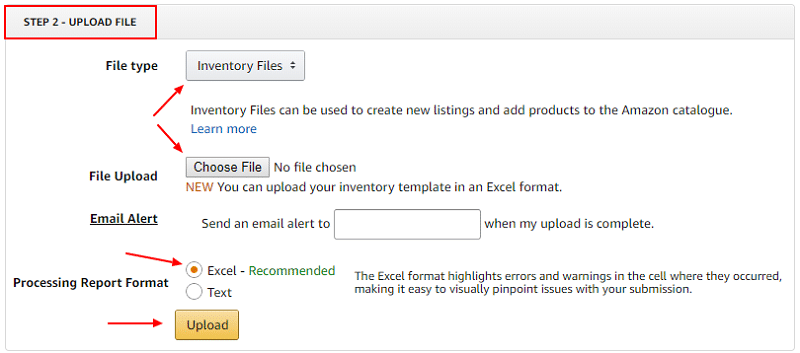 Steps to Upload Your Inventory File:
Keep File Type Inventory Files.
Click Choose File in File Upload option.
The email alert is optional, you can skip it.
Select Excel radio button in Processing Report Format.
Click Upload & refresh the page.
Go to Monitor Upload Status to see the product upload process.
Hence, using a single excel template a seller can add any kind of video games products & accessories.
For products that cannot be uploaded using an excel template file, sellers can use the Amazon Product Flat File.
You can download free and ready-to-use Business Excel Templates in different categories helpful for the smooth running of your business.
Happy Selling on Amazon India.
We thank our readers for liking, sharing and following us on different social media platforms.
If you have any queries or suggestions please share in the comment section below. I will be more than happy to assist you.