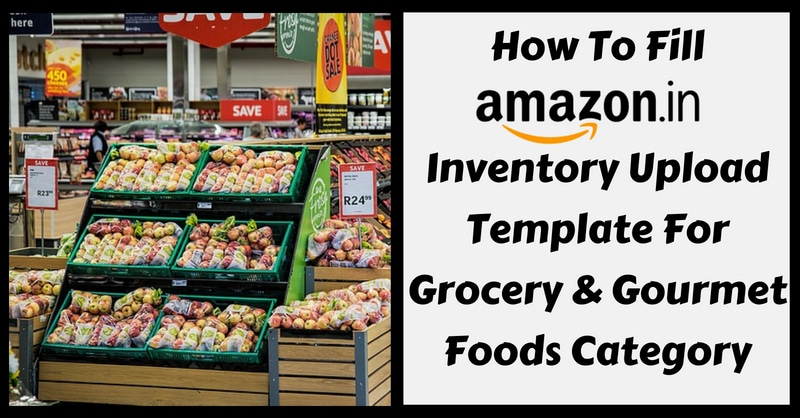 Grocery & Gourmet Foods Category products are hot selling products on Amazon India with tons of item listings and thousands of buyers. The competition is fierce to sell food products but uploading products in bulk will help sellers to add more items to their inventory and get maximum visibility in search results.
Grocery & Gourmet Foods Category is an Amazon India restricted category and one needs an approval to list and sell foods products on Amazon India. The approval process is quite simple where a seller has to submit required documents with product images to the Amazon team.
Refer a step by step guide on How to Get Approval For Grocery and Gourmet Food Restricted Category on Amazon India?
Here we have explained how sellers can add bulk products using excel inventory templates in the Grocery & Gourmet Foods category. Before going into the actual process let us see what are the sub-categories and products in it that can be listed using an inventory excel file. Read below:
Baby & Childcare
(Bathing, Nappy, Health & Skin Care etc.)
Beer, Wine & Spirits
(Bitters, Bloody Mary, Daiquiri, Margarita, Martini, Cocktail Mixers, etc.)
Canned & Jarred Food
(Fruits, Meat, Poultry, Seafood, Olives, Pulses, Beans, Soups, Stews, etc.)
Cereal & Muesli
(Snack Bars, Flakes, Oats, Porridge, Granola Cereals, etc.)
Coffee, Tea & Beverages
(Bubble Tea, Coffee, Espresso, Coffee Creamers, Cola, Soft Drinks, etc.)
Cooking & Baking Supplies
Breadcrumbs, Seasoned Coatings, Coconut Flakes, Powdered Milk, etc.)
Dairy & Chilled Food
(Artisan Cheese, Butter, Margarine, Cheese Assortments, Milk Substitutes, etc.)
Dried Fruits, Nuts & Seeds
(Anjeer, Apples, Apricot, Berries, Banana, Almonds, Cashews, Chestnuts, etc.)
Fresh Flowers & Live Indoor Plants
Frozen
(Appetizers, Snacks, Baby Food, Bread, Dough, Breakfast Foods, Desserts, etc.)
Hampers & Gourmet Gifts
(Cheese Gifts, Chocolate Gifts, Coffee Gifts, Dessert Gifts, Dry Fruits & Nut Gifts, etc.)
Home Brewing & Winemaking Ingredients
(Additives, Adjuncts, Grains, Hops, Flavourings, Brewing Kits, etc.)
Jams, Honey & Spreads
(Chocolate Spread, Curd, Fruit Spread, Honey, Mayonnaise, Nut Butters, etc.)
Meat, Poultry & Seafood
(Bacon, Beef, Chicken, Frozen Meat, Frozen Seafood, Hot Dogs, Franks, etc.)
Pasta & Noodles
(Vermicelli, Ramen, Egg Noodles, Sweet Potato Noodles, Long Pasta, Stuffed Pasta, etc.)
Pet Food
Pickles
(Artichokes, Beans, Beetroot, Cabbage, Carrots, Chutneys, Garlic, Mango Pickles, etc.)
Produce
(Fresh Fruits, Fresh Vegetables, Packaged Produce, Vegetarian Proteins, etc.
Ready to Eat & Cook
(Dal, Curries, Dry Soup Mixes, Instant Custard, Pizzas, Rice Dishes, etc.)
Snack Foods
(Biscuits, Cakes, Chips, Fruits Snacks, Popcorn, Pudding, Ice Cream Cons, etc.)
Sweet, Chocolate & Gum
(Candies, Mints, Caramels, Bubbles Gum, Fruity Sweets, Fudge, Indian Sweets, etc.)
Other (Grocery & Gourmet Foods)
The above list consists of total 22 sub-categories and few product examples so that sellers can get an idea about what kind of items can be listed in these categories and subcategories.
Steps to Download Grocery & Gourmet Foods Category Inventory File

Log in to your Amazon India seller account.
Click on Add Products via Upload under the Inventory tab.
The Add Products via Upload page opens. Refer image above.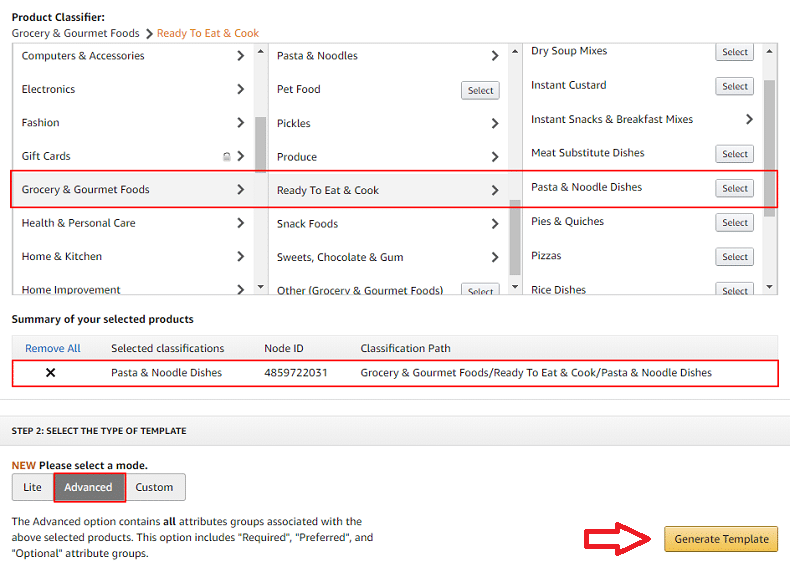 Scroll down on the page to locate Product Classifier option.
Find Grocery & Gourmet Foods category. We have selected Pasta & Noodle Dishes as an example.
Choose the product sub-category. Click the Select button.
Select the template mode as Advanced.
Click Generate Template. A product inventory excel file will be downloaded.
Check the download folder to locate the file. Excel file name will be the same as the product name.
Below article will take you through the whole process of adding products one by one into your Amazon India account if you don't want to go with bulk uploads.
How to Add A New Product on Amazon India – Step By Step Guide
How to fill the Grocery & Gourmet Foods Category Inventory File?
The Template sheet in the downloaded excel file is to be filled by the user. Other excel tabs are for reference purpose only. To give you an idea, we have taken Pasta & Noodle Dishes excel file as an example. This will help you understand the attributes and how to fill in the details.
There are total 9 sections in the Inventory Upload Excel Template in Pasta & Noodle Dishes. These sections will mostly remain the same for any product excel sheet that is downloaded with a minor change in the sequence of field columns depending on the product type.
Required product information
Images
Variation
Basic product details
Discovery
Product enrichment
Dimensions
Compliance
Offer
We have explained all the necessary attributes and fields with images. It may happen that some of them may or may not be relevant to your products. Such fields can be left blank and a seller can proceed further.
1. Required Product Information

Product type: Write the product type. For example, chocolate, sweets etc.
Seller SKU: A unique product identification number given by a merchant to distinguish products.
Brand name: The brand name of the product.
Product ID type: Select option from the drop-down list. GCID, UPC, etc.
Product ID: An numerical value of 12 or 16 digits.
Item name (aka Title): A short product title including brand, color, size, material, weight etc.
Manufacturer: The name of the manufacturer.
Recommended browse nodes: Check the valid values tab in your excel sheet for 10 digit browse node.
Material feature: Select from the drop-down list. Vegetarian or non-vegetarian.
Shelf life (in days): Life of food products in days.

Standard price: The selling price of the product.
Quantity: The quantity of the product available for sale.
Product expiration type: Select from production date required or expiration date required.
Merchant shipping group name: Specify shipping template if you have one or else write Migrated Template.
Maximum retail price: Provide the MRP of your product.
Main image URL: Provide the main product image URL.
2. Images

Paste the link of other images of the product here. Total 3 space available. Upload all product images on Google Drive or Dropbox or any other cloud platform. Copy the shareable link and paste them in these columns. It is recommended to use high definition images.
3. Variation
Variation attribute is used to list variant or an accessory of the main product. Variant or an accessory can be the closest match of the main product. For example, Chocolate powder (500 gm) is your main product then 750 gm, 1 kg or 1.5 kg choco powder will act as a variant. If you are listing the main product then leave this space empty.

Parentage: Select parent or child. Refer the "example" tab in the excel worksheet for better understanding.
Parent SKU: Provide the SKU of the main product.
Relationship type: State whether the product is an accessory or a close variant of the main product.
Variation theme: Define the variation theme of product here. If your product varies by size, then the theme will be size. If it varies by color, then the theme will be color.
4. Basic Product Details

Update delete: There are 3 options, Update, Partial Update & Delete. Use "Update" or "Partial Update" if you want to update any product details. Use "Delete" if you want to completely remove the listing.
Description: Describe your product. Amazon gives you 2000 character space to write the same.
Manufacturer part number: This may be a model number or a serial number. Refer product packaging for the part number.
5. Discovery

Key product features: Indicate the most important features of your product in short sentences or phrase. You get total 5 column space. The above image is for reference only.
Search terms: These are keywords that which a user will type and search for your products on Amazon.  You get total 5 column space to write search terms.
Platinum keyword: Only for platinum level Amazon sellers.
Other attributes: Fill this space only if you are selling cheese products. Total 6 column fields.
Catalog number: Unique catalog number for the product different than the SKU.
Style names: Specific style name or industry name of the product.
6. Product enrichment

Ingredients: Name of the ingredients used in the product.
Specialty: Select a suitable option from the drop-down list. For example, Alcohol-free, fat-free etc.
Item form: Select a suitable option from the drop-down list. For example, Dried, Powder, Capsules etc.

Cuisine: Write the cuisine of the food here. For example Indian, Chinese, etc.
Size: Indicate the size of the food product.
Flavor: Specify the food flavor.
In this section, you need to enter the Color map, Size map, Color name & Pattern name that are optional. Hence, a seller can leave these fields empty and upload the excel file with blank attributes.
7. Dimensions

Item weight: The item weight without packing material.
Item weight unit of measure: Specify the measuring unit of weight.
Item Width, Height & Length: Write the product width, height & length.
Shipping weight: The final weight of the product after packing.

Website shipping weight unit of measure: Select GR, KG, OZ or LB here.
Display weight: The display weight of the product. Can be the same as the item weight.
Item display weight unit of measure: The measuring unit of display weight.
Display volume: The volume capacity of the product.

Item display volume unit of measure: Write the measuring units of product volume. For example, centiliters, liter, quart, fluid ounces, imperial gallons, ounce, liter, milliliter etc.
Display length: The length of the product.
Item display length unit of measure: Write the measuring units of product length. For example, FT, IN, CM, MM, etc.
Item dimensions unit of measure: Write the measuring units of product dimensions. For example, FT, IN, CM, MM, etc.
8. Compliance

Safety warning: Supply associated safety warning of the product if any.
Legal disclaimer description: Describe any legal disclaimer using the product.
Country/Region string: The country where the product originated.
Region of origin: The region where the product originated.
External testing certification: Any food testing certificates like FSSAI, NABL etc.
Compliance has other columns too that are used to provide battery information if the product is operated using a battery. These fields are not applicable in grocery & gourmet category. Hence, leave these fields empty.
9. Offer

Product tax code: Specify the product tax code.
Package Quantity: The number of items in a single package.
Sale price: The price at which the product is offered for SALE. This price must be lower than MRP & selling price.
Sale start date & end date: Select a start and end dates of your Amazon India SALE.
Number of items: The number of items included in the product.

Can Be Gift Messaged: Select True if you can gift message the product to a buyer or else False.
Is Gift Wrap Available?: Select True if you can gift wrap the product to a buyer or else False.
Launch, release & restock date: The dates when your product will be available for buyers.
Handling time: Number of days needed to pack & ship the product.

Max aggregate ship quantity: Maximum quantity of items shipped in single order.
Is discontinued by the manufacturer: Select true or false from the drop-down.
Stop selling date: The date when a seller wants to discontinue selling a product.
Max order quantity: Number of items a buyer can order at a time.
Offering release date: Same as the launch date or release date of the product.
Once you finish filling in the details in the excel sheet it is time to validate and then finally upload the same to your inventory on Amazon India.
Steps to Check & Upload Flat File Excel Template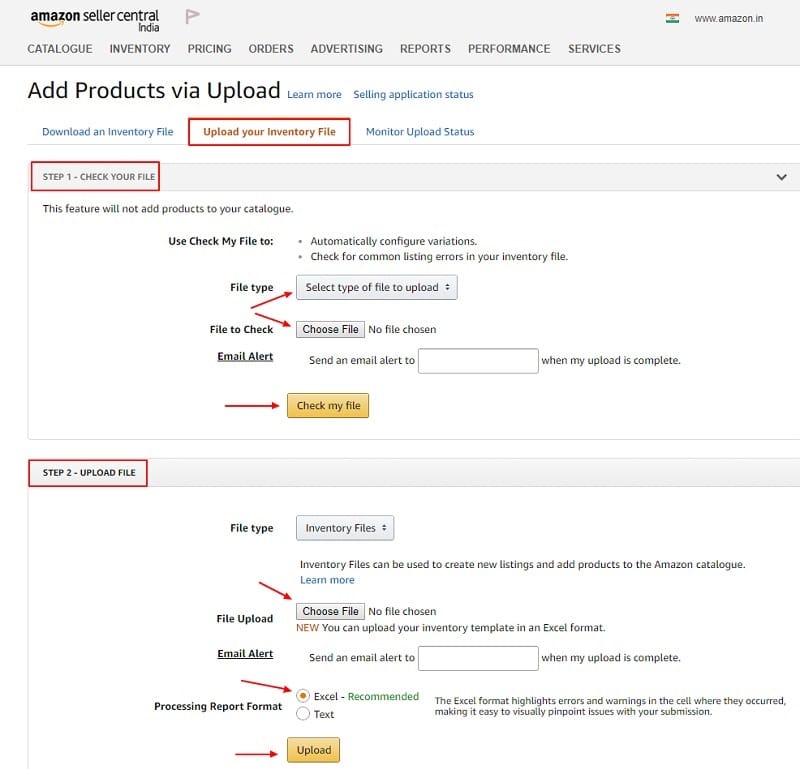 The excel inventory template filled by an individual seller may have some errors, hence it is always advised to check the excel file using Check Your File option as shown in the above image. This is a kinda file validation process.
Once the file is error free you can proceed to the final upload using the Upload File option. Sellers can check the progress of file validation or final upload using Monitor Upload Status.
Using a single excel inventory file sellers can upload & add an unlimited number of Grocery & Gourmet Food items to existing inventory. This will not only enrich your product portfolio but also increase the product visibility.
Following articles can be of great help to upload products in the categories listed below using Inventory Excel Templates on Amazon India:
As a seller, if you cannot find any product in the product classifier tool, you can use an Amazon Product Flat File to upload your products. A flat file can be used to upload main products, variants or a product accessory.
Happy Selling on Amazon India.
You can download free and ready-to-use business templates in different categories helpful for the smooth running of your business:
We thank our readers for liking, sharing and following us on different social media platforms.
If you have any queries or suggestions please share in the comment section below. I will be more than happy to assist you.