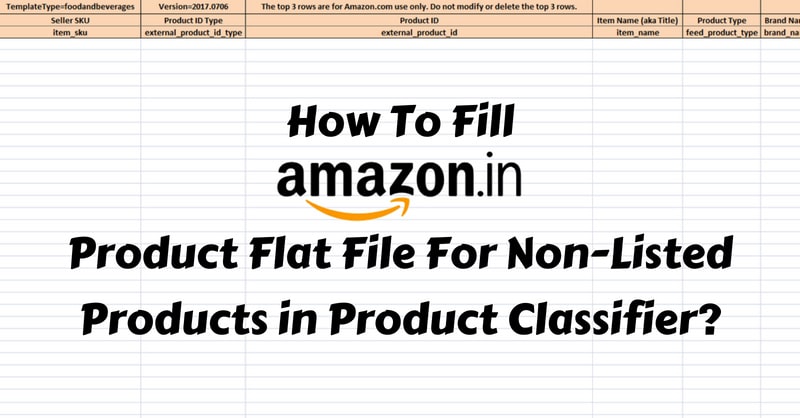 What is Amazon Product Flat File?
Amazon Product Flat File is the template used for those products that are not listed anywhere in the product classifier. Hence, a seller needs this Flat File Excel Template to upload his inventory on Amazon India. It is the generic file used to list any kind of main products and its variations in a specific category.
For example, a seller selling Tea products will get an inventory file in the products classifier, but if he/she wants to list Green Tea, then he/she will have to do it with a flat file. It is because of the product type (tea) which is pre-defined in the excel inventory file downloaded from the product classifier.
Following articles can be of great help to upload products on Amazon India using Inventory Excel Templates:
How to Download an Amazon Product Flat File?
To download the Amazon Product Flat File, Log in to your Amazon India seller account and click add products via upload under inventory tab. While you are on the add products via upload page scroll down to locate inventory files option.

Click on the arrow to expand. Now click on the "Category-specific Inventory Files" in the file name column.

A pop up called "Inventory File Templates" will open. Scroll down to locate category specific flat file templates. Refer the image below: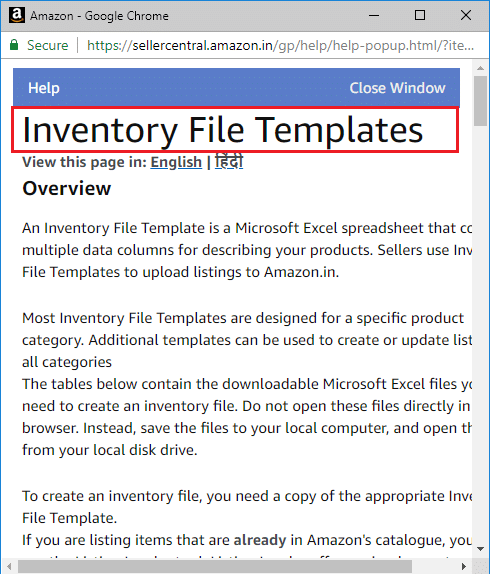 Here is a list of all flat files relevant to your category. The first column has links to download the requiredAmazon Product Flat File and rest are sample file, video and guide links. Click on the desired category flat file that you want to download and use the same to add products on Amazon India. See the image below.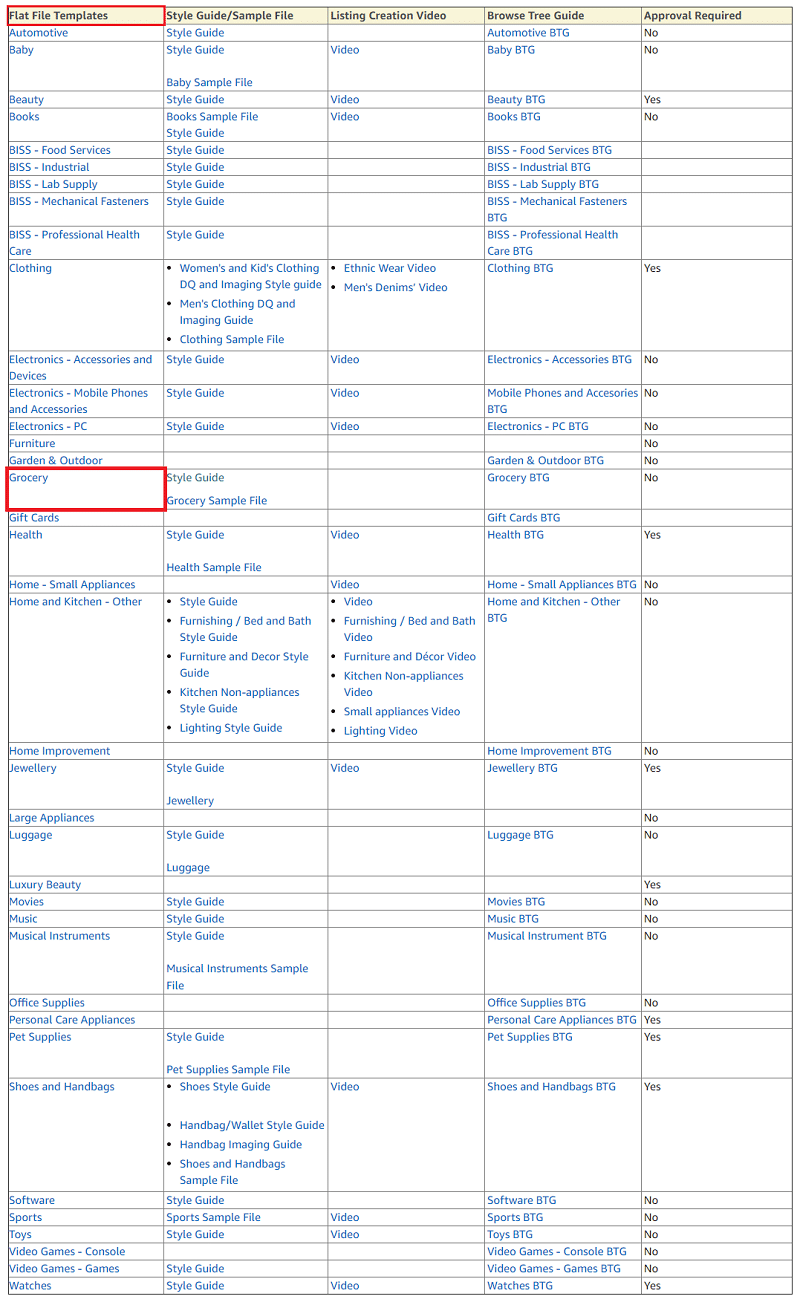 Here we have taken Food and Beverages under the Grocery & Gourmet Category (Restricted Category Approval) as our flat file example to help you understand the downloaded excel sheet, its attributes & fields. The food and beverage excel flat file have 6 tabs:
Instructions
Images
Data Definitions
Template
Example
Valid Values
How to Fill an Amazon Product Flat File Excel Template?
Out of all these tabs, only the "template" tab is to be filled with actual product details while the rest of them acts as different guides. Furthermore, the template tab is divided into 9 different sections like:
Required Product Information
Offer
Product Dimensions
Item Discovery
Image
Fulfillment
Variation
Compliance
Product enrichment
For easy understanding of readers, we have explained each and every attribute along with example where ever necessary. It may happen that the flat file downloaded by you may have more or less excel tabs or attributes altogether depending upon the product type.
1. Required Product Information

Seller SKU: The stock keeping unit (SKU) of a product. Example, ABC_123, XYZ001 etc.
Product ID Type: Select ASIN, GCID, UPC (Barcode), EAN or GTIN from the drop-down menu.
Product ID: Specify the numerical value based on the product ID type.
Item name (aka Title): The product name which is a combination of brand, color, size, material, weight etc.
Product Type: Select appropriate value from the drop-down menu based on your product.

Brand name: Describe the brand name of the product.
Manufacturer: Write the name of the manufacturer.
Product description: A text-based short description of a product.
Manufacturer part number: This can be the model number of your product. Sellers can leave it empty.
Update delete: There are 3 values in the drop-down menu. Update, partial update & delete. To add new product or update product info select update or partial update. If you want to completely delete a product then select delete.
2. Offer

Product tax code: Enter the product tax code given by Amazon India.
Package Quantity: Specify the number of items in a single package.
Maximum retail price: Give the maximum retail price of the product.
Standard price: Describe the selling price of the product.
Quantity: Recommended quantity of products to sell. This is your inventory commitment.

Sale price: To run a SALE on your seller account write the sale price. This price must be low compared to MRP and selling price.
Sale start date & end date: Select a start and end dates of your Amazon India SALE.
Number of items: The number of items included in the product.
Can Be Gift Messaged: If you can print a gift message then write Yes or True. You can leave it blank too.
Is Gift Wrap Available?: If you can ship an item in a gift wrapping then write Yes or True or leave it blank.

Launch date: The date when it will be available for buyers.
Release date: It can be the same as the launch date.
Restock date: Leave this field empty. Sellers don't need to include an inventory restocking dates every time. Inventory can be re-stocked anytime under inventory options on seller central.
Handling time: Number of days that you need to pick, pack and ship a product after an order is made.
Max aggregate ship quantity: Maximum number of items shipped together in single order.

Is discontinued by the manufacturer: Select true or false from the drop-down.
Shipping-template: Write Migrated Template here. If you have your own shipping template then write their name or else leave this field empty.
3. Product Dimensions

Item weight: Describe the actual item weight without packing materials.
Item weight unit of measure: Select GR, KG, OZ, MG or LB from the drop-down menu.
Shipping weight: Write the final weight of the product after packing.
Shipping weight unit of measure: Select GR, KG, OZ, MG or LB from the drop-down menu.
4. Item Discovery

Key product features: Write the most important features of your product. 5 column space is provided which can vary depending on the product type. Don't write the description here.
Recommended browse nodes: Browse node means in which category you wish to list your product. Refer the valid value tab in the excel sheet. You can select the browsing path later on in the product detail page by leaving this field empty here.
Search terms: These are words that your buyer will type and search for a product of yours or a similar one on Amazon India website. Search terms help your products to rank in Amazon product search results.
5. Image

Insert the URLs of your product images other than the main images here. Best practice is to upload all product images on Google drive any such cloud platform and copy their links to paste it into the excel template. Use high definition images to attract more buyers.
6. Fulfillment
Fulfillment Center (FC) is the warehouse where Amazon India stores your product and delivers it to the buyer when ordered. This is the Amazon India FBA program for sellers. Fill the following details only if you are an FBA seller or leave it blank.
Read a complete guide on How To Enroll in Amazon India's FBA (Fulfilled By Amazon) Program?

Fulfillment center ID: Select Amazon_IN or default here.
Package Height, Width & Length: Write the product height, width & length including the packing materials sent to fulfillment centers.
Package length unit of measure: Select values from CM, FT, IN, M, MM here.
7. Variation
Variation is used to either list product accessories or related product and not the main product. If you are listing the main product then leave these attributes empty. Understand variation with an example below.
If you are selling a 150 gram of milk powder than variation could be 500 grams, 1kg, 1.5kg, 2kg etc. So, instead of listing 500 grams, 1kg, 1.5kg or 2kg milk powder packs separately you can upload them as the variation of a 150-gram milk powder in a single listing on Amazon. Variations are often used by sellers having multiple product variety.

Parentage: Values here will be either parent or child. To understand variation better, refer to the "example" tab in the excel worksheet.
Parent SKU: Provide the SKU of the main product if you are listing an accessory or variant of the main product. Leave this blank if you are listing main product.
Relationship type: Describe whether the product that you are trying to list is an accessory or a close variant of the main product. If you are listing the main product itself then leave this entire section blank.
Variation theme: Define the variation theme of product here. If your product varies by size, then the theme will be size.
8. Compliance

Safety warning: Describe the safety warnings while using the product in brief.
Legal disclaimer: Give a short legal disclaimer for the product if any or else leave it blank.
Country produced in: Specify the name of the country where the product is made.
Region of origin: Write the region of origin of the product. Any specific city or state.
HSN code: Enter the HSN code of the product variant as per the GST regulations.
9. Product enrichment
As we have taken food and beverages as an example flat file so we have the fields related to food. These fields may differ in other flat files depending on the product type.

Material features: Select appropriate value from the drop-down menu.
Ingredients & specialty: Describe all the ingredients used in the food and the overall specialty of the food product.

External testing certification: Provide values like FSSAI, ISO, NABL etc agency names who certifies food product.
Item Form: Select the value from drop-down depending upon the food item. For example, dried, fresh etc.
Cuisine: Write the cuisine of the food here. For example Indian, Chinese, etc.
Size: Indicate the size of the food or beverage.
Flavor: Specify the food item's flavor.

Shelf Life (in days): Total number of days between manufacturing  & expiry dates.
Shelf Life Pad Time: Minimum shelf life in days or month.
Product Expiration Type: Select values from the drop-down menu. If the expiry date is printed on the package then select Expiration date required and vice versa.
After you are finished with filling in the excel file details it is time to validate your excel sheet using Check my file option in Amazon seller central.
Steps to Check & Upload Flat File Excel Template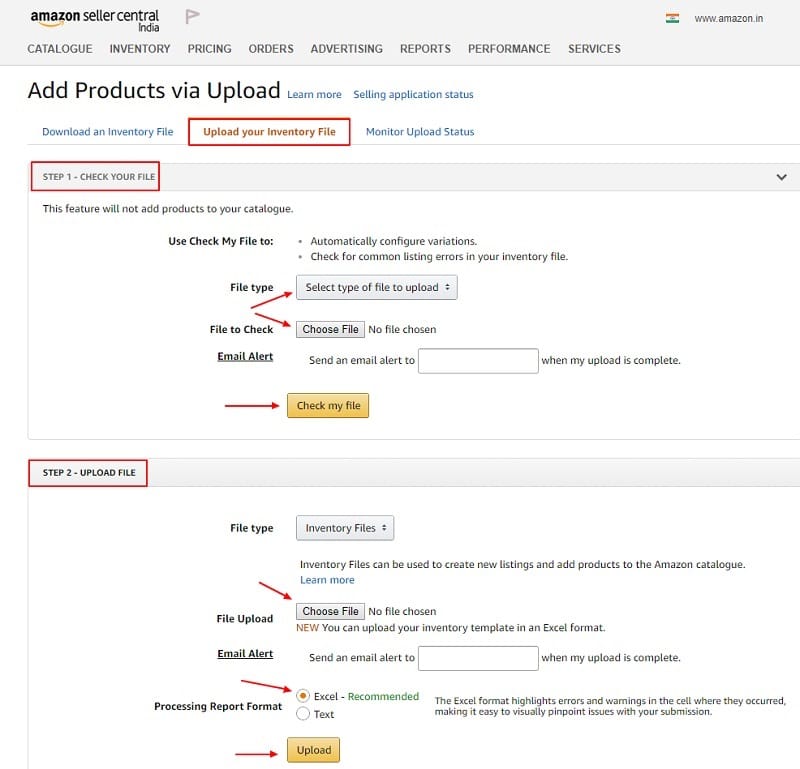 Select the file type as inventory as shown in the image above & click choose file option to upload the flat file for the validation process. If there are any errors or warning then rectify the same until Amazon gives zero error message in the monitor upload status tab.
Once your flat file is finally validated then upload the same using upload file option. Refer the image above. A seller can download any product flat file from Amazon using the above-mentioned steps. Flat files may differ depending upon the product category.
Happy Selling!!!
You can download free and ready-to-use business templates in different categories helpful for the smooth running of your business.
Templates Categories:
We thank our readers for liking, sharing and following us on different social media platforms.
If you have any queries or suggestions please share in the comment section below. I will be more than happy to assist you.