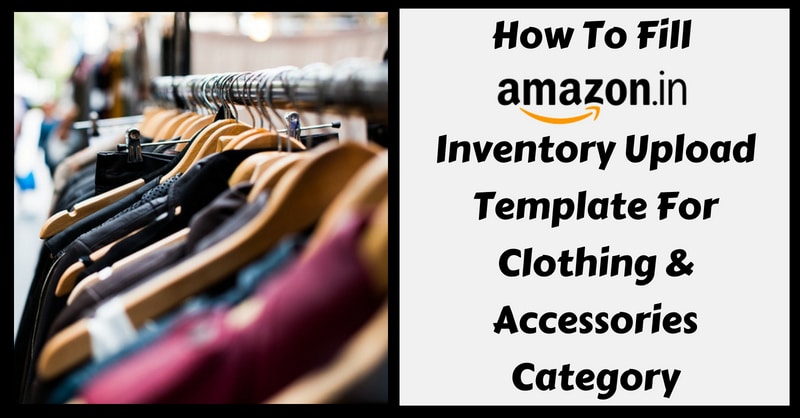 Amazon India has captured a great portion of the e-commerce market in India. Many of us are selling products on Amazon. Clothing & Accessories Category is one of the most moving categories of products on Amazon. We will discuss how to fill the Inventory upload excel template provided by Amazon for this category.
Are you a new seller of Clothing & Accessories Category on Amazon.in and want to upload your products in bulk? Don't worry. Amazon has provided very easy to use templates for inventory upload. Follow these easy steps to download the excel template.
If you want to upload single product via Amazon online portal click on the link below:
How to Add A New Product on Amazon India – Step By Step Guide
Steps to Download Clothing & Accessories Category Inventory Upload File
Steps to Download the Inventory File for Casual Shirts as follow:
Login to your seller account.
Click Add Products via Upload under Inventory.
Scroll down to Product Classifier on Add Products via Upload page.
Select Clothing & Accessories > Men > Shirts > Casual Shirts or whatever be your product.
Select the Advanced option & click Generate Template.
Check your download folder for excel template with your product name. For Example, "Casual Shirts"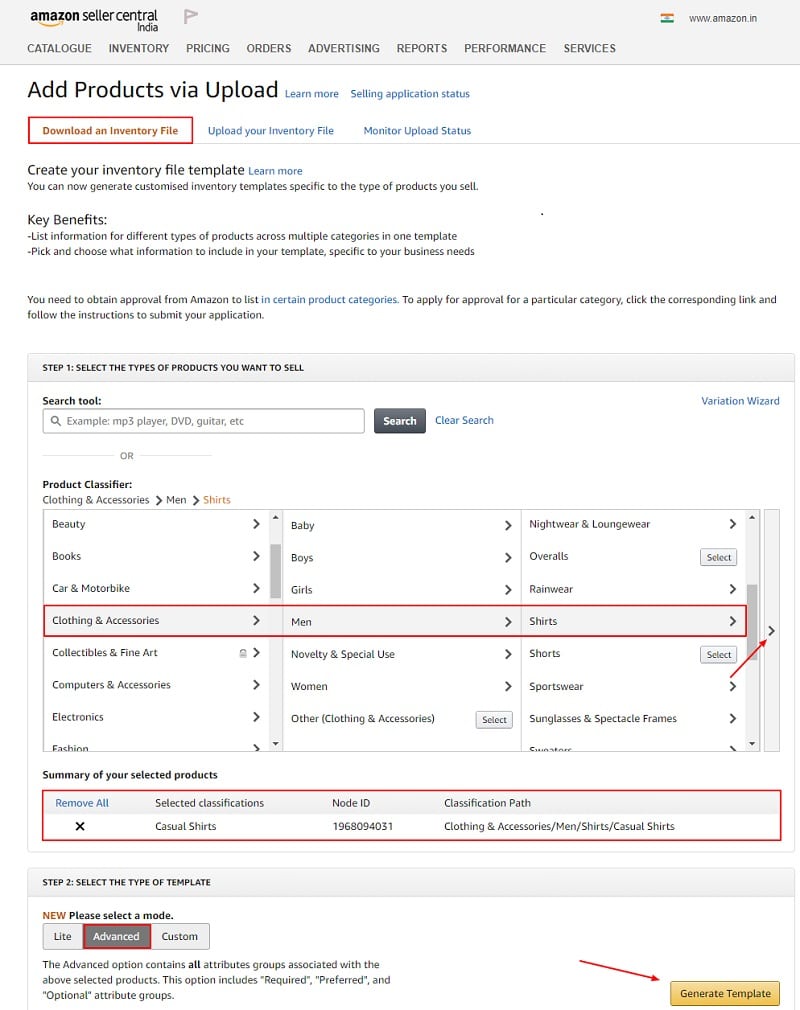 This template is a macro enabled template. Do not change anything in the columns or headings. Just fill in the data or else the inventory upload might fail.
The downloaded Inventory Upload Template has the following tabs:
Instructions, Images, Example, Data Definitions, Template and Valid Values.
Out of all these only the "Template" tab is to be filled with product details and other tabs act as a guide to help understand various attributes.
How To Fill Clothing & Accessories Category Inventory Upload File?
There are total 8 sections in the Inventory Upload Excel Template for Clothing & Accessories Category:
Required information
Images
Variation
Basic product information
Discovery
Dimensions
Compliances
Offer
Each column has been explained below to help you correctly fill and upload your inventory on Amazon.in and sell your amazing products.
1. Required Information

Product sub-type: Write product sub-type for example Shirt, T-shirt, Track Pants etc.
Seller SKU: Stock keeping unit (SKU) can be Shirt_001, XL_01 or any alphanumeric number to identify the product. Basically, it is the stock identifier. If you maintain stock in a software then enter the same number for easy stock reconciliation.
Brand name: Fill in the brand name of the product like Denim, Provogue, and Tata Fabrics etc.
Product ID: Valid product ID will be GCID, UPC or EAN.
Item name: Write the product title which will be displayed on the Amazon listing page.
Outer material type: Values can be cotton, chiffon, denim etc.

Color map: Possible value can be black, blue, brown etc.
Size map: Insert sizes. It can be large, medium, small, XL, XXL, XXL and so on.
Sleeves type: Can be half-sleeves, long-sleeves, short sleeves etc.
Fitting type: Slim, regular or slim fit.
Department: Men, women, boys, girls or unisex.
Shipping template: Default value will be Migrated Template but if sellers have created their own shipping template then write the name here.
Shipping templates can be added only when a seller is shipping his/her products through Self Ship Service (Aka Merchant Fulfilled Services) and not Amazon India's Easy Ship Services.

Maximum retail price: The price at which you want to sell an item i.e. product MRP.
Main image URL: Amazon India allows 12 product images in a product listing out of which this will be the main image. Post the URL of the main product image here. Upload the product on Google Drive or Dropbox or any other cloud and copy-paste the link here.
2. Images

A seller gets total 5 columns to insert image URLs. Upload the product images to Google Drive or Dropbox or any other cloud platform. Create a shareable link of the images and paste them here. Use HD images that are clear & zoomable.
3. Variation

If you are listing different color, size, material or accessory of the main product then you will have to add values in variation attributes. If you are adding the main product then leave this section blank.
4. Basic product information
Update delete: If your product is new then you have to select "Update". If you are adding some information to already existing product then you have to select "Partial Update".  When you want to delete an existing product select "Delete".

Product description: Describe the product defining key features and their benefits to the buyer.
Manufacturer: Write the name of the manufacturing company of the product. Example: Zara, Polo, Gucci etc. If you are the manufacturer then write your company name.
5. Discovery
Key product features: Write the most important features of your product. 5 columns are provided and you can write up to 5 key features.

Search terms: You can enter 5 search terms. Write possible search words with which a buyer would search and find your item on Amazon India.
6. Dimensions

Dimensions mainly comprise of weight, height, length, breadth of the product before and after packing along with the total number of quantity in the package. Possible values can be in inches, cm, mm, Kg, Gm, OZ etc.
There are in total 5 columns in this section:
Shipping Weight: Figure 100, 50, etc
Shipping Weight UOM: Unit of Measure
Item Weight: 100 50, etc
Item Weight UOM: Unit of measure
Item Dimensions: Length, Breath, height in inches, ft, cm, mm etc.
7. Compliance

Country of origin is to be filled in by the seller and the rest of the attributes are technical and related to batteries if you are selling gadgets.
8. Offer

Condition: Value must be "New".
Handling time: It is the time taken to pack and ship the item after getting an order. It can be 2 to 10 days depending upon the size of the package.

Product Tax Code: Select the relevant values of Tax Code provided by Amazon India here.
Sale Price: If you wish to start a sale then only enter a value which must be less than MRP and selling price or else leave empty.
Sale end and start date: Enter dates you wish to start and end a sale.

Max order quantity: Values can be 2,3,4,5 or 10. This will define how many products one buyer can order at a time.
Once you are done filling the template now you need to upload the inventory file of Clothing & Accessories Category on Amazon.in
Upload Inventory File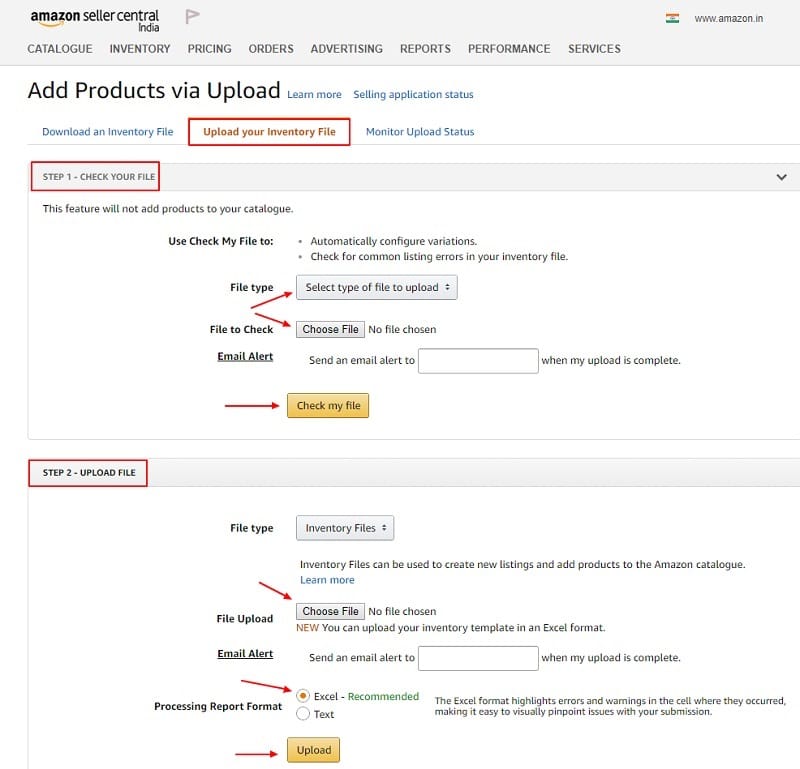 Before the final upload of the excel file for Clothing & Accessories Category for your products, it's important to check the excel sheet using check your file option provided by Amazon on listing page.
Once the file is validated by Amazon India your excel template is ready for the final upload. Submit the file using the upload file option as shown in the image above.
It is recommended to read and understand the template well before filling in the required details if you are doing it for the first time. Check all the details thoroughly before finally uploading the template file on Amazon India.
List of other categories inventory upload template file where sellers can add items to their inventory on Amazon India:
For those products that you cannot find in product classifier, we have Amazon India Product Flat File.
You can download free and ready to use business templates in different categories helpful for the smooth running of your business.
Templates Categories:
We thank our readers for liking, sharing and following us on different social media platforms.
If you have any queries or suggestions please share in the comment section below. I will be more than happy to assist you.