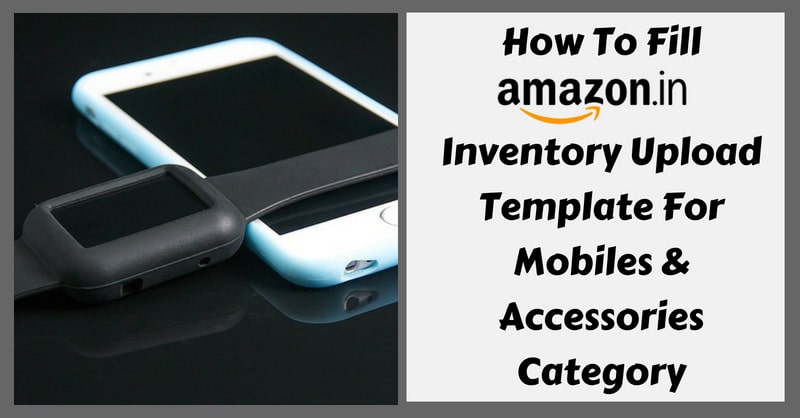 In our previous article, we have discussed upload procedure for Clothing & Accessories and Computers and Accessories. Now we will discuss bulk inventory upload via excel template for Mobiles & Accessories Category.
With the help of the excel template provided by Amazon India, a seller can list and sell products like smartphones, basic mobiles, cases & covers, chargers, data cables, headsets, internal batteries, mobile displays, power banks, screen guards, selfie sticks and other (mobile and accessories).
Follow these simple steps given below to Download the excel file from Amazon India Website.
Steps to Download Mobiles & Accessories Category Inventory Upload File
Click add a product via upload under inventory tab after logging into your Amazon India seller account.
You will see the add product page as shown in the image: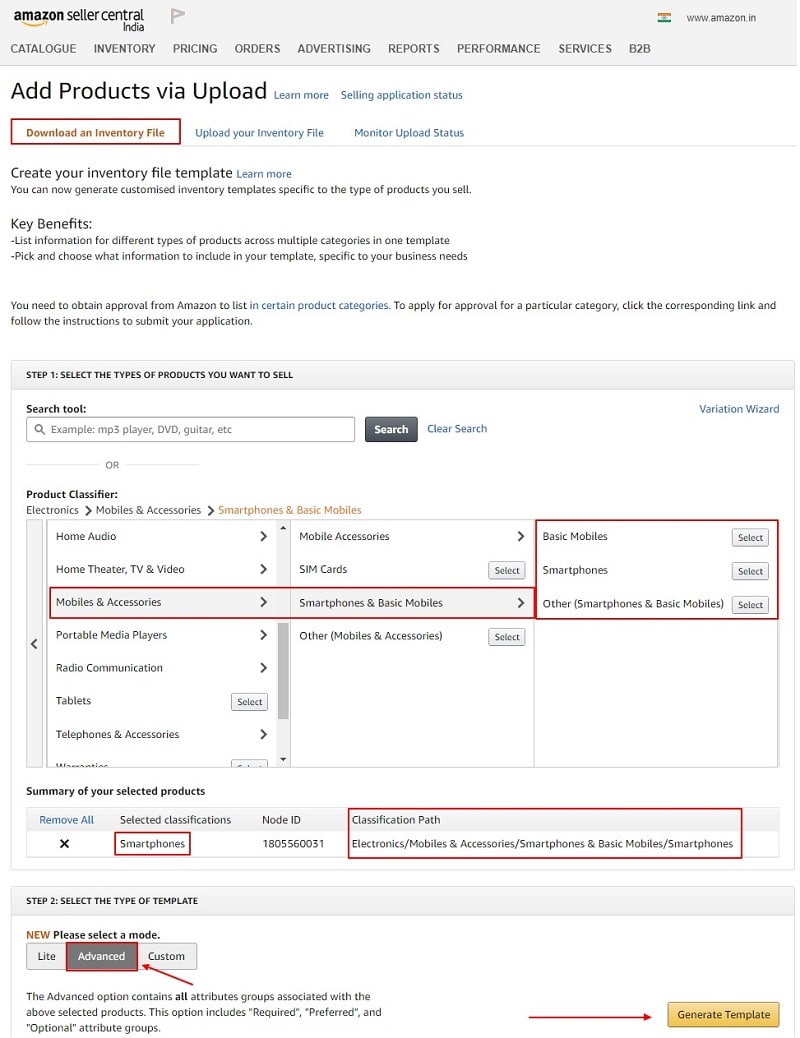 Click on the link below:
Download Inventory File
Scroll down to Product Classifier.
Select your product following this path Electronics > Mobiles & Accessories > Smartphones & Basic Mobiles > Smartphones.
Select the Advanced option and click Generate Template.
The file will be downloaded in your download folder or default whatever location you have chosen for downloads.  Here, we have downloaded an excel template with name "Smartphones".
The downloaded excel template will consist of the following worksheets:
Instructions, Images, Example, Data Definitions, Template and Valid Values. Only the "Template" Sheet is to be filled with the product details and the rest are for guidance and understanding purpose.
If you are a small seller and want to upload singular product then the below guide can be of great help:
How to Add A New Product on Amazon India – Step By Step Guide
How to fill Mobiles & Accessories Category Inventory Upload File?
There are total 11 sections in the "Mobile & Accessories" Inventory Upload Excel Template:
Required information
Images
Variation
Basic product details
Discovery
Product enrichment
Dimensions
Fulfillment
Compliance
Offer
B2B
We have created an easy explanatory guide for the valid values to be filled in these sections. Important fields are defined here to help you to get an idea about the attributes that are to be filled with product details.
1. Required Information

Product type: Write the name of the product you want to sell, it can be smartphones, basic mobiles, chargers, data cables, headsets, batteries, mobile displays, power banks, screen guards, etc.
Seller SKU: Stock keeping unit (SKU) is a unique product number given by sellers to distinguish or match with their inventory. Values can be Mob_001, CHG_01 etc or any alphanumeric one.
Brand name: Write the mobile brand name. Values can be Samsung, iPhone, Sony, etc.
Item title: Amazon provides 100 characters to write the product title. Write the best one so that it gets reflected in the search results by your buyers.
Manufacturer: Write the name of the manufacturer. It can be Samsung, iPhone, Sony, Blackberry, etc.
Recommended browse nodes: Check the valid values tab in your excel sheet for 10 digit browse node.
Warranty: Enter the warranty description given by the manufacturer.

Standard price: You need to write the price of the product that you wish to offer for sale. Not the MRP.
Quantity: Quantity you want to sell. Values can be in a whole number of products.
Shipping-template: If you already have your own shipping template you can write the name of it or else you can select the default template provided by Amazon.
Maximum retail price: Write the MRP of your product. This is not the selling price.
Main image URL: Post the URL of the main product image here. Other images will be entered in the image section.
2. Image

Insert the URLs of your product images other than the main images here. Best practice is to upload all product images on Google Drive, Dropbox or any other similar cloud platform and copy their links to paste it into the excel template.
Important Tip: Use high definition images above 500 pixels x 500 pixels to attract more buyers.
3. Variation

This section is not applicable to this category. Usually, these details are required in Clothing & Accessories Category.
4. Basic Product Details

Update delete: Select one of the options among,  Update, Partial Update, Delete. If you are listing a new product or updating an existing item info then select "Update" or "Partial Update" respectively. To delete an existing product select "Delete". A seller can also delete Amazon India seller account.
Product ID: Write any valid GCID, UPC or EAN. Values can be alphanumeric.
Product ID type: Select anyone from GCID, UPC, EAN, ASIN or ISBN based on product ID.
Product description: Amazon gives you 2000 character space to describe your product excluding special characters.
Manufacturer part number: Refer product details for a unique alphanumeric number provided by the manufacturer.
Model number: Refer the product details again for specific model number given by the manufacturer.
5. Discovery
The discovery section has 2 main attributes: bullet points and the search terms. Each with 5 spaces.

Bullet points: Write 5 key product features in the bullet point columns. Don't be descriptive; be short and to the point.

Search terms: These are words that your buyer will type and search for a product of yours or a similar one on Amazon India website. Search terms help your products to rank in Amazon product search results.
6. Product Enrichment

Enter the color, size and operating system of the mobile phone. For color, you can enter black, white, gold etc. and for the OS the values can be Android, Blackberry, Linux, Windows, iOS, etc. Size may not be applicable to you.
7. Dimensions

Item Height, Length & Width: Write the product height, length & width without product packing in numerical values only.
Item dimensions unit of measure: Select values from CM, FT, IN, M, MM here.
Item weight: Write actual item weight without packing materials in numerical values only.
Item weight unit of measure: Select GR, KG, OZ or LB here.
Shipping weight: Write the final weight of your product after packing in numerical values only.
Shipping weight unit of measure: Select GR, KG, OZ or LB here.
8. Fulfillment
Fulfillment center comes only when you are selling your products through Amazon India FBA program. Apart from FBA, a seller can deliver products to buyers using Amazon Easy Ship Program or Merchant Fulfilled Network (Self Ship). If you do not sell through FBA then don't fill in these details leave this section empty.

Fulfillment center ID: Select Amazon_IN or default here. If you are not selling through FBA Program then leave blank.
Package height, width & length: Write the final product height, width & length including the packing materials in numerical values only.

Package dimensions unit of measure: Select values from CM, FT, IN, M, MM here.
Package weight: Write actual package weight with packing materials in numerical values only.
Package weight unit of measure: Select GR, KG, OZ or LB here.
9. Compliance

Country/Region of origin: Enter the country or region of origin of the product.
Tuner type: Small batteries may or may not have tuner technology. If you mobile battery has it then write a 50 character description of the tuner technology.
Battery composition: Enter values like Lithium Ion, Polymer, Silver Oxide, Alkaline etc. depending on your battery type.
Battery type/size 1, 2 & 3: Total 3 columns for battery type and size. For example AAAA Battery, 12v Battery, etc.

Watt hours per battery: Enter the watt-hours of each battery in the unit. Refer the battery for this info.
Lithium battery packaging: Whether batteries are packed with equipment or contained in an equipment or without equipment (batteries only).
Number of batteries 1, 2, 3: Total number of batteries in your product.

Batteries are included: Enter either true or false.
Legal disclaimer: Give a short legal disclaimer for the battery.
Safety warnings: Provide all possible safety warnings for the user to read so that they can safely use a battery operated product.
Is this product a battery or does it use batteries: Enter either true or false.
Battery weight (grams): Enter only battery weight here in numerical values.
Battery_weight_unit_of_measure: Select LB, OZ, KG or GR.
Number of lithium metal cells: Refer the battery packaging for this info.
Number of lithium-ion cells: Refer the battery packaging for this info.

Lithium_battery_energy_content_unit_of_measure: Unit of measure is watt-hours.
Lithium content (grams): Refer the battery packaging for this info.
Lithium_battery_weight_unit_of_measure: Select LB, OZ, KG or GR.

Applicable Dangerous Goods Regulations: Enter the purpose for which your mobile battery is regulated as dangerous goods or hazardous material. Common batteries can be regulated as dangerous goods. For example, dangerous for transportation etc.
Here you have 5 columns for writing the dangerous goods regulation. Possible values in these columns can be GHS, Storage, Waste, Not Applicable, Transportation, Other or Unknown whichever is applicable.
Details like UN number, safety data sheet (SDS) URL, volume, item_volume_unit_of_measure and Flashpoint (°C) may or may not be applicable to the product or battery you are planning to sell. Refer manufacturer website or battery packaging for such info.

HSN code: Enter the HSN code for mobile phones or related accessories as per the GST regulations.
Categorisation/GHS pictograms (select all that apply): You get 3 columns to categorize your product into GHS. Enter values like explosive, flammable, oxidizing, compressed gas, corrosive, toxic, irritant, health hazard, environmentally damaging etc.
10. Offer

Item condition: Values here can be New, Club, Collectible, Refurbished, Used, etc.
Item condition note: If item condition is not "New" then describe the condition here in brief.
Max order quantity: Number of items a buyer can order at a time. It can be 2, 3, 4, etc.
Sale price: If you want to run a sale on your Amazon India store then only write this price. This price must be low compared to MRP and selling price.
Sale start date & end date: Select a time frame of your sale with a start and end date.

Number of items: Enter the total number of items offered on the product page.
Handling time: Number of days that you need to pick, pack and ship a product after an order is made. Values can be 2, 3, 4, 5, etc. depending upon on the product type.
Max aggregate ship quantity: Number of items you want to sell and ship at a time in single order per buyer.
Product tax code: Enter the product tax code given by Amazon India.
11. B2B

Along with normal buyers, Amazon India also refers business buyers to a seller. Now, business buyers being bulk buyers the price is to be a wholesale one which will be different from the regular price of your product. Hence, in B2B columns seller needs to enter the wholesale quantity and price of the product.
Enter product price as fixed or percentage wise and minimum quantity to order the product. For example, a seller can offer 5% discount if a buyer orders at least 10 items in a single order, 10% for 15 item order, 15% for 20 item order and so on.
Once you complete filling the data, you need to check and upload the file on Amazon Portal. Follow below steps to check and upload the file.
Steps to Upload Inventory File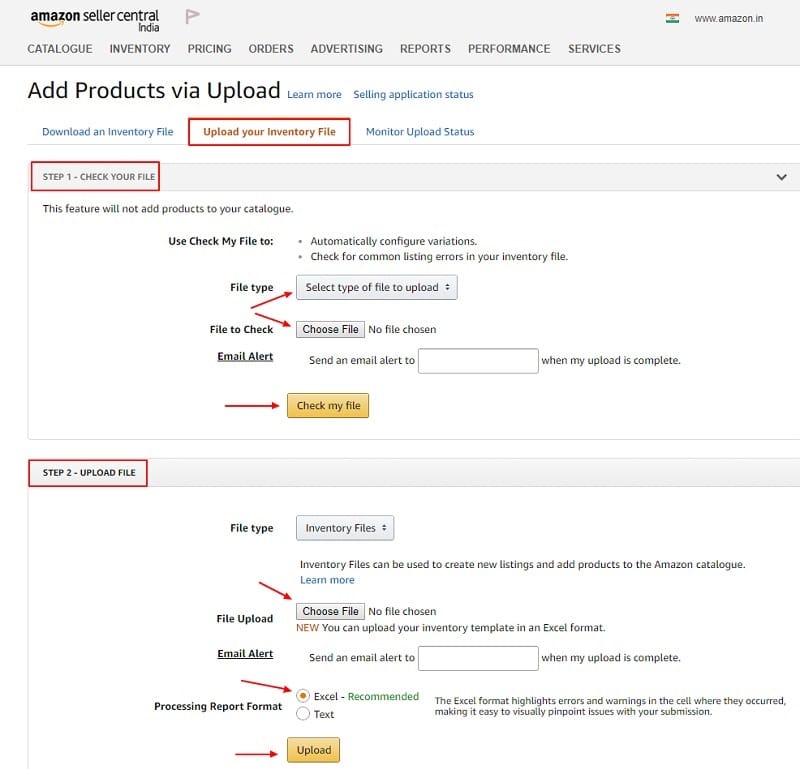 The template file has to be uploaded on the same page where you downloaded it. But before final upload, Amazon helps you with a quick check on your excel file with errors and warnings if any.
Use the check your file option. If there are any errors rectify them and upload it again to check. Once the excel template for your product is error free submit the same to Amazon India using upload file option.
This excel template can be used to upload any kind of products in the mobile and accessory category. List of other categories inventory upload template file where sellers can add items to their inventory on Amazon India:
For those products that you cannot find in product classifier, we have Amazon India Product Flat File.
You can download free and ready to use business templates in different categories helpful for the smooth running of your business.
Templates Categories:
We thank our readers for liking, sharing and following us on different social media platforms.
If you have any queries or suggestions please share in the comment section below. I will be more than happy to assist you.