School Report Card and Mark Sheet is an excel template which helps you prepare the mark sheet and the report card of the whole class in no more than 30-45 minutes.
Merely enter 9 basic details related to marks and attendance and student details. This sheet will automatically calculate the grand total, percentage, grades, rank, etc.
Once you enter the required data you can directly print every student's report card. This record helps a tutor to monitor the growth of each of their pupils and preserve it for future requirements.
School Report Card And Mark Sheet Excel Template
Not every school can afford the hi-tech software solutions for recording these data. Hence, tutors need to do these efforts manually. It is really a very tedious job which is to be done 4 to 6 times a year.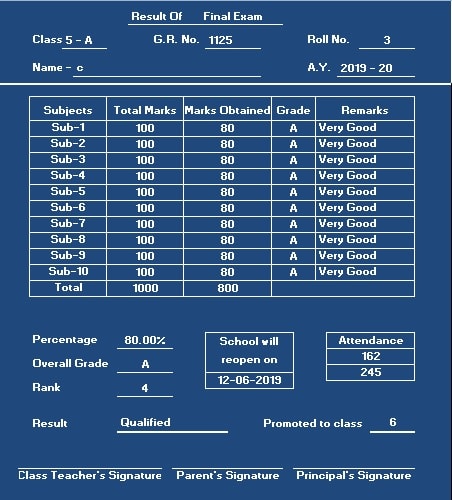 To help these tutors save their time and effort we have created a ready-to-use School Report Card and Mark Sheet Excel Template with predefined formulas.
Click here to download the School Report Card and Mark Sheet Excel Template.
Click here to Download All Educational Excel Templates for Rs 199.
You can download other Educational Excel Templates like Student Monthly Attendance Sheet and Yearly School Attendance Sheet from our website.
It helps you to generate report card of your class with a minimal effort and eventually saving an educator's precious time and energy.
This energy and time can be utilized in some productive and constructive work rather than performing some traditional and tedious job and most importantly it is a free solution.
The tutors can prepare mark sheet and report cards of their respective class. They can use this same sheet for all the exams conducted during the whole academic year.
It also provides with a ready-to-view report of marks and the respective ranks obtained by each student.
Let us now discuss all the contents of this template in detail.
Contents of School Report Card And Mark Sheet Excel Template
This template consists of 3 different sheets:
Basic Data Entry Sheet
Mark sheet (For view and printing purpose only)
Report Card (This too is for view and printing purpose only)
Important Note: In the header section that is available on the Mark sheet and Report Card insert your schools or institutions name and logo.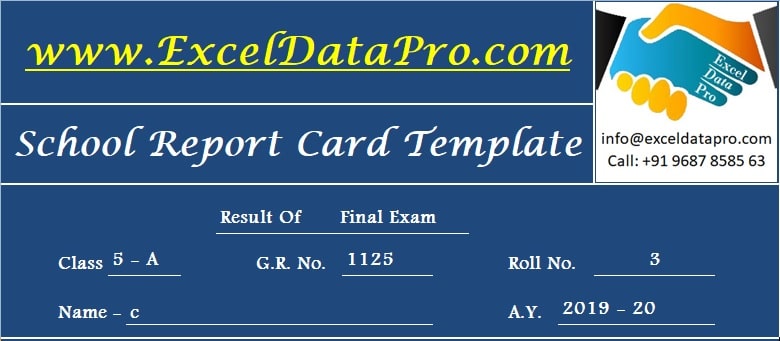 1. Basic Data Entry Sheet
This sheet is divided into 3 sections;
Section A
Section A is for the 'Basic information'.
Enter the following details:
Class: Enter in digit only. (Do not enter division here)
Class & Div: Enter Class along with Division.
A.Y.: Enter Academic Year detail.
Total Marks of Exam: Either 50 Marks or 100 Marks whichever is applicable to you.
Exam Name: Unit – I / Unit – II / Semester Exam / Final Exam.
Exam Month: Enter the name of the month in which examination is conducted.
Total Working Days: Enter the number of working days till examination date.
Annual Result: If the result is being prepared for the Final Exam, write "Yes" or else write "No".
School Re-open Date: If the result is being prepared for the Final Exam, insert school reopen date here or else leave it blank.
Note: In case you conducting the test of marks other than 50 or 100 marks, this template will not calculate the accurate percentage and ranks.  It is designed for 50 /100 marks exams only.

Section B
Section B consists of 'Grading information'. This is for the tutor's knowledge and reference. It is also displayed on the Report Card. It helps the parents and students to understand the grading system.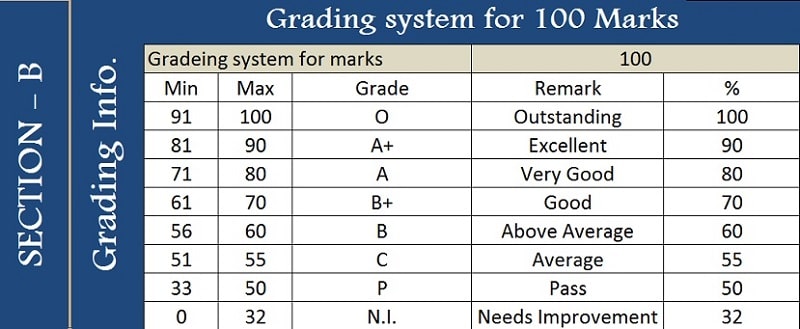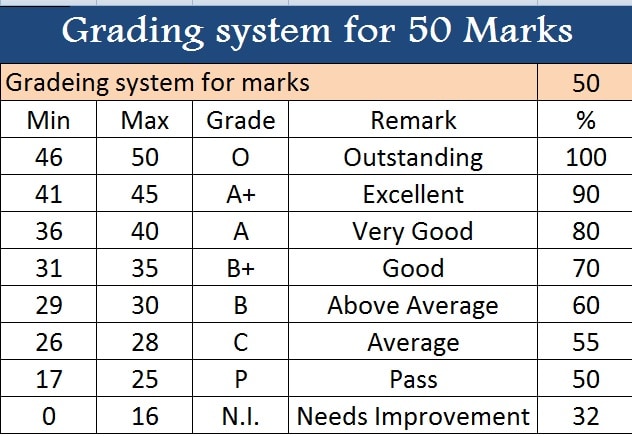 Section C
Section C consists of 'Marks Data Entry'. First, enter the student's name against their respective roll number, G.R. Number of student and attendance till the date of examination.
In addition to that enter the marks obtained in various subjects. 1 column is given for each subject.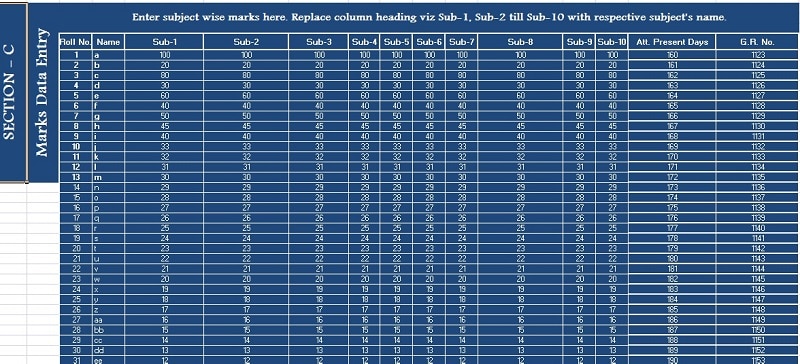 Remember to replace the subject heading as per your need. This will be displayed in every sheet.

If you don't have to take any approval from higher authority or need to get the things checked, you can directly print the Report Card of your class.
2. Mark Sheet
Mark sheet is only for viewing/checking, printing and approval purpose. Please do not edit anything here.
In case you want to change any data, please make necessary changes in the Basic Data Entry Sheet only.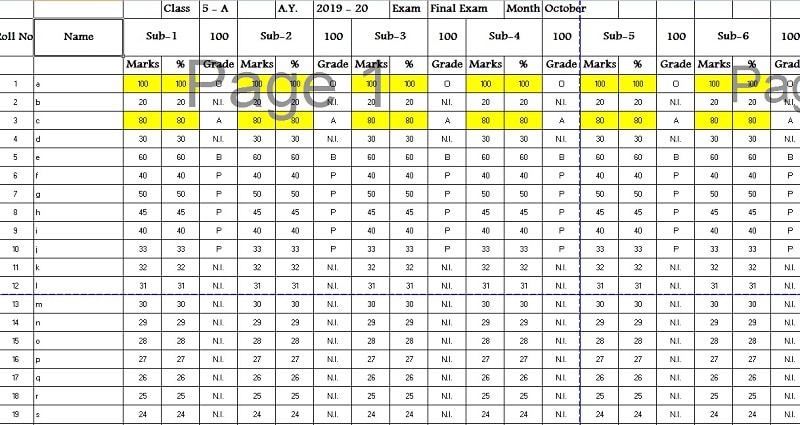 It will also highlight the top 5 student scorers of each subject. Additionally, it will also show the top 5 class toppers and the top 5 students with the highest attendance in yellow color in their respective columns.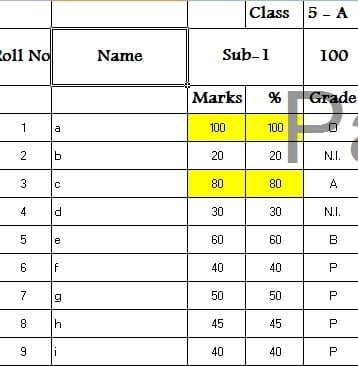 3. Report Card Sheet
Immediately after finishing data entry in the Basic Data Entry Sheet and verification through the Mark Sheet, your Report cards are ready to print.
Important: Your report card is linked with formula. Every time you want to view or print report card of any student; just change the roll number in the cell on the top right corner of the report card.
All the data in the report card will automatically change by itself fetching data of that respective roll number from the Mark sheet. This has been programmed using the Vlookup function.
Start with the first roll number and just give the print command for each report card. Don't forget to set your print area before taking the print.
Isn't this so easy? Now you can prepare the Mark sheet and Report cards of the whole class in only 30 Minutes!!
We thank our readers for liking, sharing and following us on different social media platforms.
If you have any queries please share in the comment section below. I will be more than happy to assist you.