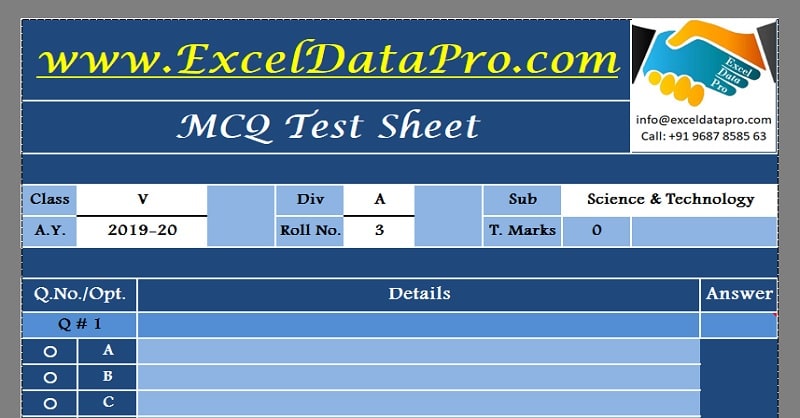 MCQ Test Sheet is a ready-to-use excel template to conduct an MCQ Test with ease and swiftness. Conduct a test and produce a mark sheet in minutes with minimal efforts.
Teachers evaluate their student by taking different types of test. Some of them to mention here are; answer in one word, short answers, long answers, and multiple choice questions (MCQ).
MCQ is one of the easiest ways to conduct exams for teachers as well as students. The teacher provides a sheet and the student just has to tick the correct answer. No lengthy write-ups. Just a tick and it's done.
Mostly, exams like UPSC, CAT, IIT, JEE, etc are conducted using MCQs. The basic purpose of these exams is to evaluate the subject knowledge of the students.
Previously, these tests were conducted without negative marking. Here you don't lose any marks for giving a wrong answer.
But nowadays, the negative marking system is much in trend. In this, the student loses marks against each wrong answer.
This helps to prevent bluffing by the student. If he/she is not sure he will not answer the question as he will lose marks if it is wrong.
Technology has advanced. You can find specially designed software to create and check MCQ test papers. Such technology is a bit costly.
Each country, state, city, and area have a school. Not all are capable of spending money on such technologies. Thus, MCQ Test Sheet Excel Template is a simple and free substitute.
It will turn your test experience into fun. You will find no burden in the process of checking or calculating mark sheets.
It helps avoid checking mistakes and solves your accuracy problems by 90%. 10% chances are there in case the data entry done by you is wrong. You can free yourself mentally and focus on more productive work.
Multiple Choice Question – MCQ Test Sheet Excel Template
We all know, how much sensitive and time-consuming conducting such tests is.  We aren't able to maintain the speed along with accuracy while evaluating such test.   No one can afford faulty evaluation in any way.
We have created a simple and ready-to-use MCQ Test Sheet Template in Excel with predefined formulas and functions. It not only with save you time but also provide 100% accuracy. Just 30 seconds/student.
Click here to download Multiple Choice Question – MCQ Test Sheet Excel Template.
Click here to Download All Educational Excel Templates for ₹299.
You can also download other Educational Templates like Yearly School Attendance Sheet and School Report Card and Mark Sheet Template from our website.
This sheet can not only be helpful for school teachers, private tutors, institutions and also for self-study purpose.
How to use this MCQ Test Sheet?
This sheet consists of 4 sheets:
MCQ Test Sheet
Data Entry Sheet.
Mark Sheet.
1. MCQ Test Sheet
As usual, the top part is for adding the institution name, logo and the sheet heading.

MCQ Test Sheet consists of 2 sections:
Class Details
Question and Answers
In the class details section, insert the details except for the roll number. Roll number must be entered by the student attending the exam. Below that, you can provide instructions for students if any.
Question & Answer section consists of one line for writing your question. Below that there are 4 lines for writing the options(answers).
An extra cell beside that with a dropdown list for the students to select the correct answer. The answers provided here by the student reflect in the Mark Sheet.

You can conduct a test of 100 questions with this sheet. In case,  you have 50 questions then hide the rows. Row number 312 to row number 611 or whatever applicable in the sheet.
Important Note: Don't delete any rows or else it will hamper sheet accuracy.
Put the above file on the network and ask all the students to create their own copy on local drives. Instruct them to save it either by their name/roll number or any way that helps you to easily identify.
When students complete the test, ask them to copy the file to a folder on the network. Now you have files according to the number of students compiled in a single folder.
Not all of you will have a lab of computers to conduct such exams. In this scenario, you can use the printable MCQ test sheet for taking tests.
The printable sheet is given at the last inside the file. Insert questions and the options for giving the answer. Print the first document print and photocopy number of copies required.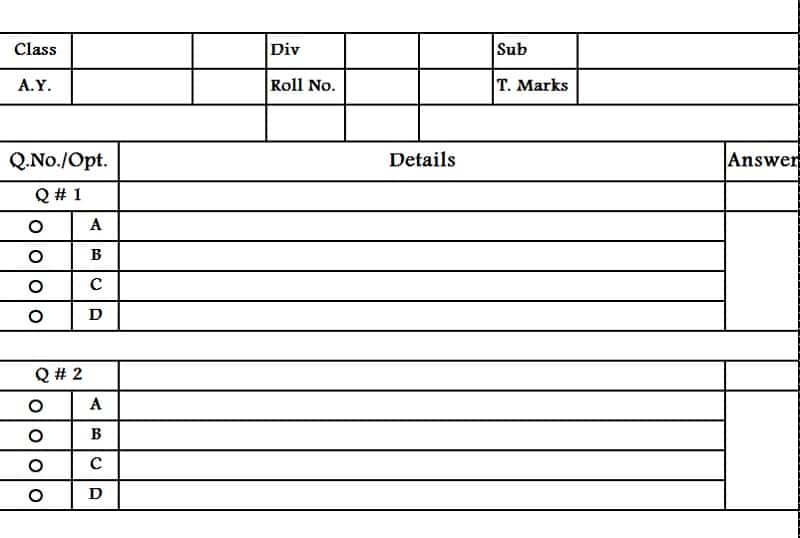 2. Data Entry Sheet
Each MCQ Test sheet consists of a Data Entry Sheet. This is to be used only after conducting the exam. Just fill the below section and you are ready to print the report card of that particular student.
Q.No.: Insert question number only. It is auto-filled.
Marks assigned to the Question: Marks for each question. You can copy and paste if they are similar.
Negative Marking: If conducting a test with the negative marking system then enter the marks with a negative sign or else leave blank.
Correct Answer: Insert the correct answer in this cell.
If you have asked 50 questions, enter data till Q # 50 and leave rest of cells blank. Do not delete any columns.
As soon as you are done with the data entry, your marks sheet for is ready to print.
Mark Sheet
This sheet is only for viewing purpose. Do not enter any data here. 'Marks Sheet' Sheet for viewing the Marks Sheet.
It will show you marks obtained against each question attempted by the student. If the student has given a correct answer it will display full marks. In case the student doesn't attempt the question, it will be blank.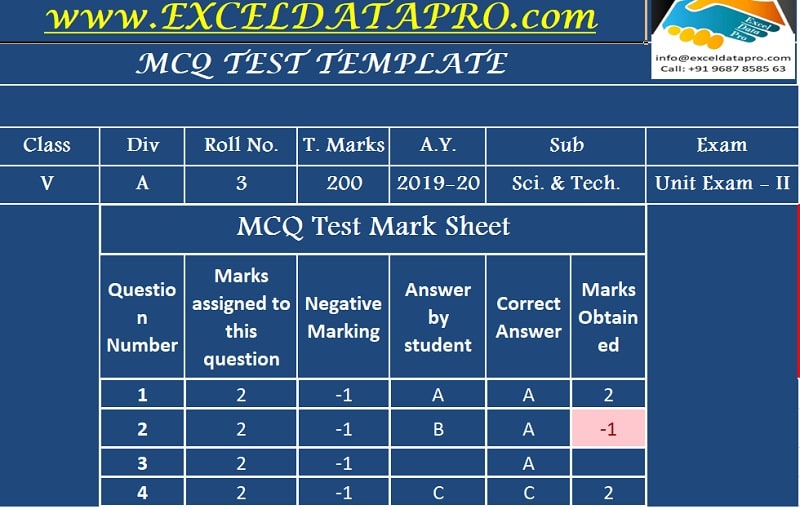 If you are using the negative marking system, then for each wrong answer it will display the respective negative marks.
Cell with wrong answers will turn red. Red cells will help the examiner to identify wrong answers at a glance.
At the bottom of the table, it will show you total marks, percentage, and grade obtained by the student.

Grades Obtained cell will show "Needs Improvement" if marks are less than 32%. Other grades will be O, A+, etc. You can change the grading system according to your need.
Pro Tip For Simplifying Your Work
Now here is a pro tip for you to ease your work.
For student strength less 10, then  follow the below steps:
Go to the folder on network where the file of all the students is saved. Select all the remaining files and open.
Keep the first file open which you have already checked. Select and copy data in range A5 to N39 from the Data Entry sheet of this file.
Paste the data copied from the Data Entry Sheet of in After Exam Data Entry sheet in same cell range. A5  to N39.
As soon as you enter the data, save and close the file. Move to another file and repeat the same process till you finish all the remaining files. Compile marks from all the files.
If there are say more than 10 students or a full class load of 50-60 students, use our Multiple Choice Question MCQ Checking Sheet.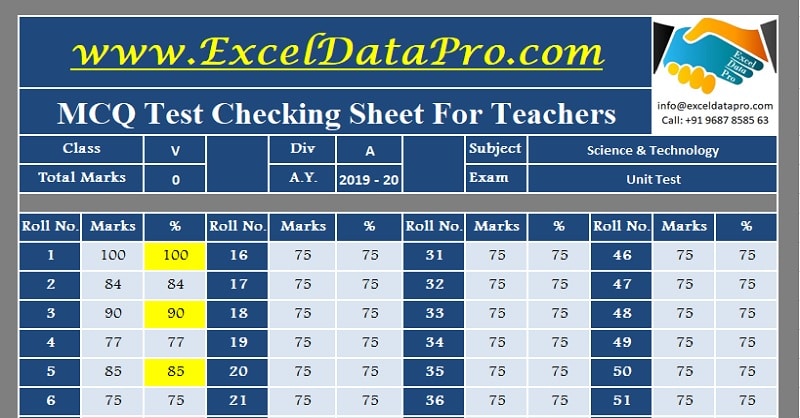 Enter the answers provided by the student against the respective Roll Number. Go to mark sheet and print the results of the test just by changing the roll number.
That's It. You finished the Test Results with least efforts and minimum time.
We thank our readers for liking, sharing and following us on different social media platforms.
If you have any queries please share in the comment section below. I will be more than happy to assist you.