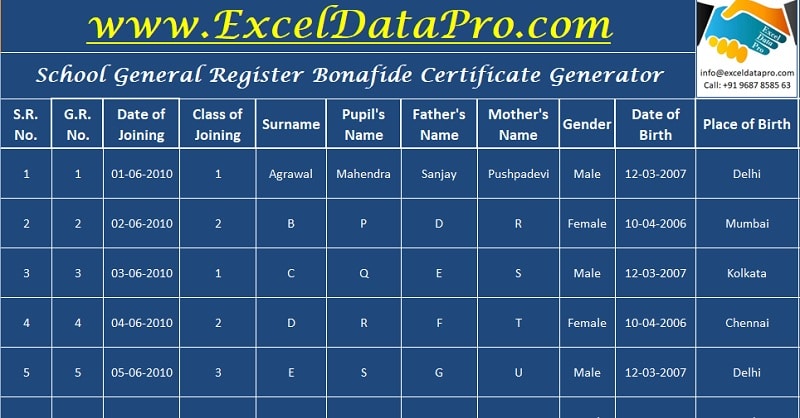 School General Register and Bonafide Generator is a ready-to-use excel template that helps you to maintain General Register and generate Bonafide Certificate to students in few clicks.
The purpose to prepare this template is to ease the work of school administrators and save a lot of time. School General Registers are manual printed registers where entries are done manually.
What is a School General Register (G.R.)?
School General Register (G.R.) which is a mandatory register maintained at institutional level recording all the relevant data of each and every student enrolled with it.
It is one of the important registers. It consists of records of all the students admitted to the school from the inception. The Principal's office handles this register. It is mandatory to maintain it permanently and also kept in safe custody.
What is a Bonafide Certificate?
The school issues a document as proof that the student belongs to their educational institution. It provides proof that he/she is a student of a particular class and course during a specific time period.
In simple terms, it is a certificate authenticating student's ongoing association with the institution along with their details as per their records.
The school issues it on request of a parent/guardian required by any third party office or authority for confirming any student's details.
Schools are given authority to collect relevant government authorized documents from parent/guardian and keep a record of each student and issues bonafide or leaving certificate as and when required.
Both the documents are very crucial and are acceptable at the various institutional level either government or private.
School General Register and Bonafide Generator Excel Template
We have created a simple and ready-to-use school General Register and Bonafide Generator in Excel with predefined formulas. Enter the student's details as and when required. That's it.
You can search any student's detail out of many records by just entering only the GR Number.
Similarly, you can print a bonafide certificate just by entering 3 details; GR Number, Class with Division and Special Remarks if any.
Click here to download School General Register and Bonafide Generator Excel Template.
Click here to Download All School Management Excel Templates for ₹299.
You can also download other school administrative templates like Student Fee Collection System, Students' Exam Hall Ticket Generator, Syllabus, and Lesson Planner and Academic Period Allotment System.
Let us understand the contents of the template in detail and how to use it.
Contents of School General Register and Bonofide Generator Excel Template
As discussed above, this template is a compilation of two important documents of any school; School General Register (G.R.) and Bonafide Certificate.
This template consists of 4 different sheets:
General Register Data Sheet
G.R. Search Engine
Bonafide Generator
Bonafide Certificate
1. General Register Data Sheet
General Register Data Sheet consists of the following fields related to the student:
Sr. No.
GR No.
Class of Joined
Surname
Pupil's Name
Father's Name
Mother's Name
Gender
Date of Birth
Place of Birth


Nationality
Religion
Caste
Sub-Caste/Creed
Aadhar Number
UDISE Number
Last School Attended


Present Address
Permanent Address
Parent's/Guardian's Phone Number


Leaving Certificate Issued Details
Reason for Leaving School
Remarks
As and when a new student is enrolled with school, his/her name will be added to this register along with all relevant details. At inception, the school collects Birth Certificates and keeps a track of each student until his/her association.
Whenever a school provides admission to a new student, they assign a unique G.R. No. This number will never be allotted to any other student in the future. This means no two students of the same school can have the same G.R. No.
As per the rule, no student can be considered enrolled by any school unless his/her name is registered in General Register.
Whenever any student leaves school either on completion of schooling or due to change of school he has to obtain a Leaving Certificate (L.C.).
The school issues LC as soon as parents/guardians comply with all their relieving formalities. School administration lastly L.C. details in G.R. Register.

School Leaving Certificate is a very important document and needs to be produced at several stages of life as and when asked for by any government office.
Importance of General Register
The government has authority to counter check authenticity of any L.C. Hence, they have a right to demand records from any school at any time. Thus, it is mandatory for schools to produce them without any excuse.
This General Register Data Sheet is the heart of this template. Thus, accurate data entry is a must.
An institution strictly needs to collect government-issued documents and add or edit any information on that basis only.
All the norms and rules need to be followed strictly to maintain this register. No changes are allowed in G.R. except approved by an authorized person of the institution.
2. G.R. Search Engine
The second sheet is the GR search Engine where the school administrator can fetch data by simply inserting the G.R.
The template will fetch the data automatically from the General Register Data Sheet. He/she doesn't need to scroll or find a lot of records.
Note: Please do not change or enter any field except the cell of G.R. No. in light blue color as all the other cells are linked with formulas.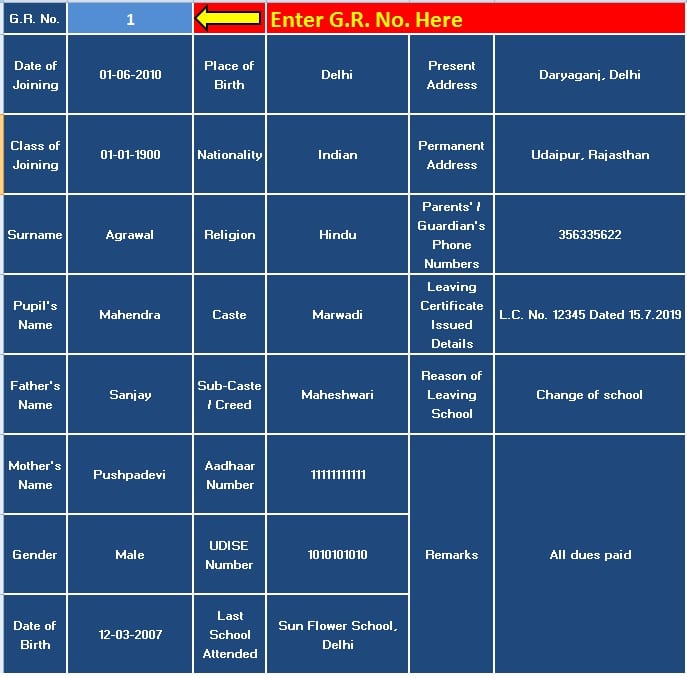 If there is no data against the searched G.R. Number, it displays "No Data".
If the G.R. No. is not valid then it displays "Does Not Exists".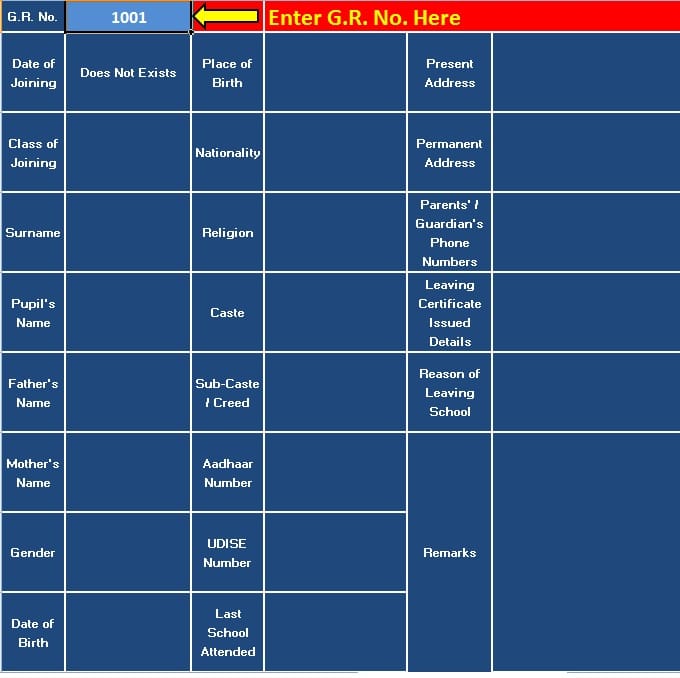 3. Bonafide Data Entry
Whenever a request of issuing a Bonafide certificate is received by an institution, a very simple provision is made in this template which allows you to issue a Bonafide Certificate within seconds.
Go to Bonafide Data Entry sheet and enter "G.R. No." and current "Class – Division". "Other details/remarks" column is optional.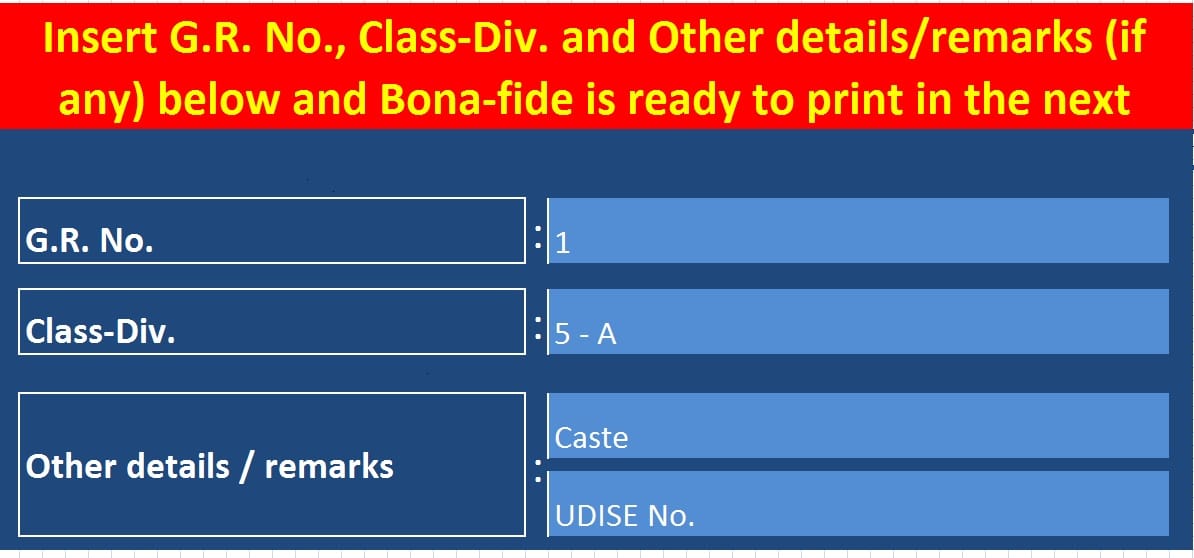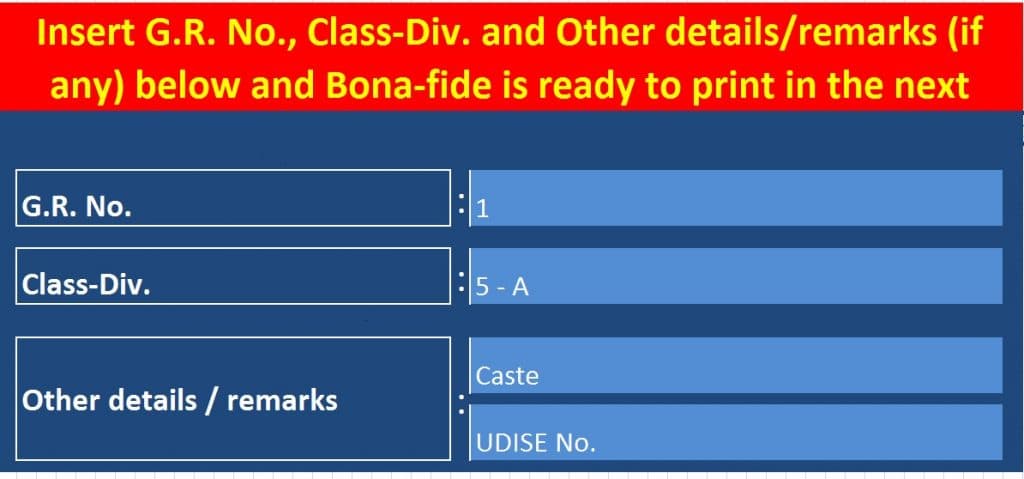 Remarks field is for any specific additional information that is to be given if required by any govt. office or the school needs to furnish remarks regarding the student.
Once you enter the data, Bonafide Certificate is ready to print in the next sheet "Bonafide Certificate Print".
4. Bonafide Certificate
Before you proceed to print the bonafide, you need to insert school name and details along with the school logo at the top. This you need to do only once. For the next print, it will available.
The sheet will automatically fetch the data of the student whose GR number was entered in the previous sheet. Please do not write or change anything on this sheet. Hence, no data entry is required in this sheet.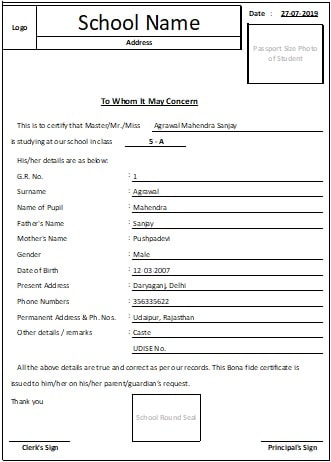 Please make sure your system date is accurate. On top of the Bonafide, it will fetch the system current date.
Benefits of Using School General Register and Bonofide Generator Template
In this era of technological advancement, it is a call of the hour to maintain all kinds of records in soft. They are easy to store, easy to access and can be utilized in multiple ways as and when required.
Maintaining G.R. in soft will be much easier than in a traditional way. Moreover, at the time of accessing the data, you can search it on a click rather than moving page to page.
Furthermore, when the school admin staff receives a request for the bonafide certificate, he has to scroll the registers. With the help of this template, the school admin will insert the number and the template will fetch data automatically from General Register.
Thus, you can search the student's GR and issue a Bonafide Certificate in just a few seconds.
We thank our readers for liking, sharing and following us on different social media platforms.
If you have any queries please share in the comment section below. We will be more than happy to assist you.