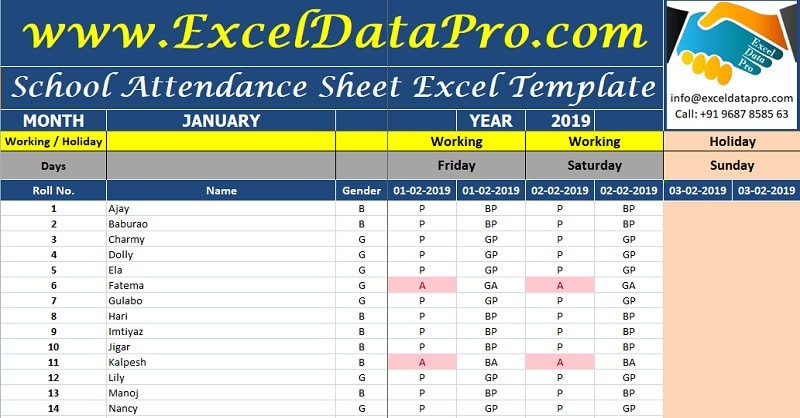 Student Monthly Attendance Sheet is an excel sheet to record of present/absent of students enrolled with any school or institution on a monthly basis.
It helps an educator, teacher, or an institution at large to monitor the regularity of their students at any given point of time.
For every school and an educational institution, it is mandatory to keep records of their pupils' attendance for every academic year.
Earlier attendance registers were only maintained manually. But now many schools and institutions have turned to use technology to make the routine of their educators easy.
Many schools use automated attendance systems which work on students ID Card. This technology is comparatively expensive to adopt.
School Attendance Sheet Excel Template
The School Attendance helps to keep a record of student's presence in school/institution in a particular academic year leading to the enhancement of their performances.
We have created simple and ready-to-use School Attendance in excel with predefined functions and formulas which helps you save your precious time.
It will also help you to be more productive rather than struggling with manual lengthy calculations every month.
You just need to enter the student's name against his / her respective roll number and select his / her gender from the drop-down menu.
Click here to download the School Attendance Sheet Excel Template.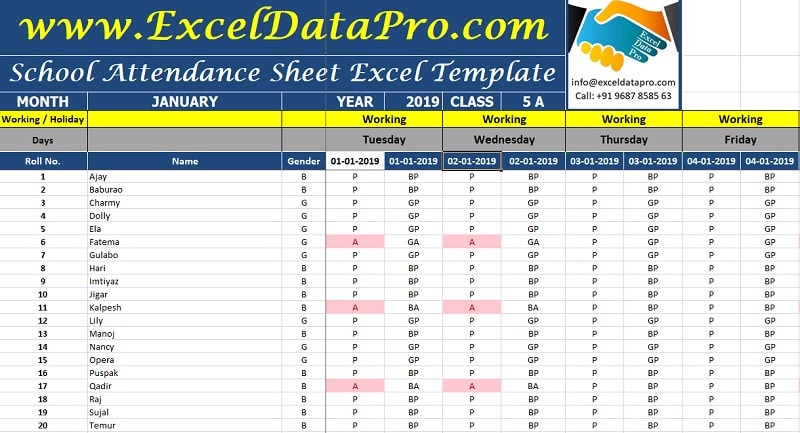 This template can be helpful to school, educational institutions and any person associated with any educational institution for calculating monthly attendance along with other averages.
Download other useful templates in the following categories:
Let us discuss the contents of the template in detail.
Contents of School Attendance Sheet Excel Template
This template consists of 4 sections:
Date, Day & Working Status Section
Student Details Section
Attendance Record Section
Summary Section
Header section consists of the school/institution name, heading of the sheet and the month for which the attendance is maintained.
1. Date, Day and Working Status Section
This section consists of the date, day as well as a working status section of that particular day of the month.
You just need to modify the first date of the month and it will automatically update the remaining dates of that particular month.

It will also update days along with their respective dates. The status of Sunday will be marked as Holiday instead of working.
In case of any holiday except Sunday, you need to delete the attendance column data and it will automatically convert it to Holiday.
Note: It is compulsory to delete the data in the column otherwise it will not calculate monthly attendance accurately. Delete excess columns in case of February as well as months with 30 days.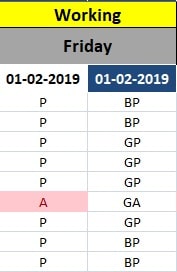 2. Student Details Section
This section consists of the student's details like name of the student and gender. Select gender from the drop-down list.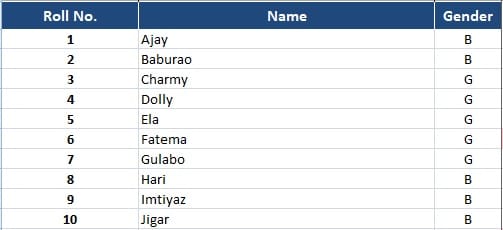 Click on the link below to learn how to easily create a drop-down list in 3 easy steps:
How to Create a Drop-Down List in 3 Easy Steps.
3. Attendance Record Section
Attendance record section consists of two columns for each date along with its respective weekday and whether its a working day or a holiday.
The first column is for the attendance of that particular date. All the cells in the sheet bear "P" that is present. You need to change the absent roll number to "A" if the student is absent.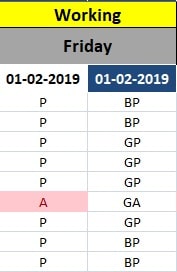 It will automatically give its retrospective effect everywhere in the sheet. To distinguish absent data cell bearing A will change its color to Light Red.
Then comes the second column which contains the formula and changes automatically. It bears data of boys and girls that are present and absent. It helps you to maintain gender wise attendance record.
Each Sunday and Holiday will automatically change to Peach color.
4. Summary Section
Summary Section shows the summary with three different aspects viz. individual student's monthly details, date wise attendance details and overall class attendance monthly report.
Individual Student's Monthly Attendance
Total Present (Column: BO) – This column will display total present days of each student in that particular month. It is calculated automatically.
Previous Attendance (Column: BP) – In this column, you need to add a total of previous present days attendance if any.
Total (Column: BQ) – It sums up previous present days with the current month's present days.
Monthly % (Column: BR) – Provides you the percentage of present days in the current month against the previous month.
Total Absent (Column: BS) – This column will automatically calculate the number of absent days of a student for that particular month.
Datewise Attendance Details
Beneath each date column, it will show the total number of students present, absent and the grand total of present and absent on a particular day.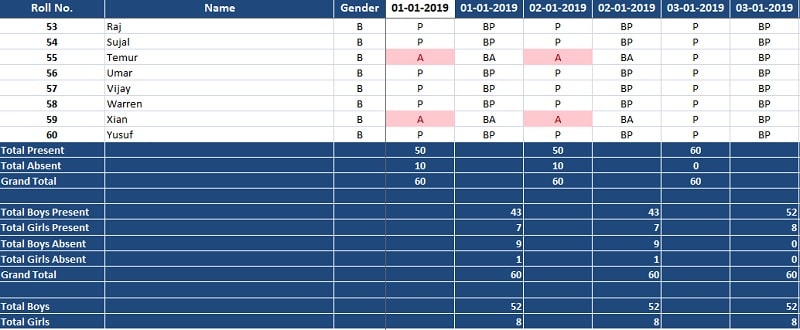 Furthermore, below each date column displays the total number of boys and girls that are present or absent.
The grand total is the sum total of all the above four figures i.e. the total strength of a class.
Row A80  and Row A81 display the total number of boys and girls in the class. This figure will also be the same unless there is any change in class strength.
To counter check the accuracy of data entered Cell BW76, BW77 and BW78 must be the same. In case the number differs, there is some mistake in the entry. To obtain an accurate monthly report this mistake needs to be identified and rectified.

Overall Class Attendance Monthly Report
The monthly report is displayed in tabular form on a separate sheet next to our attendance template sheet. The data is displayed in 2 tables.
The First table calculates the total working days of this month and the second table calculates averages of attendance.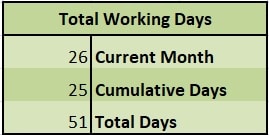 Average of:
Daily Attendance
Monthly Attendance
Attendance Till Date

We thank our readers for liking, sharing and following us on different social media platforms.
If you have any queries please share in the comment section below. I will be more than happy to assist you.