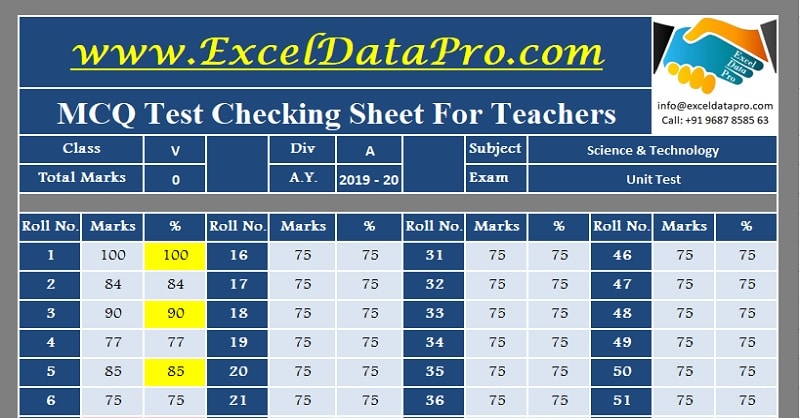 Multiple Choice Question – MCQ Test Checking Sheet is an excel sheet which enables you to check the MCQ Test in less than an hour minutes for a class of 60 students.
The best part about this sheet is that it provides 100% accuracy and that too in without any mental stress of focusing and checking each and every question's one by one.
Those tutors who have been examining such Multiple Choice Question – MCQ Test very well know the problem.
First of all, it takes a hefty amount of time to check and probabilities of marking a correct answer wrong and vise versa are more.
What is MCQ?
MCQ stands for Multiple Choice Question.
It is a form of evaluation, where the examiner asks a question and provides multiple(more than 1) answers. Any 1 out of those is the correct answer.
The student has to select one option which according to him/her is the correct answer.
These MCQ tests are conducted with two different marking systems.
With the negative marking system and
Without the negative marking system.
In the case of a test with the negative marking system, you get prescribed positive marks for the correct answer or don't it.
But if you attempt the question and the answer is wrong, the examiner will deduct the prescribed marks for each wrong answer.
Scanners and software are available in the market. But not every school adapts them as they are expensive.
Multiple Choice Question – MCQ Test Checking Sheet
Keeping in mind all the problems and discussing with many tutors, we have designed a simple and ready-to-use Multiple Choice Question (MCQ) Test Checking Sheet.
It consists of predefined formulas and formatting required. This will diminish all your hectic efforts of checking each answer.
Click here to Download Multiple Choice Question – MCQ Test Checking Sheet Excel Template.
Click here to Download All Educational Excel Templates for ₹299.
You can also download other Educational Templates like Yearly School Attendance Sheet and School Report Card and Mark Sheet Template from our website.
As soon as you are done with the data entry, your marks sheet is ready to print.
How to use Multiple Choice Question – MCQ Test Checking Sheet?
This template consists of 2 sheets:
Data Entry Sheet
Mark Sheet
Let us discuss the contents of each sheet in detail.
Data Entry Sheet – MCQ Test Checking Sheet
Data entry sheet consists of 3 sections:
Class Details
MCQ Marking System
Student's Answer Section
1. Class Details
On the top, insert the school/institution name and its logo. In addition to that, insert the following details:
Class
Division
Exam
Academic Year
Subject
Total Marks.
In the Total Marks column,  enter the total 100 marks. You can evaluate up to 100 questions test for the class strength of 60.

In case your test is of only 50 marks or any other number, insert that number. Delete the rest. i.e. form question no. 51 to 100.
Please never delete columns or rows. Accuracy will be maintained if this instruction is followed strictly.
No need to enter this data in the second sheet. The cells are interlinked and will fetch all the data automatically.
2. Multiple Choice Question – MCQ Marking System
We have already given numbers to questions from 1 – 100. If you have less or more you can amend the sheet according to your need.
Insert marks for each question against the respective cell. Usually, all MCQ have same marks. Thus, use the question fill handle and copy them till the end of the sheet.

This sheet has been created with an objective to provide you with both the marking systems described in the introduction.
If you want to conduct the test with the negative marking system, you need to enter the marks with a negative sign that are to be deducted for a wrong answer.

But if the test is without the negative marking system then "0"(Zero) in this column.
Followed by the marking system, enter the correct answers of the test you conduct in "Correct Ans" column.

3. Students Answer Section
Horizontally, Roll Numbers of students from 1 – 60 are written for making roll number-wise entry of answers provided by the students.
For example, Roll No. 1 has given answer D for Q.1., B, for Q.2. and C for Q.3.

Pro Tip: For speedy data entry it is recommended if you take someone's help to dictate while you enter students' answers against roll numbers.
Any wrong answer given by student turn cell will turn Red. This will help the teacher to identify incorrect answers given by all students.
Do the same for all 60 students or whatever be your class strength.
That's it. Your work is done. Ready to view and print the report.
Mark Sheet – MCQ Test Checking Sheet
This section is completely auto-populated. Enter the logo, name, and header of the sheet If you want them or else leave blank.
As soon as you finished data entry of answers of all appeared students, you are ready with your Marks sheet to print.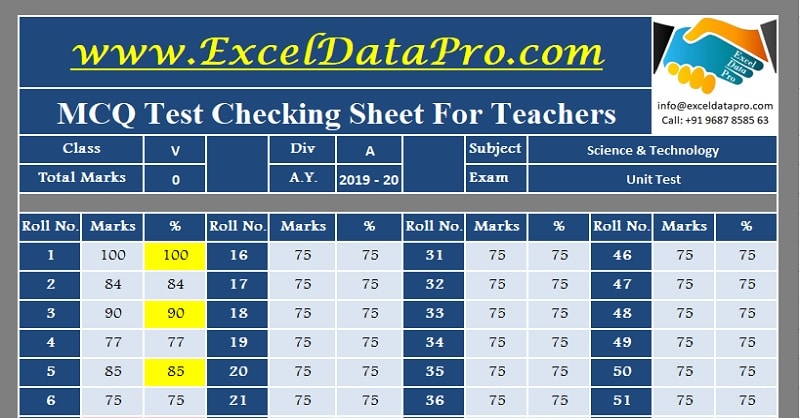 This mark sheet highlights the top 3 students who have scored the highest. The cell color will also change to yellow.
In addition to that, those students who have scored below 33% are considered unqualified/fail. Thus, their cell(s) will turn red.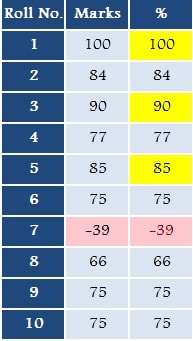 Below the mark sheet, the summary of the test is given. This includes the Total number of students appeared in the exam, the Number of students passed and the Number of students failed.
You are done with the Test Results with minimal efforts.
We thank our readers for liking, sharing and following us on different social media platforms.
If you have any queries please share in the comment section below. I will be more than happy to assist you.