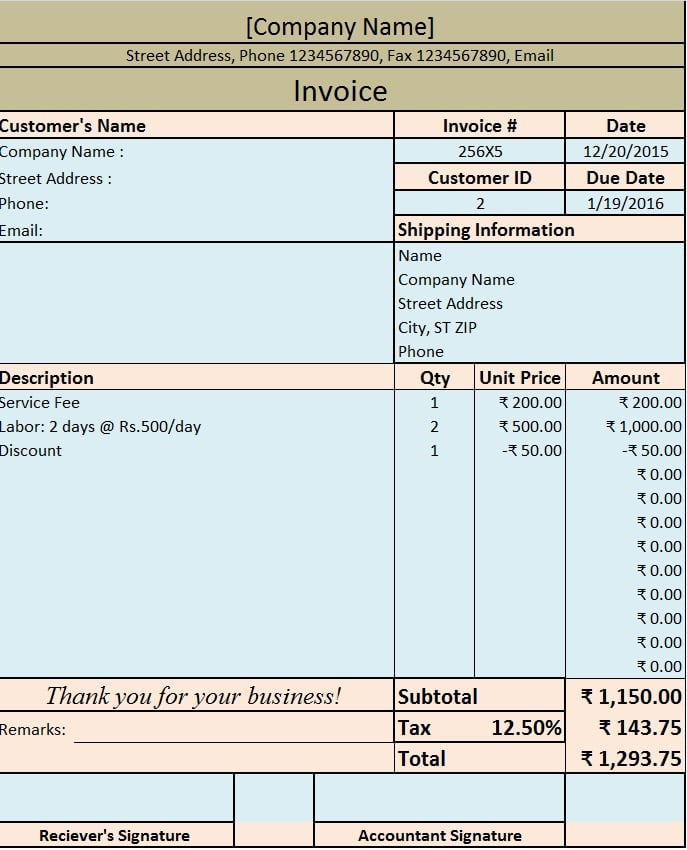 Invoice is a document issued by a seller to the buyer for a transaction. It consists of details of services or goods supplied along with rates of services provided or per unit price of goods.
An Invoice is issued to the receiver of goods or services for payment, and the record is maintained in accounts receivable ledger.
Excel helps us to create/design a tailored invoice template.
Click here to Download Invoice / Bill Excel Template.
Click here to Download All Accounting Excel Templates for Rs 199.
Understanding The Template
Row 1 = Enter Company/Business Name. Cells A1 to H1 are merged cells.
Row 2 = Enter Company Address, Phone No., Fax, Email address and other relevant details.  Cells A2 to H2 are merged cells.
Row 3 = Put Heading of the template as Invoice or Bill.
Row 4 to Row 13 = Put details of customer like customer name, invoice #, date, customer id, due date of the payment and shipping information if required. See the table below for layout.

Due date of payment can be set according to the terms with the customer. In this template, it is set for 30 days from the date of the invoice. The Formula applied here is (=H5+30) Date + No. of days.
Row 14 = This row consist of sub headings for data input. For example see below:

Description, Quantity, Unit Price, Amount of Bill, and their respective are details to be put while entering data. Amount column = Quantity X price per units/hours of service rendered. Formula applied here is a =IF(F15="", ROUND(1*G15,2),ROUND(F15*G15,2)).
Row 15 to Row 26: Left blank for data input.
Row 27 = In Cell F27 put Subtotal is calculated by adding all the values in Amount column. Formula applied here is =SUM(H15:H26).
Row 28 = In Cell F28 put TAX if applicable. Mention the tax percentage in cell G28.. Here it is 12.5 % or can be put as required. Formula applied here is =H27*G28.
Row 29 = In Cell F29 put Total, where Total = Subtotal Amount + Tax Amount. Formula applied here is =H27+H28.
Row 30 to Row 32 is set for initials/signatures of the Receiver and the Accountant.
If you have any queries or questions, share them in comments below and I will be more than happy to help you.