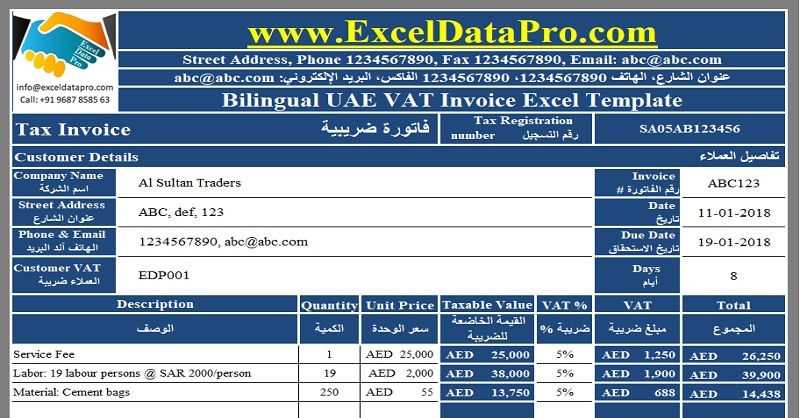 Bilingual UAE VAT Invoice is an excel template with predefined formulas. It consists of every detail in English and Arabic language.
Bilingual UAE VAT Invoice can be helpful for those businesses who have Arab customers. If in any case, the FTA demands the audits of the firm documents,  it can be helpful to government departments also.
During audits by the FTA or any other officials, it will help them to understand the contents of the invoice easily.
This understanding reduces time to translate the invoices and also saves money that is to be paid for translation.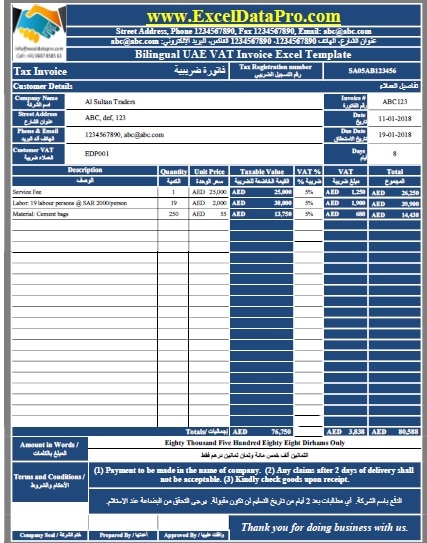 We have created Bilingual UAE VAT Invoice excel template with predefined formulas. Just add your details to the supplier's details section and start using it.
Click here to download Bilingual UAE VAT Invoice Excel Template.

You can also download other UAE centric templates like UAE VAT Multiple Tax Invoice, UAE VAT Dual Currency Invoice, GCC VAT Invoice Template With Discount and UAE VAT Payable Calculator.
Let us discuss the contents of the template in detail.
Contents of Bilingual UAE VAT Invoice Template
Similar to our previous templates, this template consists of 2 worksheets:
Bilingual UAE VAT Invoice worksheet.
Customer worksheet.
Customer worksheet consists of the list of customers as well as other customer details like address, VAT number, and contact details etc.

Above-mentioned customer worksheet is linked to the customer details section of the invoice using a data validation and VLOOKUP.
You can easily fetch the details on the invoice with the help fo dropdown list.
Bilingual UAE VAT Invoice template has 4 sections:
Supplier's Information
Customer's Information
Product Information
Miscellaneous Information
1. Supplier's Information
The header section of invoice always consists supplier's information like name, address, logo, TRN number etc. Each cell has been translated into Arabic.

2. Customer's Information
Customer's information includes customer name, street address, phone, email, and customer VAT number.

No need to type the names and other customer details manually. A dropdown list has been configured using data validation and VLOOKUP Function.
Just select the customer name and it will automatically fetch other details automatically.
Furthermore, this section also consists of invoice number, date, payment due date and number of days of payment terms.
3. Product Information
Product information consists of the following columns to enter the product details:
Description – الوصف: Description of goods or services or both.
Quantity – الكمية: Quantity Supplied.
Unit Price – سعر الوحدة: Price per Unit.

Taxable Value – القيمة الخاضعة للضريبة: Taxable Value of Good or service supplied.
Taxable Value = Quantity X Unit Price
VAT % – % ضريبة: Applicable VAT percentage.
VAT – مبلغ ضريبة: VAT Amount. VAT Amount = Taxable Value X VAT %.
Total – المجموع: Line total for goods and services rendered.
At the end of product section, column totals are given which will give you the total invoice amount.
4. Miscellaneous Information
Miscellaneous details include "Amount in words", "Terms & Conditions", company seal, signature areas and the business greeting.

Use cell locking feature to save you from deleting the important formulas.
We thank our readers for liking, sharing and following us on different social media platforms.
If you have any queries please share in the comment section below. We will be more than happy to assist you.