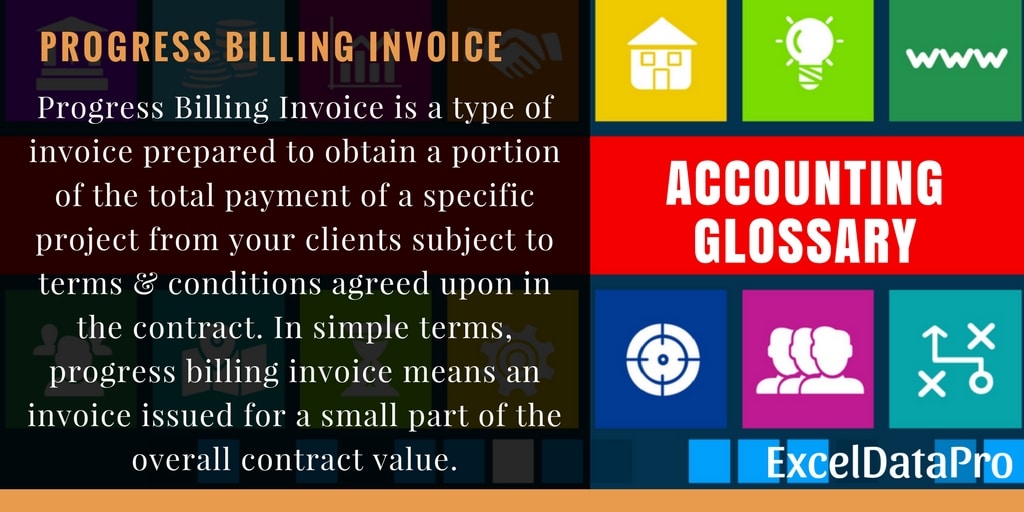 Definition – Progress Billing Invoice
Progress Billing Invoice is a type of invoice prepared to obtain a portion of the total payment of a specific project from your clients subject to terms & conditions agreed upon in the contract.
In simple terms, progress billing invoice means an invoice issued for a small part of the overall contract value.
Progress Billing invoices are usually used in industries where there are long-term contracts and the duration to complete the project lasts longer.
Several milestones of the project are set for billing purpose in the contract. Once these milestones or percentage of the project are reached or completed the contractor will issue an invoice pertaining to that amount.
Contracts can be verbal as well as written. Small projects like renovation or setup are on verbal contracts and milestones are set.
Written contracts are used mainly in big projects of construction where the project amount is high and duration of the project is long.
The clients also withheld a portion of project amount till the completion of the project to build up a pressure on contractors to finish the project in time.
Contents of Progress Billing Invoice
A progress billing invoice is different from a standard invoice. It consists of the following details:
Contractor Details.
Client Details.
Contract number.
Total Contract Amount.
Advance Amount.
Progress Billing Amount to date.
Work completed Percentage or Milestone.
Balance amount of project.
Current progress billing amount.
Remarks if required.
Authorized Signatory.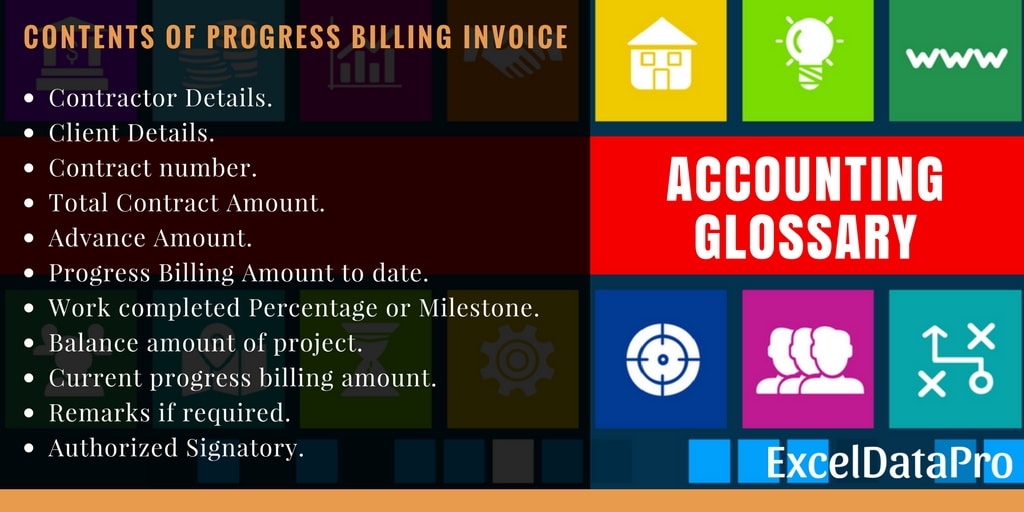 Which Industries Use Progress Billing Invoice?
Construction
Architects
Landscapers
Interior Designers
IT Systems Providers
Consultants
Trainers
Project Managers
Benefits of Project Billing
Progress billing helps you remove a huge amount of strain from your cash flow problems. In case of single billing upon completion,  you need to spend big amounts of money on staff and raw materials.
The customer pays you on completion. Thus in such scenario, Progress Billing gives you the working capital to invest in the next phase of the project and smooth working of the project.
Clients are also reluctant to pay hefty cash at initial stages. Progress billing invoice consists of small amounts which are not big and give satisfaction to the clients a sense of satisfaction and your money lies with him.
Progress billing helps to build a pressure on the contractor as they don't get paid until the milestone has been achieved.
You can also download excel templates like Simple Tax Estimator, Itemized Deductions Calculator, and Income Statement Projection for easy tax calculations.
We thank our readers for liking, sharing and following us on different social media platforms.
If you have any queries please share in the comment section below. We will be more than happy to assist you.