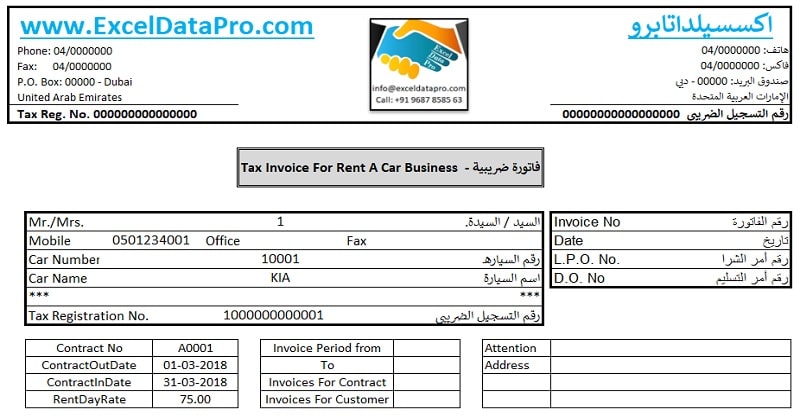 In this article, we will discuss the UAE VAT Invoice Format for Rent a Car Business. It is a ready-to-use invoice template with predefined formulas and VAT computations for the Car Rental business.
We received many requests from rental car business owners and made some customized templates for them.
The contents of an invoice are always the same, but there are minor changes according to the industry. For example, the rental business. Here things aren't sold.
In Car Rental business, vehicles with same or different make and model which are rented to different persons or companies for different durations.
Thus a rental car Invoice must have all these fields along with basic calculations. In addition to that after the launch of UAE, the invoice should also be VAT compliant.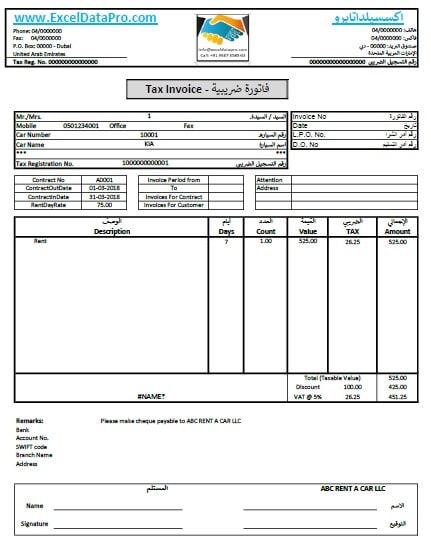 UAE VAT Invoice Format For Rent A Car Business In Excel
Keeping in mind all the above points, we have created UAE VAT invoice Format For Rent A Car Busines in Excel with predefined formulas. The headings in this template are in both English and Arabic so that it is easy for the customer to understand the invoice.
Just enter the required details and it will automatically fetch the names of the car, plate numbers, customer information etc.
Click here to download UAE VAT Invoice Format For Rent A Car Business.
In addition to the above, you can also download other UAE VAT templates like UAE VAT Payable Calculator, UAE VAT Multiple Tax Invoice, UAE VAT Dual Currency Invoice and Bilingual UAE VAT Invoice from our website.
Let us discuss the contents of the template in detail.
Contents of UAE VAT Invoice Format for Rent A Car Business
This template consists of two sheets:
Database sheet
Invoice Template
1. Database Sheet
This sheet consists of data that the invoice template will fetch with the help of Vlookup programming. It consists of following details:
Customer Name
Mobile Number
Car No
Car Name
TRN Number
Contract Number
Contract Out Date
Contract In Date
Per Day Rent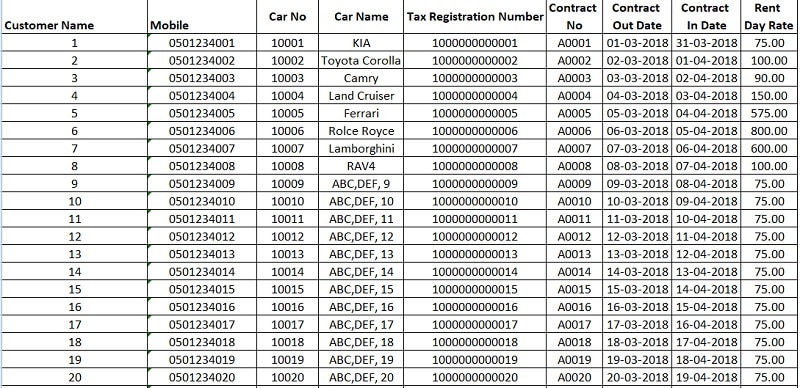 2. Invoice Template
Invoice template consists of five sections:
Supplier Details
Customer and Car Details
Billing Calculations
Bank Details
Signatures
1. Supplier Details
This section consists of supplier details like company name, address, phone numbers, your TRN number etc in both English and Arabic language.

2. Customer and Car Details
The second section consists of customer and Car details. It consists of the following details:
Customer Name
Mobile Number
Office Number
Fax Number
Car Number
Car Name
Tax Registration Number of Customer

In addition to the above, it also consists of contract details like contract number, Contracts Out Date, Contract In Date. per day rent, Address etc. On the right-hand side, it consists of invoice no, date, LPO number, Do number etc.
3. Billing Calculations
Billing calculations consist of Description, Days, Count, Value, Tax, Amount etc. Below the billing calculation, Amount in words and Total calculations are given.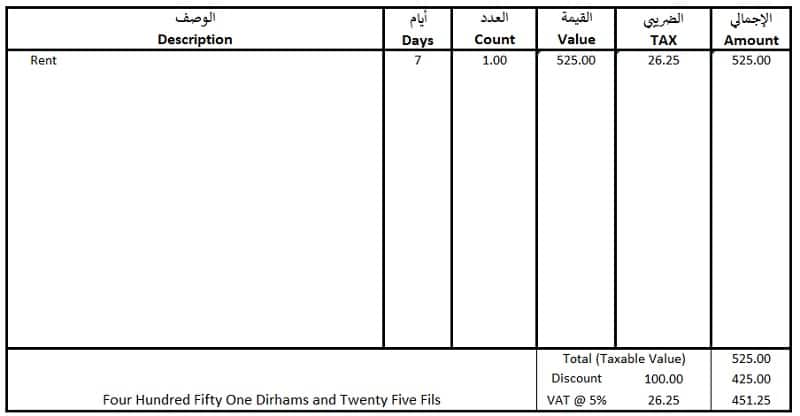 4. Bank Details
If the payments are to be made through the bank, then your customer must have your bank details. If you wish you can leave it blank or else add your bank details in this section.

5. Signature Section
Lastly, the signature section is given where the receiver can put his name and signature.

We thank our readers for liking, sharing and following us on different social media platforms.
If you have any queries please share in the comment section below. I will be more than happy to assist you.