Syllabus and Lesson Planner is a simple and ready-to-use excel template which enables a teacher to plan month-wise syllabus for the whole academic year for a particular subject.
It has been designed in such a way that it helps you to create a blueprint for classroom explanation of each chapter as well as each topic of the chapter leading to effective teaching.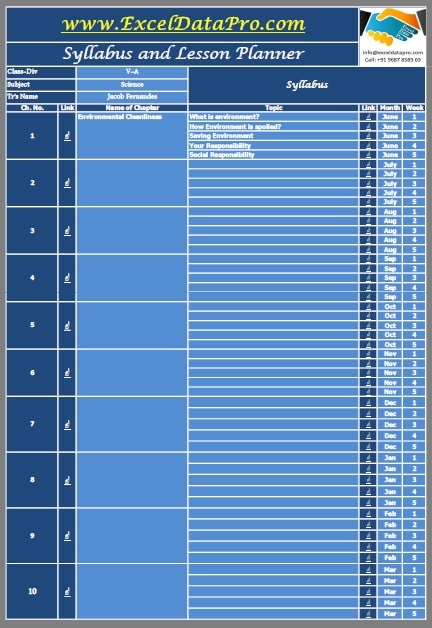 What is a Syllabus and Lesson Planner?
Syllabus Planner and Lesson Planner are two different planners. Most of the schools maintain it separately. At the beginning of each academic year, a teacher has to create a road map of his/her subject for the upcoming year.
This syllabus is further divided and scheduled month-wise lesson plans. Daily Lesson Planner is a micro level teaching plan of a teacher for each lesson and subtopic of a particular subject.
In almost every school, it is mandatory for every teacher to make a lesson plan. Furthermore, these plans are made by teachers keeping in mind the capacity and caliber of the students.
Eventually,  it makes delivery of the content effective and produces the desired results every time. In simple terms. it is making a blueprint of the subject to be taught in the class in advance.
Each lesson is planned by keeping in mind every minute details. These minute details include suitable examples and explanations for a proper understanding of the children. In addition to that, questions to check as well as increase student's thinking capacity.
A successful and wise teacher always prepares the lesson plan keeping in mind the ability of a student's understanding. Hence, it will produce miraculous results in overall class's performance.
Importance of Creating a Lesson Plan
Helps the teacher to devote and plan a reasonable time to teach each topic leading to timely completion of the syllabus.
Such planning helps principal, parents, and students aware of the upcoming activity in advance.
It is useful for the school management to have a check on the pace of studies done by the respective subject teachers.
This micro-level planning helps the teacher to explain every topic thoroughly in a precise way.
Put the teachers back on track in case they are distracted or confused.
It helps the teachers to profoundly prepare the subject/lesson and deliver it confidently.
Here it is clubbed for the sake of  It is interlinked
Syllabus and Lesson Planner Template
Keeping in mind all the above points and discussing it with teachers, we have created the Syllabus and Lesson Planner Excel Template with interlinked sheets for convenience and ease of navigation. Thus, the tutor can navigate and access any lesson plan directly from the syllabus sheet. with just a click.
Click here to download Syllabus and Lesson Planner Excel Template.
Click here to Download All School Management Excel Templates for ₹299.
You can also download other educational templates like; Yearly School Attendance Sheet, School Report Card and Mark Sheet Template, Academic Period Allotment System and Multiple Choice Question – MCQ Test Checking Sheet from our website.
Click here to download the Blank Printable Syllabus Planner.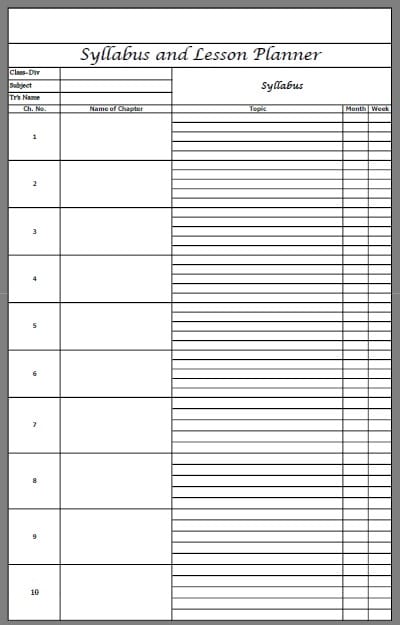 Click here to download the Blank Printable Lesson Planner.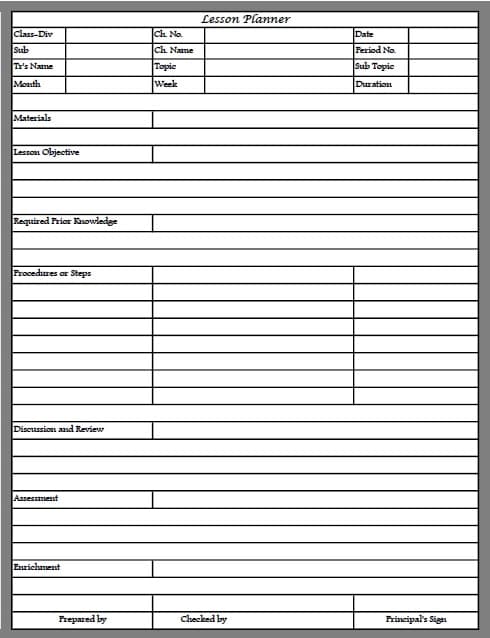 Let us understand how to use the Syllabus & Lesson Planner Excel Template.
How To Use Syllabus and Lesson Planner Excel Template?
This template consists of 13 sheets; 1 Yearly Syllabus Planner, 10 Lesson Planners (10 Chapters – L.P.Ch.1 to L.P.Ch.10), 1 Printable Syllabus Planner and 1 Printable Lesson Planner
1. Syllabus Planner
For Syllabus planning, first of all, bifurcate all chapters month wise. This will need two types of data on hand.
Details of month wise working days, exams and vacation(s). You can avail these details from your immediate superior.
Time duration required at your end to complete each topic in class and hence leading to the completion of each chapter.
Once you are ready with the above two data, start filling the Syllabus Planner.
Insert basic details like Class-Div, Subject and Teacher's name.

This sheet consists of the following 7 columns:
Chapter Number
Link
Name of Chapter
Topic
Link
Month
Week
Insert Chapter name against their respective chapter number. Enlist all the major topics of each chapter in the Topic column.
Given here there are 5 rows provided for topics. In case, topics are less, just leave it blank. Enter month and week in which you are planning to teach that particular topic.

Repeat the same for all 10 chapters. Enter data only in light blue color cells.
In the Link column, there is a hand sign linked with each lesson planner file. it is designed to save your time and energy for searching/navigating to any desired topic or chapter.
You just need to click on the hand symbol and it will automatically take you to the exact your chapter or topic.
Chapter-wise Navigation
For example; if you want to go to Chapter 9. Then click on it against chapter 9 and it will immediately direct you to the lesson plan of Ch.9 which is on sheet L.P.Ch.9.

Topic-wise Navigation
For example; you want to go to the 3rd topic of Chapter 7 then click on the hand symbol in the column of Topic and it will direct you to the lesson plan of the 3rd topic of Chapter 7.
2. Lesson Planner
This section consists of 3 sections:
Basic Details
Lesson and Topic Plan
Approval
1. Basic Details
Lesson planner has 5 sections for explaining each topic. Each chapter consists of different topics which need explanation. Hence this sheet bears 5 different lesson plan pages.
Basic details like class, subject, month,  Teacher's name, Chapter number, Chapter name, Chapter Topic, and week are auto-filled according to your entry in syllabus sheet.
Out of 12 basic details, 8 will be automatically filled. Rest 4 fields in light blue needs to be filled up by you. They are Date of execution, Sub-Topic, Period No and duration.

2. Lesson and Topic
Insert the list of all the materials in the material section you will use to explain this particular topic of a chapter. Eg. Textbook, Chalk, Duster, TLM, Geometry box, Map, Globe, etc.
Add the Lesson Objective. Here you will write the objective of the lesson you need to teach. In other words, write down how it is going to help students in their lives. What value addition it will make in their lives.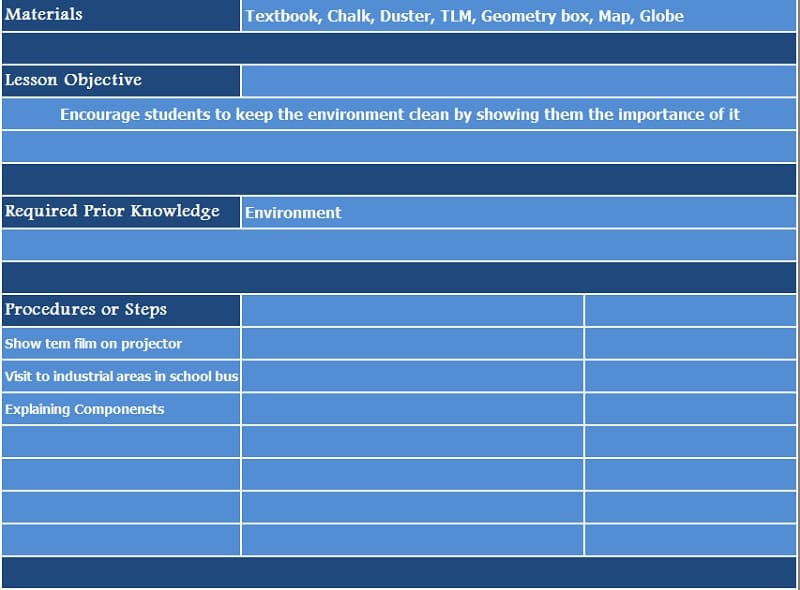 Required Prior Knowledge is the level of knowledge pupil has according to their class and their IQ level.
Some things are totally new for students. They hear it for the first time. We need to take them from known to unknown for explaining anything new.
In Procedures or Steps, you write each and every step of how you will go ahead with your explanation of that particular topic. It includes things like which examples you will give, which kind of questions you will ask to make them think etc.
Then comes the Discussion and Review section. Here you will enlist main points summarising your lesson and have a brief discussion on them to ensure the clarity of your lesson.
In the Assessment section, you need to draft certain short questions for student realted to the topic that you will teach.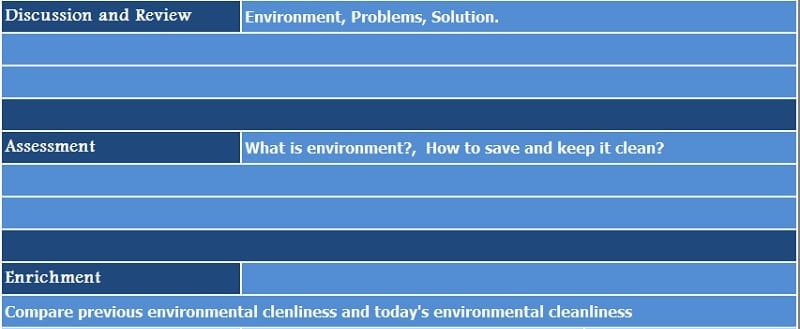 This helps you to assess how many of your students understood the topic well. It also evaluates your methodology and helps to improve as and when required.
Enrichment section is for students activity. Here you need to plan some activity or homework which can help the students to practice on their own and make their understanding profound of the lesson/topic learned.
3. Approval
Usually, supervisors and head teacher demand a hard copy of such lesson plan. This is a practice in most private institutions.
In the end, sections to be signed by the teacher and approving authority are given. Your supervisor will check your lesson plan and approve with their signature and will be finally approved by the Principal.
Similarly, all the topics of a lesson will be covered in this sheet. If they are less leave blank. Follow the same steps for Chapter 2 to Chapter 10 in their respective sheets.
Tip: Every day while planning your next class you just need to go through that respective lesson plan and implement it in class for the best outcome.
We thank our readers for liking, sharing and following us on different social media platforms.
If you have any queries please share in the comment section below. I will be more than happy to assist you.