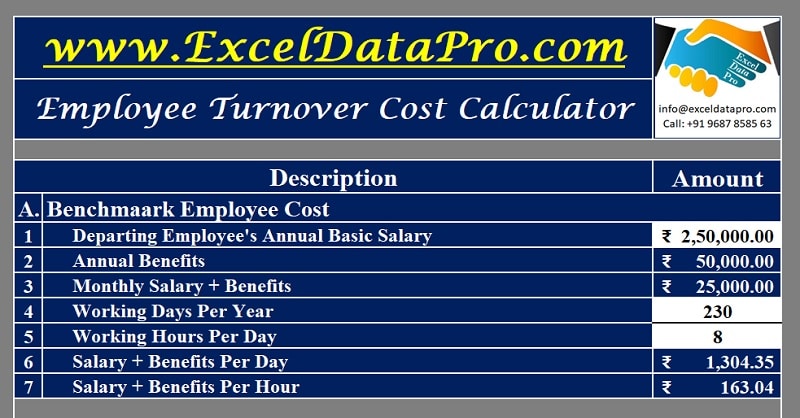 Employee Turnover Cost Calculator is an Excel template with predefined formulas. Using this template you can easily and instantly calculate Turnover Cost per employee and Estimated Turnover Cost per year for a particular department.
This template can be helpful to small business owners, hr assistants and hr professionals. Before we move further, let us understand employee turnover first.
What is Employee Turnover Rate?
Employee turnover rate is the percentage of employees leaving the company during a specific time and is the post is then replaced by the company. These turnovers usually occur due to promotions, transfers, voluntary resignations, dismissals, retirements etc.
What Are Employee Turnover Costs?
Tangible an Intangible cost involved in replacing an employee or employees are called Employee Turnover Costs. These costs include the final settlement of the employee, filling a position, training etc.
Turnover not only causes a loss in terms of productivity but has a huge impact on companies financial. Many unseen and unaccounted expenses are there which directly impact on the company's budget.
These unseen and unaccounted costs include the cost of covering the vacant post, the cost of loss of productivity of leaving employee and the Cost of productivity of the new employee. Usually, these costs aren't taken into consideration.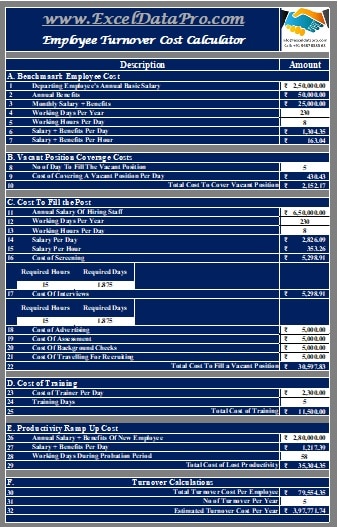 Employee Turnover Cost Calculator Excel Template
Keeping the above points in mind we have designed a simple and ready-to-use Employee Turnover Cost Calculator Excel Template with predefined formulas. Just download the template and input the data into white cells and it will automatically calculate the turnover cost per employee for you.
PS: Do not enter any data in blue colored cells in the amount column as these cells contain formulas. 
Click here to download Employee Turnover Cost Calculator Excel Template.
Click here to Download All HR Metrics Excel Templates for ₹299.
You can download other useful HR Metrics Templates like Cost Per Hire Calculator, Vacancy Costs Calculator, Human Capital ROI Calculator and many more from our website.
Let us understand how to use this Calculator in details.
How To Use Employee Turnover Cost Calculator?
Employee Turnover Cost Calculator consists of 6 sections:
Benchmark Employee Costs.
Vacant Position Coverage Costs
Cost To Fill.
Training Costs
Productivity Ramp Up Costs
Turnover Calculations
Each section has been explained below in detail.
1. Benchmark Employee Costs
Benchmark employee costs mean the total compensation of the departed employee. Divide these compensations into daily and monthly rates. This will help us to accurately define the costs till the position remains empty.

In this section you need to enter the following details:
Departing Employees Annual Basic Salary: Total yearly Basic Salary of the departing employee.
Departing Employees Annual Benefits: Usually, it is 20% of the basic salary. A formula has been inserted for the same. If it matches to your company policy then no need to change otherwise you can enter manually.
Monthly Salary + Benefits: Auto-calculated according to the input.
Working Days Per Year: Average working days in a year are 230. If they differ in your industry you can change it.
Working Hours Per Day: Generally it is 8 hours. If different, then you can enter your figure.
Salary + Benefits Per Day: Auto-Calculated. The formula applied here is (H7+H8)/H10.
Salary + Benefits Per hour: Auto-Calculated. The formula applied here is ((H7+H8)/H10)/H11).
2. Vacant Position Coverage Costs
The post of the employee remains vacant until the new employee joins the organization. Thus, the workload is either distributed to other employees or remains undone. To calculate this cost multiply the number of days the post remains vacant to the benchmark costs provided in the above section.

In this section, you need to enter only one field that is the number of days to fill the vacant position and the formula will automatically calculate the cost of covering vacant position per day as well as the total cost of covering vacant post.
3. Cost To Fill
When an employee leaves, you need to recruit another employee at his place. This is a complete process starting from receiving the applications to employee joining the organization.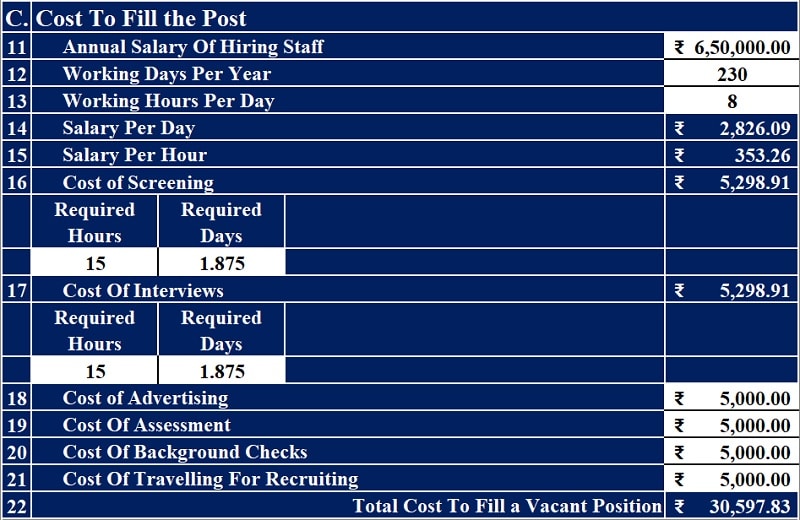 Enter the salary of the recruiting staff, their working days, and hours per day and the template will calculate the Salary per day and salary per hour for the recruiting staff.
Further to that enter the no of days or hours required for screening and it will calculate the costs. Similarly for the interviewing process.
You need to provide the cost of advertising, assessment, background checks and traveling cost of recruiting staff for the recruitment process. If these heads are applicable then enter the amount or else leave blank. The final cost to fill the vacant position will appear as the formula is predefined.
4. Cost of Training
Just enter the cost of trainer per day and the number of training days and the total training cost will be displayed. If in case, you don't have these per day amount of trainer then you can use our Training Cost Per Employee Calculator.

5. Productivity Ramp-up Costs
When a new employee joins, initially for 60-90 days he is in the learning process. Thus he doesn't give 100% productivity as the previous employee. A study shows that he gives 50% productivity. It is called productivity ramp up.

You need to input the salary+benefits of the new employee and the template will display the per day cost as well as the cost for the total number of days.
6. Turnover Cost Calculations
Turnover Cost Per employee is the total of A+B+C+D+E whereas the estimated turnover cost per year is the number of turnovers per year multiplied by the Turnover cost per employee.

We thank our readers for liking, sharing and following us on different social media platforms.
If you have any queries or suggestions please share in the comment section below. I will be more than happy to assist you.