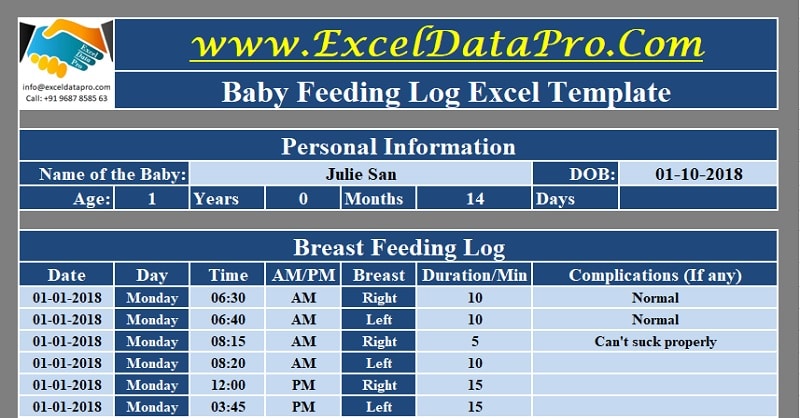 Breastfeeding Log is a ready-to-use excel template that helps a mother to record feeding times easily along with a recommended feeding schedule for the first year for a newborn.
This template also consists of a printable version of the Breast Feeding Log that helps you maintain a record without any smart device.
An adequate amount of breastfeeding is necessary for a newborn child. Hence, doctors recommend maintaining a log of breastfeeding.
This time of the newborn is crucial for the growth and if adequate amounts are given at proper intervals helps in proper growth of the newborn.
You can find applications on mobile phones that help to do so, but as it is advisable to keep the newborn away from the radiation of smartphones.
Why Breastfeeding Is Important?
There are many benefits of breastfeeding. First and foremost is that it is the natural source and has no side effects. It is most advisable for a mother to breastfeed the child rather than providing external formula feeding.
Health Benefits of Breastfeeding
It provides nutrients required by the newborn in proper proportions.
Protects from allergies, obesity, and sickness.
Easily digestible and hence fewer chances of diarrhea.
Babies have healthier weights.
Other Benefits of Breastfeeding
Available as and when required subject to conditions.
It is at the right temperature that a newborn requires.
It is clean and free.
No wastage.
Strengthens the bond with children.
Source: https://www.health.ny.gov
Breastfeeding and Food Schedule
Giving solid foods at an early stage is not advisable. Please consult your child's healthcare provider before you do so. External foods shall not be given to the newborn for the initial 4 months.
The reasons are:
The intestines of a newborn aren't developed enough to digest solid foods.
It can lead to obesity and improper growth.
The Lucile Packard Children's Hospital has given detailed research about which food to give and when to give along with their proportions that are advisable for the newborn.
You can read the research here:
Feeding Guide for the First Year
Breastfeeding Log Excel Template
We have created a simple and easy Bay Feeding Log Excel Template that will help you record the date, time and duration of the feeding.
In addition to this, there is also a printable version of the same that will help you maintain the record on a printed sheet. This printed sheet you can carry to when you visit your pediatrician.
Furthermore, it also consists of a recommended schedule of feeding that you must follow for the proper growth of the child.
Click here to download the Breastfeeding Log Excel Template.
You can download other health & fitness templates like Baby Food Log, Blood Sugar Log, Blood Pressure Log, Food Calorie Calculator, Weight Loss Log and much more.
Let us discuss the contents of the template in detail.
Contents of Breastfeeding Log Excel Template
This template consists of 3 sheets:
Daily Feeding Log.
Printable Feeding Log
Recommended Feeding Schedule for the First Year.
Daily Feeding Log
In this sheet, you can maintain a record of daily feeding with the date, time and duration of the feed. There are two sections in this sheet, one is for the personal information of the child and the second section is for daily feeding log.
In the personal information you just need to enter 2 details; the name of the child and his/her birthdate. Once you enter the birthdate, it automatically calculates the age of the child in terms of years, months, and days.

The second section is for a daily feeding log. It consists of the following columns:
Date: Insert Date.
Day: This field is auto-populated. It will fetch the day according to your entered date.
Time: Insert Time.
AM/PM: Select AM or PM of time from the drop-down list.
Breast Side: Select the breast side, left or right from the drop-down.
Duration: Duration of feeding.
Complications (if any): If there are any problems, you can note them in this place to report to your pediatrician.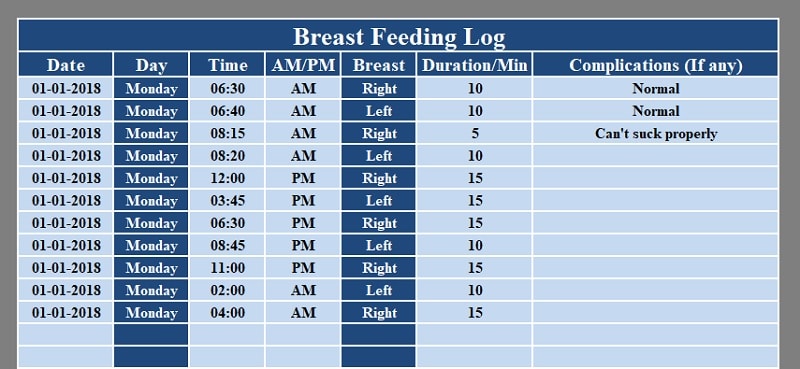 Printable Breastfeeding Log
This sheet is the replica of the previous sheet. It is a colorless and ink-saker format. You can print the sheet and keep it beside your baby's cradle or your bed.
Click here to download the Printable Breastfeeding Log.
Recommended Breastfeeding Schedule for the First Year
This list has been compiled from the research described earlier. It provides the age-wise recommended amount of feeding a newborn must get along with feeding times.
This template can be helpful to mothers and pediatricians can also share the same with their patients.
Disclaimer: This template has been created with a general overview. It is highly recommended that you consult your Pediatricians or Health Care Professional for the limits of giving breastfeeding and other related issues. 
We thank our readers for liking, sharing and following us on different social media platforms.
If you have any queries please share in the comment section below. We will be more than happy to assist you.