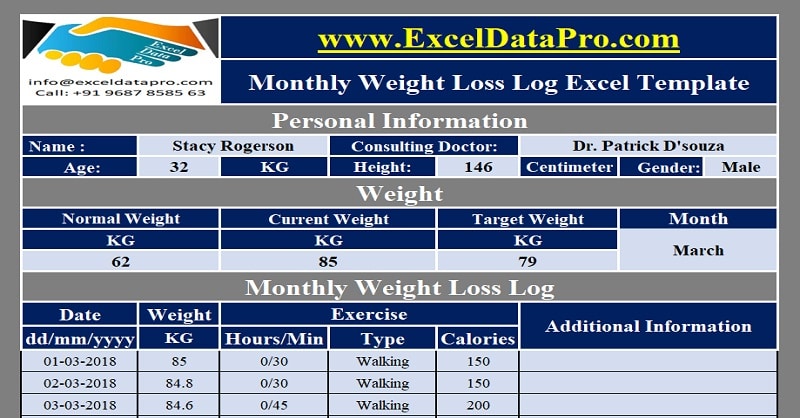 Weight Loss Log is a document which tracks your monthly weight data. Obesity is considered the biggest cause of many diseases like Blood Sugar, Blood Pressure, and another heart diseases. Thus, it is advisable to keep track of your weight on regular basis.
You can manage it on your PC, Laptop, Mobile etc. It is also available in printable format. You can stick it on the mirror, table etc. Very simple and easy to use Weight Loss Log excel template.
According to the World Obesity Data, in 2015-2016, there were around 37.9 % obese men out of the total men population and 41.3 % obese women out of the total women population.
There are many things that can be done to maintain weight. Let us list some of them below:
Doctors suggest doing regular workouts.
Walking on a regular basis. This habit makes a lot of difference.
If there is a time constraint, you can use stairs instead of taking elevators.
Regular checkups.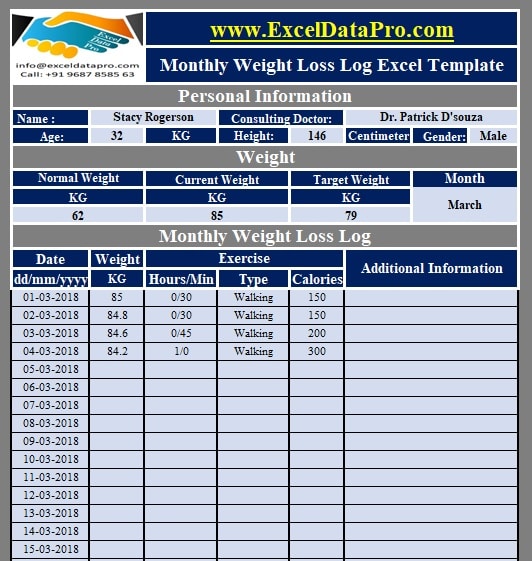 We have created simple Weight Loss Log Excel template. It is a predesigned monthly sheet to record and manage the log of your weight. Just download the file and start using it.
Click here to download the Monthly Weight Loss Log Excel Template.
Click here to Download All Health & Fitness Excel Templates for Rs 199.
You can also download the printable version of the same from the link below:
Weight Loss Log Printable Format.
You can also download other healthcare related templates like Blood Sugar Log, Blood Pressure Log, Simple Age Calculator and much more.
Let us discuss the contents of the template in detail.
Contents of Weight Loss Log Excel Template
This template consists of 3 sections:
Personal Information
Current Weight Details
Monthly Weight Loss Log
1. Personal Information
In this section, you need to enter your name, Age, Gender, Consulting Doctor or Nutritionist.

2. Current Weight Details
This section consists of normal weight according to your body physic. The general weight chart by Disabled-World.com is given below for ready reference.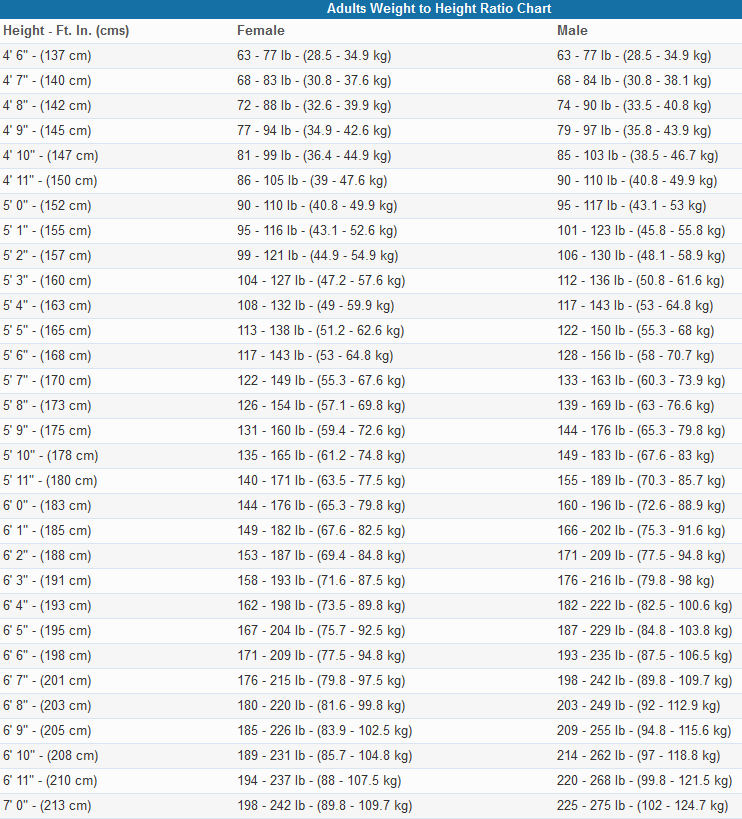 Or else you can calculate your ideal weight with the following formula:
Men: 50 kg + (0.9 x [Height (cm) – 152] )
Women: 45.5 kg + (0.9 x [Height (cm) – 152] )
Secondly, it consists of your current weight as well as the target weight that you what to achieve in that particular month.

3. Monthly Weight Loss Log
Here you can maintain the daily record of decrease and increase of weight. In addition to that, you can record the duration, type and calories burnt etc.

Lastly, if you have any complications or pains during the workout you can write them down in the Additional Information section.
Disclaimer: This template has been created with a general overview. It is highly recommended that you consult your Health Care Physician (HCP) or nutritionist for the normal and targetted weights or for any complications.
We thank our readers for liking, sharing and following us on different social media platforms.
If you have any queries please share in the comment section below. We will be more than happy to assist you.